APLIKASI KOMPOS KULIT KOPI UNTUK PERBAIKAN SIFAT KIMIA DAN FISIKA TANAH INCEPTISOL SERTA MENINGKATKAN PRODUKSI BROKOLI
Abstract
Indonesia is the third largest coffee producer in the world after Brazil and Vietnam with accounts for approximately 6% of total production world's coffee. The acreage of coffee in Indonesia is 1.305.895 ha with the production of 611,100 t ha-1. The production solid waste this reached about 48 percent total production of coffee. The content of potential organic element to improve Dau Inceptisol material was phosphorus and nitrogen. The purpose of this research was to know influence of application of coffee pulp compost on soil physical and chemical properties, and to know the influence of provision of coffee pulp compost to yield of broccoli. The application of coffee pulp compost 200% (30 t ha-1) increased organic matter content by 2.56% and total N content by 0.18 % on the application of coffee pulp compost (30 t ha-1). pH was highest on the application 200 % (30 t ha-1) compost with the value of 6.19. The highest P content was 26.64 t kg-1 by the application of compost 75 % (10 t ha-1) and the highest K content on the application 200 % (30 t ha-1) compost is 0.51 me 100 g-1. Application of 200% compost reduced the bulk density of Dau Inceptisol to 1.12 g cm-3, and increased soil porosity up to 50.03%. Application of compost which was able to increase aggregate steadiness to exist at the 200 % compost was 1.4 mm. In addition on the application of 50 % (7 t ha-1) compost produced plant height of 37.43 cm. Application 7 t ha-1 increased the yield of broccoli by 526.30 g plant-1.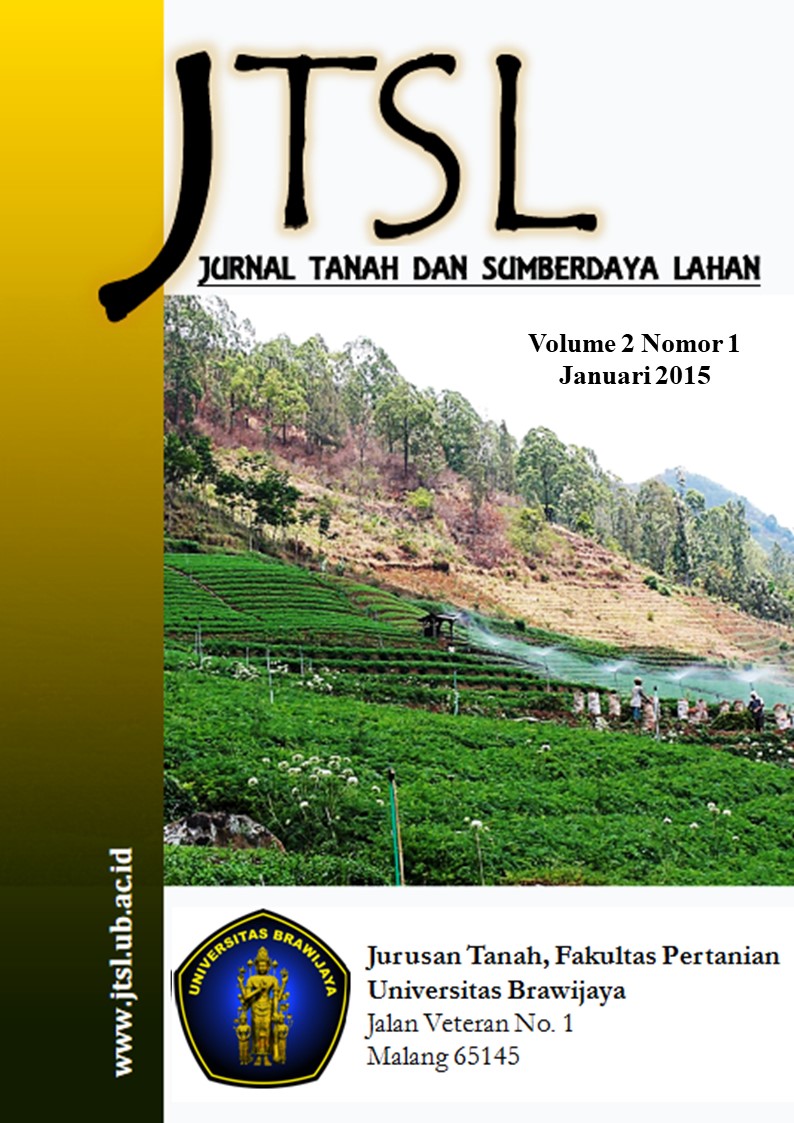 Downloads
How to Cite
Valentiah, F. V., Listyarini, E., & Prijono, S. (2017). APLIKASI KOMPOS KULIT KOPI UNTUK PERBAIKAN SIFAT KIMIA DAN FISIKA TANAH INCEPTISOL SERTA MENINGKATKAN PRODUKSI BROKOLI. Jurnal Tanah Dan Sumberdaya Lahan, 2(1), 147–154. Retrieved from https://jtsl.ub.ac.id/index.php/jtsl/article/view/124
License
The copyright of the received article shall be assigned to the journal as the publisher of the journal. The intended copyright includes the right to publish the article in various forms (including reprints). The journal maintains the publishing rights to the published articles.

This work is licensed under a Creative Commons Attribution-NonCommercial 4.0 International License.