PENGARUH PEMBERIAN BERBAGAI JENIS BAHAN ORGANIK TERHADAP SIFAT KIMIA TANAH PADA PERTUMBUHAN DAN PRODUKSI TANAMAN UBI JALAR DI ENTISOL NGRANGKAH PAWON, KEDIRI
Abstract
Ngrangkah Pawon Village of East Java is one of the areas that was affected by Mount Kelud eruption which occurred in 2014. The eruption caused soils choked by volcanic ash. Volcanic materials cannot supply nutrients needed by plants as the volcanic materials are recent materials that have not undergone complete weathering. Entisols that dominate the Ngrangkah Pawon area. have low levels of clay and organic matter, so they have low water holding capacity that causes the soils having low water content and low N, P, and K contents. The purpose of this study was to explore the effect of organic matter in the form of chicken manure, cow manure and compost on nutrient contents available in an Entisol so sweet potato plant could grow and generating production increases. Treatments tested in this study were combinations of chicken manure with doses of 5, 10, 15 t ha-1 (B1D1, B1D2, B1D3), cow dung with doses of 5, 10, 15 t ha-1 (B2d1, B2D2 B2D3), and compost with doses of 5, 10, 15 t ha-1 (B3D1, B3D2, B3, D3). One control treatment (B0D0) was also included in the research design. Ten treatments were arranged in a randomized complete block design with three replications. At each plot treatment sweet potatoes were planted until harvest (3 months). Parameters observed at the time of harvest were soil pH, contents of C, N, P, and K, uptake of N, P and K by plant, and tuber yield. The results showed that the addition of organic matters in the forms of chicken manure, cow dung and compost significantly affected the values of soil pH, contents of C, N, P, and K, uptake of N, P and K by plant. However, all treatment could not significantly increase sweet potato tuber yield.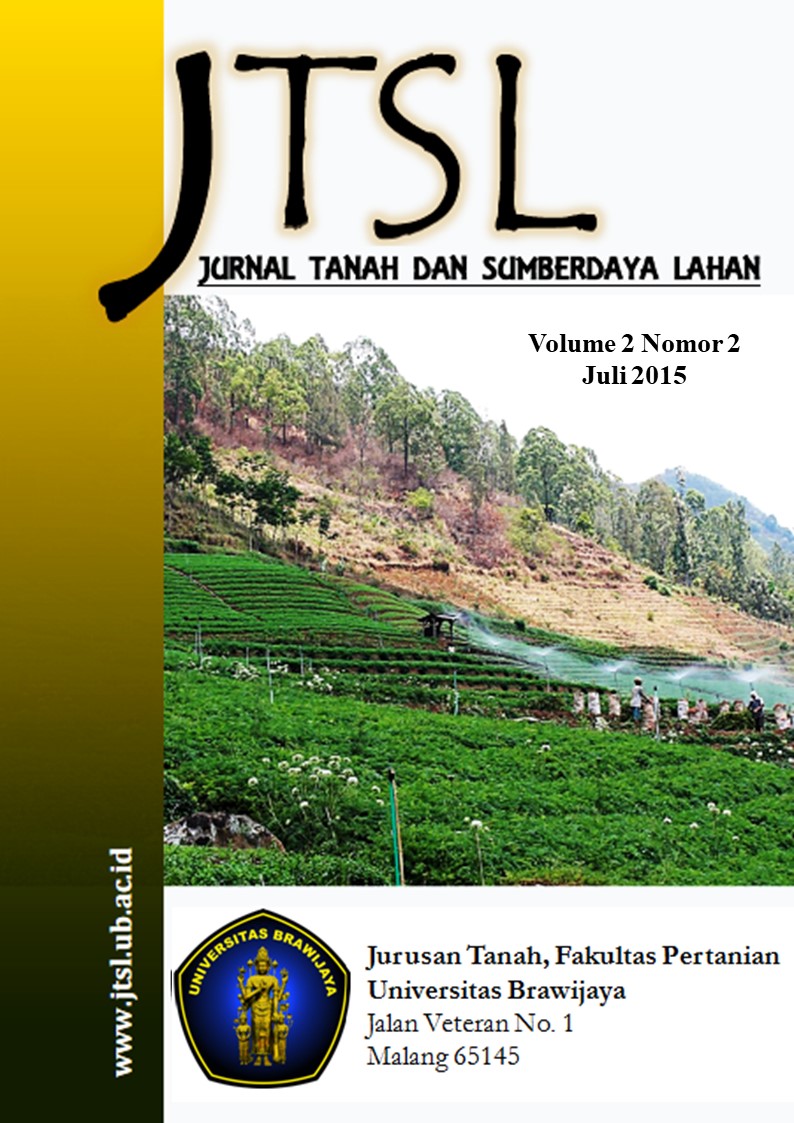 Downloads
How to Cite
Afandi, F. N., Siswanto, B., & Nuraini, Y. (2017). PENGARUH PEMBERIAN BERBAGAI JENIS BAHAN ORGANIK TERHADAP SIFAT KIMIA TANAH PADA PERTUMBUHAN DAN PRODUKSI TANAMAN UBI JALAR DI ENTISOL NGRANGKAH PAWON, KEDIRI. Jurnal Tanah Dan Sumberdaya Lahan, 2(2), 237–244. Retrieved from https://jtsl.ub.ac.id/index.php/jtsl/article/view/134
License
The copyright of the received article shall be assigned to the journal as the publisher of the journal. The intended copyright includes the right to publish the article in various forms (including reprints). The journal maintains the publishing rights to the published articles.

This work is licensed under a Creative Commons Attribution-NonCommercial 4.0 International License.