KAJIAN INKUBASI BERBAGAI DOSIS PUPUK CAIR FERMENTASI LENDIR CACING TANAH (Lumbricus rubellus) TERHADAP FOSFOR, C-ORGANIK DAN pH PADA INCEPTISOL
Abstract
Inceptisols is one among many ordos which distribution is quite wide in Indonesia. Based on data from the Agency for Agricultural Research and Development (2000) with low to moderate organic matter content. As the organic matter content is low enough, the addition of organic matter is needed. Organic materials needed, can be used for fertilizers. Fertilizers used may be organic or inorganic fertilizers. The aim of this study is to learn about the effect of treatment mucus earthworm to nutrients contained in the Inceptisol soil. The purpose of the study is to determine the effect of fermented liquid earthworm (Lumbricus rubellus) manure to increased phosphorus nutrients available in the Inceptisol soil and add available phosphorus nutrients in the Inceptisol soil. With the hypothesis of increasing the dose liquid earthworm (Lumbricus rubellus) manure fermentation can increase levels of available phosphorus in the Inceptisol soil. The benefits of this research is a fermented earthworm (Lumbricus rubellus) liquid organic fertilizer can add available  phosphorus nutrients to the Inseptisols soil. This research was conducted in the greenhouse of the Faculty of Agriculture, University of Brawijaya, while liquid fertilizer process conducted in Sidoarjo Mr. Subchan house. Basic analysis of the soil was conducted in the laboratory of Chemistry, Department of Chemistry, Mathematics Faculty, University of Brawijaya. This research was conducted from March to May 2016. Based on our research of liquid mucus earthworms fertilizer may improve available phosphorus nutrient, pH and C-organic with the highest increase incubation for 4 weeks at P3 doses treatment with 100mL / L of water. The more number of liquid earthworm mucus fertilizer on the Inceptisols soil, the more the increase in the available phosphorus nutrients, pH and C-organic in the Inceptisols soil.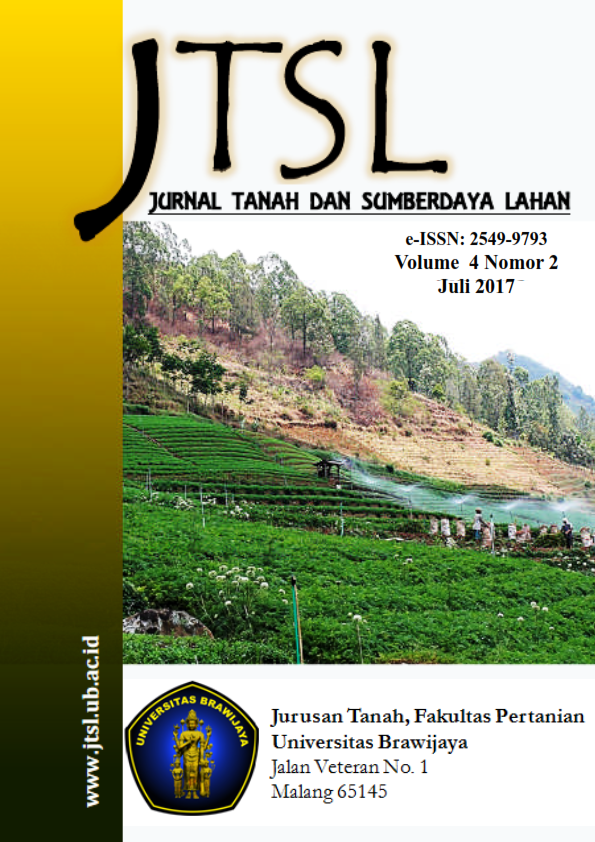 Downloads
How to Cite
Putra, B. P., & Nuraini, Y. (2017). KAJIAN INKUBASI BERBAGAI DOSIS PUPUK CAIR FERMENTASI LENDIR CACING TANAH (Lumbricus rubellus) TERHADAP FOSFOR, C-ORGANIK DAN pH PADA INCEPTISOL. Jurnal Tanah Dan Sumberdaya Lahan, 4(2), 521–524. Retrieved from https://jtsl.ub.ac.id/index.php/jtsl/article/view/168
License
The copyright of the received article shall be assigned to the journal as the publisher of the journal. The intended copyright includes the right to publish the article in various forms (including reprints). The journal maintains the publishing rights to the published articles.

This work is licensed under a Creative Commons Attribution-NonCommercial 4.0 International License.