BIODIVERSITAS VEGETASI DAN FUNGSI EKOSISTEM: HUBUNGAN ANTARA KERAPATAN, KERAGAMAN VEGETASI, DAN INFILTRASI TANAH PADA INCEPTISOL LERENG GUNUNG KAWI, MALANG
Abstract
This research was aimed to analyze the relation between density, diversity vegetation to soil infiltration as an effort to increase and stabilize function environment (vegetation, water, and soil) and as the basis of sustainable agriculture management. The study is done by using the method survey by approach stratified random sampling. The population of the research landscape the southern part of the Kawi, in the village Wonosari, in Wonosari, Malang district, with five stratification of land use the (1) natural forest, (2) production forest, (3) forest (sengon) people, (4) agroforestri based coffee and (5) land plant cane annuals, and at random observation repeated 3 times.There are two main research activities is (1) measurement biodiversity land and (2) measurement of organic matter land, physical properties (heavy the ground, porosity and steadiness aggregated soil) and hydrology land (the rate infiltration the ground). This research result indicates that the decrease in organic matter and physical properties land (heavy the ground, porosity and, steadiness aggregated soil) due to transfer function forests became agricultural land use more intensive exert infiltration negative on the ground. Biodiversity vegetation land ( the diversity of species , wealth type , and uniformity kind of high ) influential very real positively to infiltrate land .To it with keeping and raising biodiversitas of farmland will have a positive impact on the environment.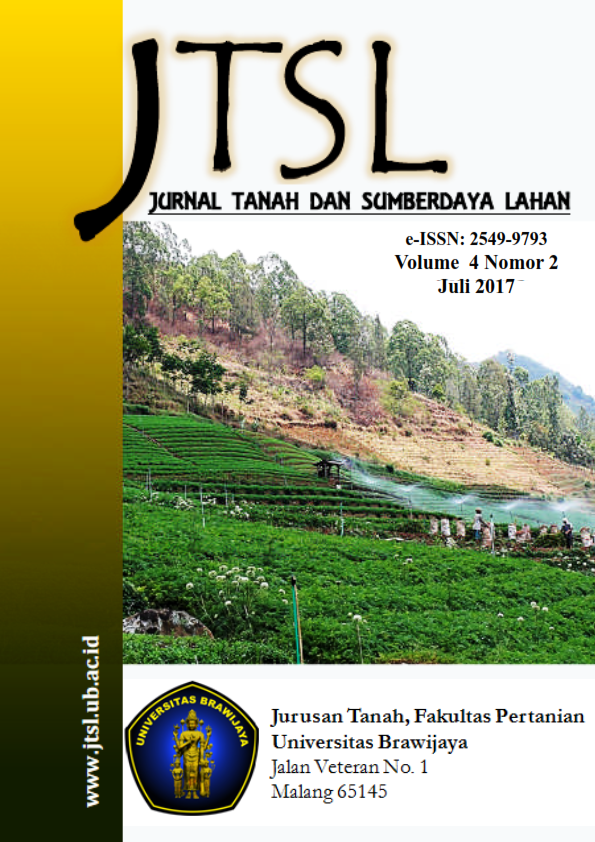 Downloads
How to Cite
Endarwati, M. A., Wicaksono, K. S., & Suprayogo, D. (2017). BIODIVERSITAS VEGETASI DAN FUNGSI EKOSISTEM: HUBUNGAN ANTARA KERAPATAN, KERAGAMAN VEGETASI, DAN INFILTRASI TANAH PADA INCEPTISOL LERENG GUNUNG KAWI, MALANG. Jurnal Tanah Dan Sumberdaya Lahan, 4(2), 577–588. Retrieved from https://jtsl.ub.ac.id/index.php/jtsl/article/view/175
License
The copyright of the received article shall be assigned to the journal as the publisher of the journal. The intended copyright includes the right to publish the article in various forms (including reprints). The journal maintains the publishing rights to the published articles.

This work is licensed under a Creative Commons Attribution-NonCommercial 4.0 International License.