PENGARUH SIANOBAKTERI DAN DOSIS PUPUK NITROGEN TERHADAP HASIL PADI SAWAH (Oryza sativa L.)
Abstract
The increasing of rice productivity which followed by environmental sustainability and land's fertility can be done by using of biological fertilizers. There is a type of microbes that are potentially as biological fertilizers which can be utilized as a supplier of rice crops' nutrient and it has a plentiful number is Cyanobacteria. Cyanobacteria or blue-geen algae includes into one of prokaryotic algae goup. This organism roles as manufacturer and producer of nitrogen compound (N) in the water. This research was carried out in the greenhouse Balai Penelitian Tanah, Bogor from November 2016 to April 2017. The experiment was designed using Randomized Block Design with 2 Factorial factors. The first factor is isolates Cyanobacteria (Control, KL2' isolate and C37's isolate with dose 250 kg ha-1) and the second factor is the nitrogen fertilization (0%, 25%, 50%, 75% and 100% of the recommended dose from 250 kg Urea ha-1) which is repeated three times. The result showed that different doses of nitrogen fertilization gave an effect on the population of Cyanobacteria. Treatment of S1N1 has a higher total population as 333,33 cfu g-1. Giving Cyanobacteria tends to decrease the total N residue of the soil and followed by increased yield of rice. S0N3 treatment has the highest containing of N as 0,23%. The interaction of  application Cyanobacteria and different doses of nitrogen fertilization not give a real effect to the growth and yield of rice.. Giving Cyanobacteria does not give a real effect on all parameters of observation. Nitrogen fertilization with 100% recommended doses gives effect to the growth and yield of rice.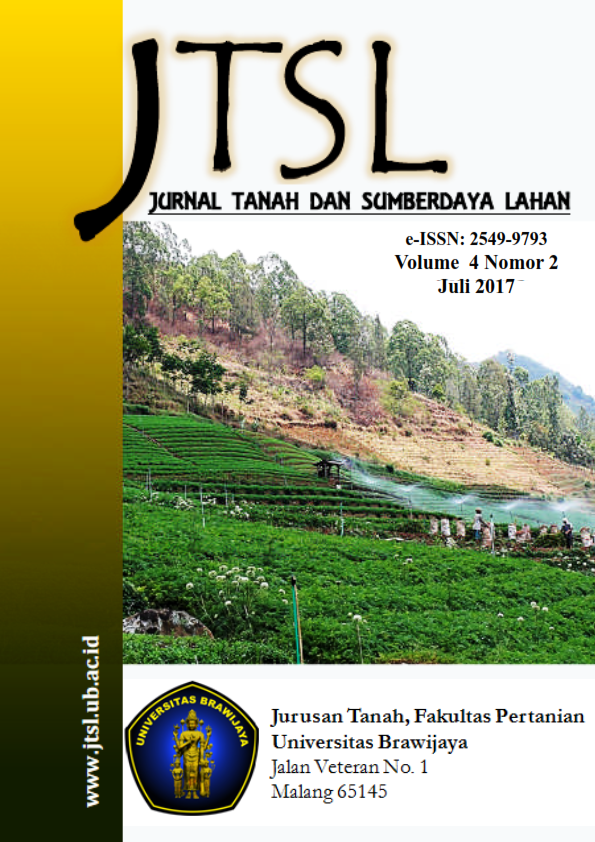 Downloads
How to Cite
Syahril, N. M., Nuraini, Y., & Purwani, J. (2017). PENGARUH SIANOBAKTERI DAN DOSIS PUPUK NITROGEN TERHADAP HASIL PADI SAWAH (Oryza sativa L.). Jurnal Tanah Dan Sumberdaya Lahan, 4(2), 599–608. Retrieved from https://jtsl.ub.ac.id/index.php/jtsl/article/view/177
License
The copyright of the received article shall be assigned to the journal as the publisher of the journal. The intended copyright includes the right to publish the article in various forms (including reprints). The journal maintains the publishing rights to the published articles.

This work is licensed under a Creative Commons Attribution-NonCommercial 4.0 International License.