HUBUNGAN PENDUGAAN CADANGAN KARBON PADA TEGAKAN JATI MENGGUNAKAN PENGINDERAAN JAUH DAN PENGUKURAN LAPANGAN
Abstract
This study was conducted to find out the potential of Landsat 8 OLI / TIRS image to estimate carbon stock and the leverage from image recording scene to its result from estimated carbon stock afterward. This research was conducted at KHDTK Cemoro-Modang. Retrieval and data processing conducted from January to April 2017. There were various data taken during field observation such as diameter at breast height (DBH) in each plot sample, the sample plot represents the Age Class (KU) of teak (Tectona Grandis L) with KU 1, KU2, KU3, KU4, KU5, and KU6. The study used a single channel band of Near Infrared (NIR / Band 5), Shortwave Infrared (SWIR / Band 6 and 7 from Landsat 8 OLI / TIRS and also some vegetation indexes which are Normalized Difference Vegetation Index (NDVI), Simple Ratio (SR), Transformed Difference Vegetation Index (TDVI), Perpendicular Vegetation Index (PVI), Soil Adjusted Vegetation Index (SAVI), Optimized Soil Adjusted Vegetation Index (OSAVI), Visible Atmospherically Resistant Index (VARI) and Green Normalized Difference Vegetation Index (GNDVI). The results of this study showed that Landsat 8 OLI / TIRS image data could be use to estimated carbon stock in landscape of teak stand (Tectona Grandis L), with the model of the best equation is TDVI vegetation index. The equation of the regression test is Y = -3590,557 x + 4033,062 where Y is the carbon value and x is the spectral value of TDVI
References
Asner, G.P., Powell, G.V.N., Mascaro, J., Knapp, D.E., Clark, J.K.,and Jacobson, J. 2010. High-resolution forest carbon stocks and emissions in the Amazon. Proceedings of the National Academy of Sciences 107: 16738–16742.
Bannari, A., Asalhi, H. and Teillet, P. 2002. Transformed Difference Vegetation Index (TDVI) for Vegetation Cover Mapping. Proceedings of the Geoscience and Remote Sensing Symposium, IGARSS '02, IEEE International, Volume 5 (2002).
Basuki, T.M., van Laake. P.E., Skidmore, A.K. and Hussin, Y.A. 2009. Allometric equations for estimating the above-ground biomass in tropical lowland Dipterocarp forests. Forest Ecology and Management 257: 1684–1694.
Basuki, T.M. and Wahyuningrum, N. 2013. Carbon stock assessment in pine forest of Kedung Bulus Sub-Watershed (Gombong District) using remote sensing and forest inventory data. Journal of Forestry Research 10 (1): 21-30.
Basuki, T.M., Heru, D R. dan Sukresno. 2008. Kajian kuantifikasi kandungan karbon pada hutan tanaman jati (Tectona grandis Linn). Jurnal Penelitian Hutan dan Konservasi Alam 5 (1) : 101 - 106.
Colgan, M.S., Asner, G.P. and Swemmer, T. 2013. Harvesting tree biomass at the stand-level to assess the accuracy of field and airborne biomass estimation in savannas. Ecological Applications 23: 1170–1184.
Gitelson, A. dan Merzlyak, M.N. 1998. Remote sensing of chlorophyll concentration in higher plant leaves. Advances in Space Research 22(5): 689-692.
Malhi, Y., Wood, D., Baker, T.R., Wright, J., Phillips, O.L. dan Cochrane, T. 2006. The regional variation of aboveground live biomass in old-growth Amazonian forests. Global Change Biology 12: 1107–1138.
Purwanto, R.H., Sukamdi, I. dan Wuryanto, H. 2009. Estimasi biomassa tegakan jati (Tectona drandis L.) melalui analisi data digital Landsat 7 ETM+ di BKPH Pasarsore KPH Cepu, Perum Perhutani Unit 1 Jawa Tengah. Jurnal Manajemen Hutan 1(2): 21-27.
Siregar, E.B.M. 2003. Potensi Budidaya Jati. e-USU Reporitory. Universitas Sumatera Utara.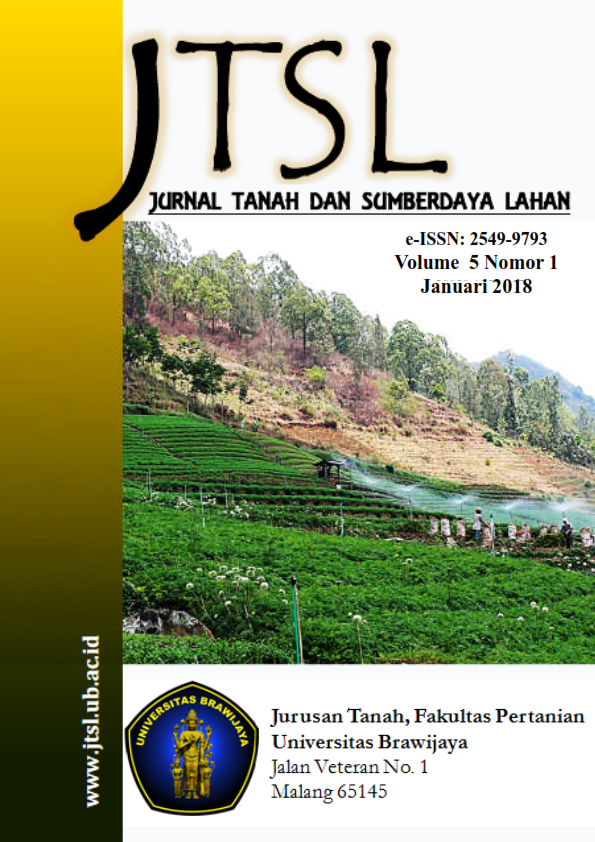 Downloads
How to Cite
Al Qassam, I., & Prayogo, C. (2018). HUBUNGAN PENDUGAAN CADANGAN KARBON PADA TEGAKAN JATI MENGGUNAKAN PENGINDERAAN JAUH DAN PENGUKURAN LAPANGAN. Jurnal Tanah Dan Sumberdaya Lahan, 5(1), 727–737. Retrieved from https://jtsl.ub.ac.id/index.php/jtsl/article/view/192
License
The copyright of the received article shall be assigned to the journal as the publisher of the journal. The intended copyright includes the right to publish the article in various forms (including reprints). The journal maintains the publishing rights to the published articles.

This work is licensed under a Creative Commons Attribution-NonCommercial 4.0 International License.