PENGARUH APLIKASI PUPUK POLYHALITE DAN KCl TERHADAP KADAR K DAN PERTUMBUHAN BIBIT TANAMAN JERUK PAMELO (Citrus maxima) DI KEBUN PERCOBAAN BALITJESTRO, BATU
Keywords:
Pamelo citrus, polyhalite, POLY4, MOP, soil chemical properties
Abstract
There are still many farmers in Indonesia who use a single fertilizer such as N, P, or K fertilizer. While the needs of plant nutrients are not only that nutrients but also other macronutrients. One of single fertilizer used is KCl fertilizer which only contains essential K nutrients and micro Cl nutrient elements. To overcome this problem, another source of K fertilizer that does not contain Cl is used, especially in Pamelo citrus nurseries. POLY4 fertilizer is used as a source of K nutrients, because it has an excess of containing several nutrients such as K (14%), Ca (17%), Mg (6%), and S (19%). This research was conducted at the BALITJESTRO screen house and the Soil Department Laboratory, Faculty of Agriculture, Brawijaya University. The research design used was a completely randomized design with 5 treatments i.e P0 (100% MOP), P1 (50% POLY4 + 50% MOP), P2 (100% POLY4), P3 (150% POLY4), and P4 (200% POLY4). Parameters of this research were plant height, numbers of leaf, soil pH and exchangeable K, and K content in plant. Result of this study indicated that application of 50% POLY4 + 50% MOP (642 kg ha-1 POLY4 + 150 kg ha-1 MOP) significantly affected the height and number of leaves of Pamelo orange seedlings in 12 weeks, respectively 6.39% and 13.6 % compared to 100% MOP/control (300 kg ha-1 MOP). Application of 150% POLY4 (1,927 kg ha-1 POLY4) significantly increased plant K level by 9.40% compared to control (300 kg ha-1 MOP). Application of POLY4 fertilizer had no significant effect on pH and exchangeable K. The best dose of fertilizer in Pamelo citrus nurseries is the application of POLY4 642 kg ha-1 POLY4 + 150 kg ha-1 MOP (50% POLY4 + 50% MOP).
References
Abdillah, A., Syamsiyah, J., Riyanto, D. dan Minardi, S. 2011. Pengaruh pupuk zeolit dan kalium terhadap ketersediaan dan serapan K di lahan berpasir Pantai Kulonprogo, Yogyakarta. Bonorowo Wetlands 1 (1): 1-7.
Badan Pusat Statistik. 2017. Impor Pupuk Menurut Negara Asal Utama. www.bps.go.id. Diakses tanggal 28 Desember 2018.
Badan Pusat Statistik. 2018. Produksi Sayuran dan Buah-buahan Tahunan di Jawa Timur Tahun 2008-2017 (ton). www.jatim.bps.go.id. Diakses tanggal 3 Desember 2018.
Boughalleb, F., Mhamdi, M. and Hajlaoui, H. 2011. Response of young citrus trees to NPK fertilization under greenhouse and field conditions. Agricultural Journal 6(3):66-73.
BPTP (Badan Penelitian dan Pengembangan Pertanian). 2018. Laporan Hasil Pengujian Tanah. No 251.1/166/LT/12/2018.
Darlita, RR., Joy, B. dan Sudirja, R. 2017. Analisis beberapa sifat kimia tanah terhadap peningkatan produksi kelapa sawit pada tanah pasir di Perkebunan Kelapa Sawit Selangkun. Jurnal Agrikultura 28(1):15-20.
Farhad, I.S.M., Islam, M.N., Hoque, S. and Bhuiyan, M.S.I. 2010. Role of potassium and sulphur on the growth, yield, and oil content of soybean (Glycine max L.). Journal of Plant Science 3 (2): 99-103.
Fernandez, A. and Guzman C.D. 2013. Quality and nutrition of Pummelo as influenced by potassium. Journal of Environmental Science and Engineering 1(2):97-105.
Kumar, N., Meenakshi, N., Suresh, J. and Nosov, V. 2006. Effect of potassium nutrition on growth, yield and quality of papaya (Carica papaya L.). Indian Journal of Fertilizers, 2(4), 43-47.
Mann K.K., Waldo, L.J., Hostler, K., Mann, R.S. and Schumann, A.W. 2010. Estimating relative nutrient uptake by mature citrus trees in field conditions. Proceedings of the Florida State Horticultural Society 3(12):67-73.
Mello, S.D.C., Tonhati, R., Neto, D.D., Darapuneni, M. and Pavuluri, K. 2018. Response of tomato to polyhalite as a multinutrient fertilizer in Southeast Brazil. Journal of Plant Nutrition 41(16) 2126-2140.
Nugroho, P.A. 2015. Dinamika hara kalium dan pengelolaannya di perkebunan karet. Warta Perkaretan 34(2):89-102.
Pavuluri, K., Malley, Z., Mzimbiri, M. K., Lewis, T.D. and Meakin, R. 2017. Evaluation of polyhalite in comparison to muriate of potash for corn grain yield in the Southern Highlands of Tanzania. African Journal of Agronomy 5(3):325-332.
Thomas, T.C. and Thomas A.C. 2009. Vital role of potassium in the osmotic mechanism of stomata aperture modulation and its link with potassium deficiency. Plant Signal Behaviour 4(3) 240–243.
Yemiryahu, U., Zipori, I., Faingold, I., Yusopov, L., Faust, N. and Bar-Tal, A. 2017. Polyhalite as a multi nutrient fertilizer – potassium, magnesium, calcium and sulfate. Israel Journal of Plant Sciences (3)4:145-156.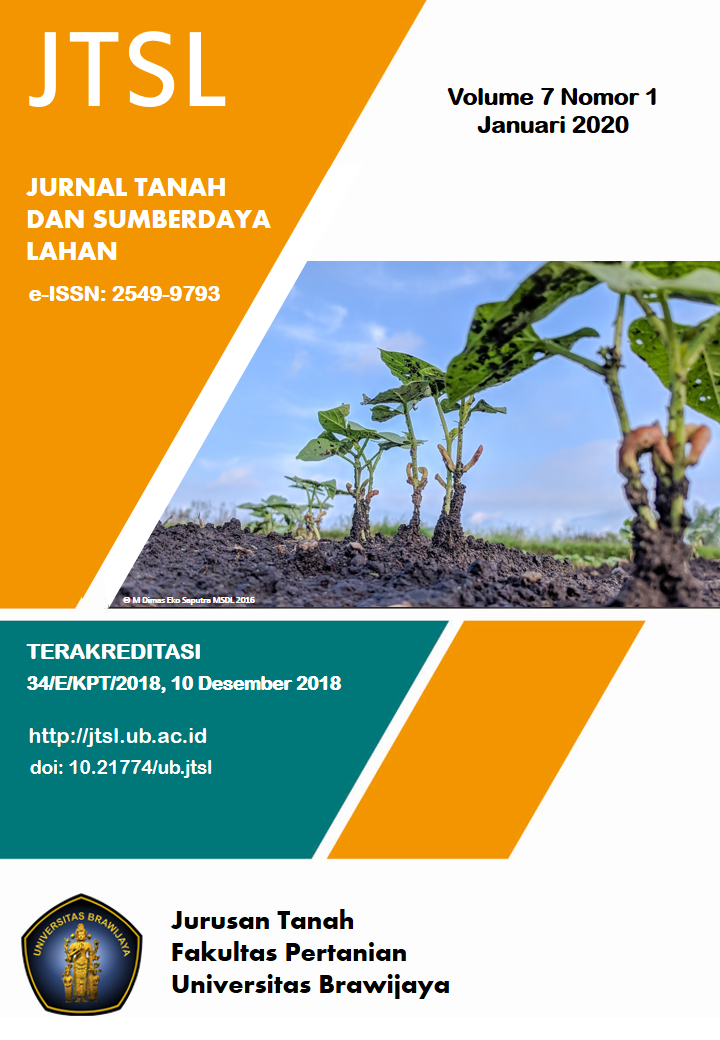 Downloads
How to Cite
Suntari, R., Sutopo, S., & Maudyansa, A. G. (2020). PENGARUH APLIKASI PUPUK POLYHALITE DAN KCl TERHADAP KADAR K DAN PERTUMBUHAN BIBIT TANAMAN JERUK PAMELO (Citrus maxima) DI KEBUN PERCOBAAN BALITJESTRO, BATU. Jurnal Tanah Dan Sumberdaya Lahan, 7(1), 87–92. https://doi.org/10.21776/ub.jtsl.2020.007.1.11
License
The copyright of the received article shall be assigned to the journal as the publisher of the journal. The intended copyright includes the right to publish the article in various forms (including reprints). The journal maintains the publishing rights to the published articles.

This work is licensed under a Creative Commons Attribution-NonCommercial 4.0 International License.