PENGARUH PEMBERIAN SOLID (TANDAN KOSONG KELAPA SAWIT) DAN ARANG SEKAM PADI TERHADAP PRODUKSI TANAMAN TOMAT
Keywords:
charcoal, solid, rice husk, tomato plant
Abstract
This study aimed to determine the effect of various types of solid (oil palm empty fruit bunches) and rice husk charcoal on the production of tomato plant (Solanum lycopersicum L). The treatments tested for this study consisted of two factors. The first factor was the provision of solid, i.e. S0 = without solid (control), S1 = 0.50 kg solid polybag-1, S2 = 0.70 kg solid polybag-1, and S3: 1 kg  solid polybag-1. The second factor was the provision of rice husk charcoal, i.e. P0 = without husk charcoal (control), P1 = 0.2 kg husk charcoal polybag-1, and P2 = 0.4 kg husk charcoal polybag-1. Each polybag contained 5 kg of air-dried soil. The results of this study indicated that the provision of solid and rice husk charcoal against tomato plant production had no significant effect on stem diamater, total number of fruits per plant, and total weight of fruits per plant. However, the treatment interaction of 1 kg solid polybag-1 and 0.2 kg husk charcoal polybag-1 increased stem diameter, total number of fruits per plant,  and total weight of fruits per plant.
References
Akyas, A.M., Widayat, D. and Nursuhud. 2004. Research and development in hydroponics technology at the Laboratory of Horticulture Padjadjaran University (a case with tomato cultivar Recento). The 5th International Symposium-Cum-Workshop in Southeast Asia. The Role of German Alumni In Rural/ Regional Development And Entrepreneurship, 23- 27 August 2004, Phnom Penh – Cambodia.
Anom, E. dan Armaini, A. 2016. Aplikasi Solid pada Medium Bibit Kelapa Sawit (Elaeis guineensis Jacq.) di Main Nursery. Disertasi, Universitas Riau.
Bua, B., Owiny, R. and Akasairi, O. 2017. Response of onion to different organic amendments in central Uganda. Journal of Agriculture Science and Technology 7:79-85.
Caspersen, S., Svensson. B., Hakansson, T., Winter, C., Khalil, S. and Asp, H. 2016. Blueberry–Soil interactions from an organic perspective. Scientia Horticulturae 208: 78–91.
Gaswanto, R., Gunaeni, N. dan Duriat, A.S. 2009 Seleksi tanaman tomat berdasarkan ketahanan pasif dan aktif terhadap CMV. Jurnal Hortikultura 19(4):377-385.
Gomez, K .A. dan Gomez, A.A. 1995. Prosedur Statistik untuk Penelitian Pertanian. Edisi ke 2. Jakarta: UI Press.
Hamim. T. 2010. Kajian jarak tanaman pada tumpangsari tomat (Lycopersicum esculentum Mill.) dan bawang prei (Allium fistulosum). Jurnal Ilmu Pertanian 11(1): 32-40.
Hayati, E., Sabaruddin dan Rahmawati. 2012. Pengaruh jumlah mata tunas dan komposisi media tanam terhadap pertumbuhan setek tanaman jarak pagar (Jatropha curcas L.) Jurnal Agrista 16(3): 129-134.
Kolo, A. dan Raharjo, K.T.P. 2016. Pengaruh pemberian arang sekam padi dan frekuensi penyiraman terhadap pertumbuhan dan hasil tanaman tomat (Lycopercicom esculentum Mill). Savana Cendana 1(03): 102-104.
Komarayati, S. dan Indrawati, I. 2003. Isolasi dan identifikasi mikroorganisme dalam arang kompos. Jurnal Penelitian Hasil Hutan 21(3): 251-258.
Murbandono, L. 2008. Membuat Bokashi. Penebar Swadaya, Jakarta.
Osman, F. 1996. Memupuk Tanaman Padi dan Palawija. Penebar Swadaya, Jakarta.
Perwitasari, B., Tripatmasari, M. dan Wasonowati, C. 2012. Pengaruh media tanam dan nutrisi terhadap pertumbuhan dan hasil tanaman pakchoi (Brassica juncea L.) dengan sistem hidroponik. Agrovigor 5(1): 14-25.
Pincus, L., Margenot, A., Six, J. and Scow, K. 2016. On-farm trial assessing combined organic and mineral fertilizer amendments on vegetable yields in central Uganda. Agriculture, Ecosystems and Environment 225: 62–71.
Rifai, B. dan Soebroto, S.R. 1982. Ilmu Memupuk II. CV. Yasa Guna, Jakarta
Saragih, W.C. 2008. Respon Pertumbuhan dan Produksi Tomat Terhadap Pemberian Pupuk Phospat dan Bahan Organik. Skripsi. Universitas Sumatera Utara.
Soleh. A. 2009. Pemanfaatan Pupuk Kandang Ayam Untuk Pertumbuhan dan Produksi Tanaman Hortikultura. Transindo, Jakarta.
Sudarsono, W.A., Melati, M. dan Aziz, S.A. 2013. Pertumbuhan, serapan hara dan hasil kedelai organik melalui aplikasi pupuk kandang. Jurnal Agronomi Indonesia 41: 202-208.
Tautges, N.E., Sullivan, T.S., Reardon, C.L. and Burke, I.C. 2016. Soil microbial diversity and activity linked to crop yield and quality in a dryland organic wheat production system. Applied Soil Ecology 108: 258–268.
Wang, S., Tan, Y., Fan, H., Ruan, H. and Zheng, A. 2015. Responses of soil microarthropods to inorganic and organic fertilizers in a popular plantation in a coastal area of eastern China. Applied Soil Ecology 89: 69–75.
Wasonowati, C. 2011. Meningkatkan pertumbuhan tanaman tomat (Lycopersicon esculentum) dengan sistem budidaya hidroponik. Agrovigor 4(1): 21-27.
Yusrianawati. 2011. Pengaruh Pemberian Beberapa Macam Pupuk Daun terhadap Pertumbuhan dan Hasil Tanaman Tomat (Lycopersicum esculentum Mill.). Prosiding Seminar. Jurusan Budidaya Pertanian Universitas Gadjahmada, Yogyakarta.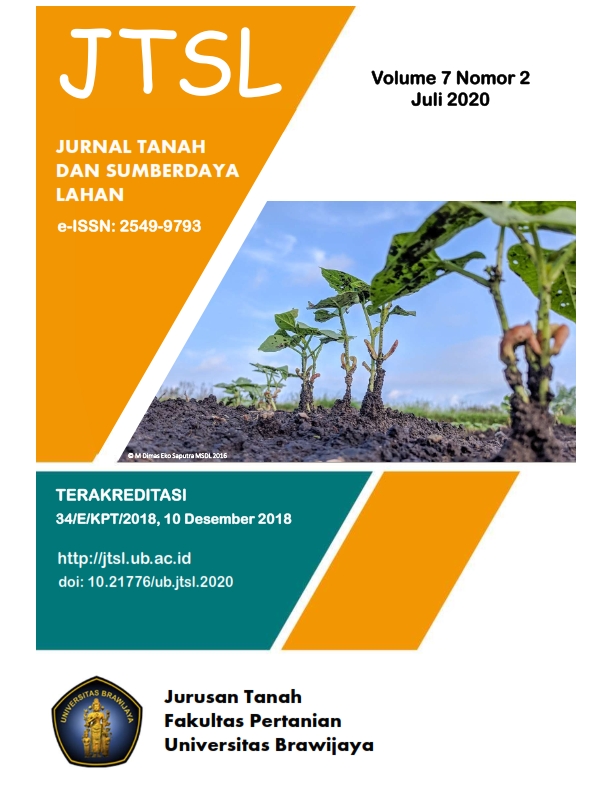 Downloads
How to Cite
Fadhillah, W., & Harahap, F. S. (2020). PENGARUH PEMBERIAN SOLID (TANDAN KOSONG KELAPA SAWIT) DAN ARANG SEKAM PADI TERHADAP PRODUKSI TANAMAN TOMAT. Jurnal Tanah Dan Sumberdaya Lahan, 7(2), 299–304. https://doi.org/10.21776/ub.jtsl.2020.007.2.14
License
The copyright of the received article shall be assigned to the journal as the publisher of the journal. The intended copyright includes the right to publish the article in various forms (including reprints). The journal maintains the publishing rights to the published articles.

This work is licensed under a Creative Commons Attribution-NonCommercial 4.0 International License.