PENGUJIAN BAKU MUTU LOGAM NIKEL PADA TEKSTUR TANAH YANG BERBEDA DENGAN INDIKATOR TANAMAN PADI
Keywords:
heavy metal, nickel, quality standard, rice, soil
Abstract
Fertilizers and pesticides application in the agricultural sector provide a significant benefit in agricultural production. However, the use of fertilizers and pesticides continuously can be a harmful effect on the condition of the agricultural environment and the living things around it. Heavy metal pollution from the use of fertilizers and pesticides can cause health problems in humans, animals, and soil. Nickel is a dangerous heavy metal. The purpose of this study was to obtain the value of nickel-metal quality standards in two types of soil texture with rice as an indicator plant. This nickel quality standard testing activity was carried out in 2018 at the Indonesian Agricultural Environment Research Institute. Light textured soil was obtained from Bantul and heavy textured soil from Lamongan and Ngawi. Soil samples were tested for the adsorption of heavy metals using the Langmuir approach. A pot experiment was conducted at the screen house for heavy metals calibration in the soil. The results of the regression of the nickel content in the soil and rice can be seen as the quality standard value. Estimated quality standards in light-textured soils (Bantul) was 1.388 mg kg-1, heavy-textured soils (Lamongan and Ngawi) was 1.855 mg kg-1 and 1.697 mg kg-1, respectively. The value of nickel-metal quality standards in the clayey soils are higher than those in the light-textured soils
References
Alloway, B.J. 1990. Soil Processes and Behaviour of Metal. In: Alloway, B.J (ed). Heavy Metals in Soils. Blackie Glasgow and London Halsted Press John Wiley and Sons Inc. New York.
Badan Standardisasi Nasional. 2009. SNI 7387:2009 Batas Maksimum Cemaran Logam Berat dalam Pangan SNI 7387:2009. Badan Standardisasi Nasional. Jakarta.
Cempel, M. and Nikel, G. 2006. Nickel: a review of its sources and environmental toxicology. Polish Journal of Environmental Studies 15(3): 375-382.
Darmono. 1995. Logam dalam Sistem Biologi Makhluk hidup. Universitas Indonesia Press. Jakarta.
Hseu, Z.Y. and Lai, Y.J. 2017. Nickel accumulation in paddy rice on serpentine soils containing high geogenic nickel contents in Taiwan. Environmental Geochemistry and Health 39(6): 1325-1334.
Mellis, E.V., Cruz, M.C.P. and Casagrande.J.C. 2004. Nickel adsorption by soils in relation to pH,organic matter, and iron oxides. Science of Agriculture (Piracicaba, Braz.) Journal 61(2):190-195.
Mohamad, E. 2013. Pengaruh variasi waktu kontak tanaman bayam duri terhadap adsorpsi logam berat kadmium (Cd). Jurnal Entropi 3(1) : 562-571.
Ramachandran, V. and D'Souza, S.F. 2013. Adsorption of nickel by Indian soils. Journal of Soil Science and Plant Nutrition 13(1): 165-173.
Rizwan, M., Imtiaz, M., Dai, Z., Mehmood, S., Adeel, M., Liu, J. And Tu, S. 2017. Nickel stressed responses of rice in Ni subcellular distribution, antioxidant production, and osmolyte accumulation. Environmental Science and Pollution Research 24(25): 20587-20598.
Rizwan, M., Mostofa, M. G., Ahmad, M. Z., Imtiaz, M., Mehmood, S., Adeel, M., Dai, Z., Li, Z., Aziz, O., Zhang, Y. And Tu, S. 2018. Nitric oxide induces rice tolerance to excessive nickel by regulating nickel uptake, reactive oxygen species detoxification and defense-related gene expression. Chemosphere 191: 23-35.
Suganda, H., Kasno, A. dan Prasetyo. Batas kritis merkuri dan kadmium pada typic Dstrudepts dan typic Hapluderts untuk padi sawah. Jurnal Tanah dan Iklim 24: 16-21.
Tala'ohu, S.H., Yusrial dan F. Agus. 2000. Pengaruh zeolit dan pupuk kandang terhadap peningkatan dan pencucian Plumbum (Pb), Cadmium (Cd) serta Kalium (K) pada Inceptisols Samarang dan Cianjur, Jawa Barat. Didalam Prosiding Seminar Nasional Reorientasi Pendayagunaan Sumberdaya Tanah, Iklim dan Pupuk. Cipayung-Bogor, 31 Oktober – 2 November 2000. Puslitbangtanak. Bogor. Hal. 31-52.
Tarradellas, J. and Bitton, G. 1997. Chemical pollutants in soils. Pp 3-32 in: J. Tarradellas, G. Bitton, and D. Rossel (eds.), Soil Ecotoxicology, Lewis Publishers, Boca Raton, FL.
Wiyarsi, A. dan Priyambodo, E. 2009. Pengaruh Konsentrasi Kitosan dari Cangkang Udang Terhadap Efisiensi Penjerapan Logam Berat. Universitas Negeri Yogyakarta, Fakultas Matematika dan Ilmu Pengetahuan Alam, Yogyakarta (Skripsi).
Xueping, C., Juan, Y., Zheng, C., Hongmei, Z., Wangda, C., Fayan, B., Yu, Z., Ahmed, K., Ciquan, H. And Xiaoyan, L. 2020. Acetotrophic methanogens are sensitive to long-term nickel contamination in paddy soil. Environmental Science: Processes & Impacts. 10.1039/D0EM00029A.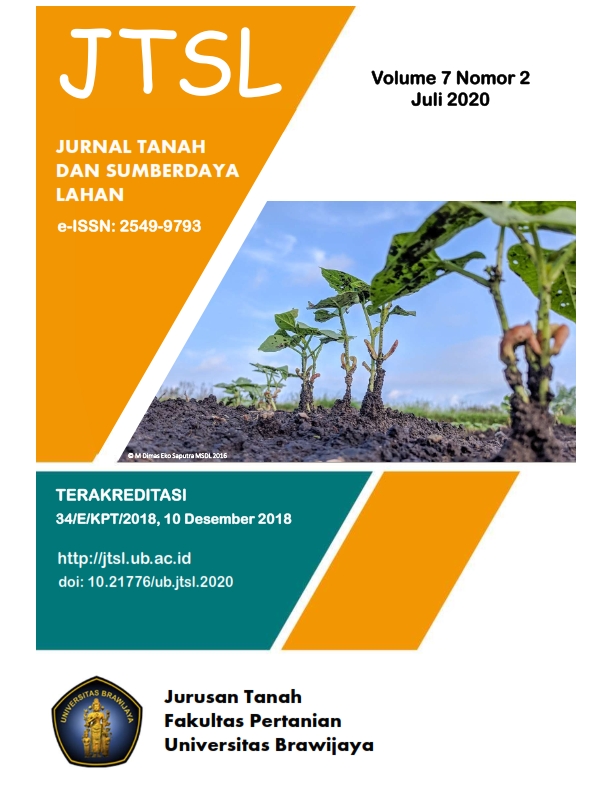 Downloads
How to Cite
Zulaehah, I., Sukarjo, S., & Harsanti, E. S. (2020). PENGUJIAN BAKU MUTU LOGAM NIKEL PADA TEKSTUR TANAH YANG BERBEDA DENGAN INDIKATOR TANAMAN PADI. Jurnal Tanah Dan Sumberdaya Lahan, 7(2), 263–271. https://doi.org/10.21776/ub.jtsl.2020.007.2.10
License
The copyright of the received article shall be assigned to the journal as the publisher of the journal. The intended copyright includes the right to publish the article in various forms (including reprints). The journal maintains the publishing rights to the published articles.

This work is licensed under a Creative Commons Attribution-NonCommercial 4.0 International License.