ANALISIS PERUBAHAN CADANGAN HARA PADA BERBAGAI PENGGUNAAN LAHAN DAN KELERENGAN DI DAS MIKRO KALI KUNGKUK, KOTA BATU
Keywords:
apple orchard, micro watershed, nutrient stocks, soil fertility management, vegetable land
Abstract
The Kali Kungkuk micro watershed which is located in the upper area of Brantas watershed, had  experienced forest conversion to horticulture during the last fourth decades. Since the physiographic of Kali Kungkuk micro watershed is hilly, forest conversion to horticulture may result in soil nutrient stock changes. The research aimed to analyze soil nutrient stock from forest to horticulture land uses (i.e. apple orchard and vegetables) in the Kali Kungkuk micro watershed. The field research was conducted on three different land uses (i.e. vegetable land (PK), apple orchard (PA), and forest (PH)) and four land slope classes (i.e. slope 0-8% (K1), 8-15% (K2), 15-25% (K3), and > 25% (K4)), with three, replicates plots of each. Soil samples were collected at three different depths (0-10, 10-30, and 30- 50 cm) from each plot. The parameters measured included soil texture, bulk density, standing litter mass, canopy cover, basal area, soil organic carbon and total  nitrogen. Data analysis was conducted with Linear Mixed Effect Models with a level of 5% and a further analysis of LSD test level of 5% as well as a correlation test between observational parameters. The results showed that differences in land use and slope affected to significant differences in the content of soil organic C and total N. In general, forests had higher soil C and N stocks as compared to other land uses (i.e. apple orchard and vegetables). Furthermore, soil organic C and total N was higher in the low slopes (i.e. 0-8%) and (8-15%) as compared to the high slopes (i.e. 15-25%) and (> 25%). The study found a positive correlation between soil nutrient stocks (i.e. C and N) and clay content. In contrast, soil C and N stock was negatively correlated with soil bulk density. Soil fertility degradation that occurs in the Kali Kungkuk micro watershed (i.e. apple orchard and vegetables) requires serious attention in soil management in order to ensure the sustainability of apple and vegetable production.
References
Agus, F., R.D. Yustika, dan Umi H. 2006. Penetapan Berat Volume Tanah. Balai Besar Litbang Sumberdaya Lahan Pertanian. Departemen Pertanian. Bogor 25-34
Allen, K., Marife D. C., Kurniawan, S., Utami, S., R. andn Edzo, V. 2016. Spatial variability surpasses land-use change effects on soil biochemical properties of converted lowland landscapes in Sumatra, Indonesia. Geoderma 284 : 42-50
Baker, J,M., Ochsner, T.E., Venterea, R.T. and Griffis, T.J. 2006. Tillage and Soil Carbon Sequestration-What do we Really Know?. Collingwood:CSIRO Publishing.
Basic, F., Kisic, I., Mesic, M., Nestroy, O. and Butorac, A. 2004. Tillage and crop management affects on soil erosion in Central Croatia. Soil & Tillage Research 78: 197-206
Bot, A. dan Benites, J. 2005. The Importance of Soil Organic Matter, Key to Drought-Resistant Soil and Sustained Food Production. Food and Agriculture Organization of the United Nations. Italia
BPS (Badan Pusat Statistik). 2018. Kecamatan Bumiaji Dalam Angka 2018. Badan Pusat Statistik. Batu
Direktorat Jenderal Rehabilitasi Lahan dan Perhutanan Sosial: Departemen Kehutanan. 2003. Rencana Teknik Lapangan Rehabilitasi Lahan dan Konservasi Tanah (RTL-RLKT).
Doetterl, S., Berhe, A.A., Nadeu, E., Wang, Z.G., Sommer, M., dan Fiener, P. 2016. Erosion, deposition and soil carbon: a review of process-level controls, experimental tools and models to address C cycling in dynamic landscapes. Earth-Science Reviews 154: 102-122
Hanafiah, A.H. 2005. Dasar-Dasar Ilmu Tanah. Rajawali Pers. Jakarta
Haryati, U. 2014. Karakteristik fisik tanah kawasan budidaya sayuran dataran tinggi, hubungannya dengan strategi pengelolaan lahan. Jurnal Sumberdaya Lahan 3(2) : 125-138
Kempen, B., Dalsgard, S., Kaaya, A.K., Chamuya, N., Gonzales, M.R., Pekkarinen, A. and Walsh, M.G. 2018. Mapping topsoil organic carbon concentrations and stocks for Tanzania. Geoderma 337: 164-180.
McKenzie, R. 2010. Soil Carbon Sequestration Under Pasture. (Project MCK 13538). In Australian McKenzie Soil Management. Orange NSW: Dairy Regions. Dairy Australia.
Nainggolan, G.D., Suwardi, dan Darmawan. 2009. Pola pelepasan nitrogen dari pupuk tersedia lambat (Slow Release Fertilizer) urea-zeolit-asam humat. Jurnal Zeolit Indonesia (8) 2: 89-96
Pawlson, D.S., Whitmore, A.P. and dan Goulding, K.W.T. 2011. Soil carbon sequestration to mitigate climate change-a critical re-examination to identify the true and the false. European Journal of Soil Science 62(1): 42-55.
Simbolon, S.D., Zulkifli, N., Abdul, R. D. and Delvian. 2016. Kerugian ekonomi sebagai dampak erosi di kawasan hulu DAS. Jurnal Ilmiah Ukhuwah. 3 (11) : 302-471.
Singh, P. dan Benbi, D.K. 2018. Soil organic carbon pool changes in relation to slope position and land-use in Indian Lower Himalayas. Catena 166: 171-180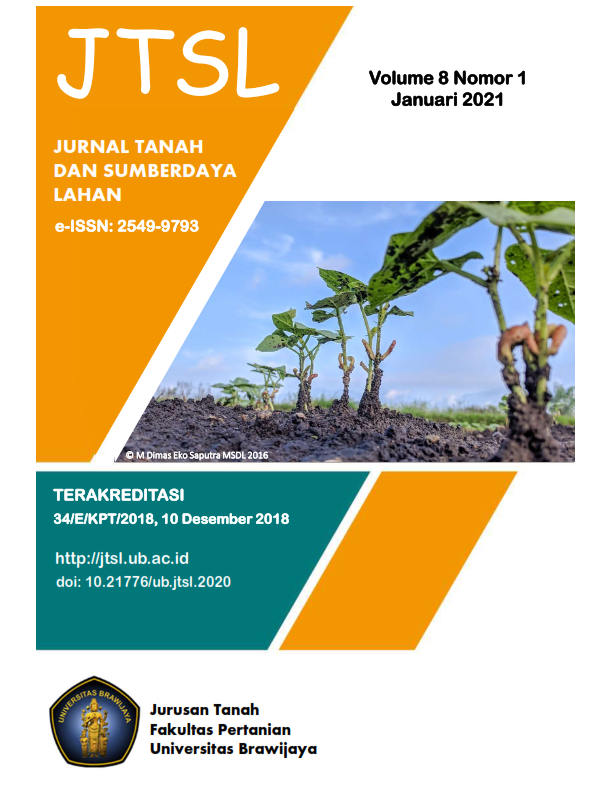 Downloads
How to Cite
Wiwaha, R. A., & Kurniawan, S. (2020). ANALISIS PERUBAHAN CADANGAN HARA PADA BERBAGAI PENGGUNAAN LAHAN DAN KELERENGAN DI DAS MIKRO KALI KUNGKUK, KOTA BATU. Jurnal Tanah Dan Sumberdaya Lahan, 8(1), 1–8. https://doi.org/10.21776/ub.jtsl.2021.008.1.1
License
The copyright of the received article shall be assigned to the journal as the publisher of the journal. The intended copyright includes the right to publish the article in various forms (including reprints). The journal maintains the publishing rights to the published articles.

This work is licensed under a Creative Commons Attribution-NonCommercial 4.0 International License.