INDEKS STABILITAS AGREGAT TANAH PADA PERKEBUNAN TEH BERBASIS SLOPE DAN UMUR TANAMAN DI KECAMATAN GUNUNG TALANG KABUPATEN SOLOK
Keywords:
aggregate stability index, crop age, slope level, soil structure, tea plantation
Abstract
Land-use change from the forest into tea plantation in Solok Regency in 1983 has decreased the area of forests in Gunung Talang District. Clearing up the forest at the beginning for tea plantation could worsen the physical and chemical conditions of the soil. One of which is soil aggregate stability that is very dynamic and can influence other soil physical properties. This study was aimed to determine soil Aggregate Stability Index (ASI) at tea plantations. Soil samples was taken at a depth of 0-20 cm from five different slopes (0-8% (A), 8-15% (B), 15-25% (C), 25-45% (D), and> 45% (E)) and at two crop ages (10 and 35 years old). The results showed that the soil aggregate stability index at tea plantations ranged from stable to very stable. It tended to decrease by increasing slope percentage at each of crop age, Between the ages, it showed higher ASI at 35 years old crop age under relatively flat (0-8%) and very steep (>45%) areas.
References
Arsyad, S. 2006. Konservasi Tanah dan Air. Cetakan ketiga. IPB Press. Bogor.
BPPP (Badan Penelitian dan Pengembangan Perkebunan, Kementerian Pertanian). 2010. Budidaya dan Pasca Panen Teh. Badan Penelitian dan Pengembangan Pertanian. Bogor.
Badan Pusat Statistik Kabupaten Solok. 2018. Kecamatan Gunung Talang Dalam Angka., 2018. hal 89. https://solokkab.bps.go.id/ acc. 10 Desember 2019.
Balai Penelitian Tanah. 2009. Petunjuk teknis analisis kimia tanah, tanaman, air, dan pupuk. Badan Penelitian dan Pengembangan Pertanian Departemen Pertanian. Edisi Petunjuk Teknis 2. 246 hal.
Fitter, A.H. dan Hay, R.K.M. 1998. Fisiologi Lingkungan Tanaman. Terjemahan. Sri Andani dan Purbayanti. Gajah Mada University Press, Yogyakarta
Hanafiah, K.A. 2012. Dasar - Dasar Ilmu Tanah. PT Raja Grafindo Persada. Jakarta. 386 hal.
Junaedi, A. dan Safitri, I.A. 2018. Manajemen pemangkasan tanaman teh (Camellia sinensis (L.) O. Kuntze) di Unit Perkebunan Tambi, Jawa Tengah. Buletin Agrohorti 6(3) : 344 – 353.
Kurnia, U. 1996. Kajian Metode Rehabilitasi Lahan untuk Meningkatkan dan Melestarikan Produktivitas Tanah. Disertasi Fakultas Pasca Sarjana, IPB. Bogor.
Lawenga, F. F., Hasanah, U. dan Widjajanto, D. 2015. Pengaruh pemberian pupuk organik terhadap sifat fisika tanah dan hasil tanaman tomat (Lycopersicum esculentum Mill.) di Desa Bulupountu Kecamatan Sigi Biromaru Kabupaten Sigi. Agrotekbis 3(5) : 564-570
Li, T., Wang, S. and Zheng, Z. 2018. Effects of tea plantation age on soil aggregate-associated C- and N-cycling enzyme activities in the hilly areas of Western Sichuan, China. Catena 171 : 145-153.
Pusat Penelitian dan Pengembangan Tanah dan Agroklimat. 2004. Teknologi konservasi tanah pada lahan kering berlereng. Puslitbang Tanah dan Agroklimat. Bogor.
Refliaty, R. dan Marpaung, E.J. 2010. Kemantapan agregat Ultisol pada beberapa penggunaan lahan dan kemiringan Lereng. Jurnal Hidrolitan 1(2): 35-42.
Resman, A.S., Syamsul, S. dan Bambang, H.S. 2006. Kajian beberapa sifat kimia dan fisika inceptisol pada toposekuen lereng selatangunung merapi kabupaten sleman. Jurnal Ilmu Tanah dan Lingkungan 6(2):101-108.
Six, J., Elliot, E.T. and Paustian, K. 2000. Soil structure and soil organic matter: II. A normalized stability index and the effect of mineralogy. Soil Science Society of America Journal 64 : 1042-1049.
Wachjar, A. dan Rohmah, N. 2015. Pengelolaan pemangkasan tanaman teh (Camellia sinensis (L.) O. Kuntze) di Wonosobo. Buletin Agrohorti 3(1): 79-86
Widianto, Nuraini, Y. dan Utomo, B.Y. 2015. Kajian kemantapan agregat tanah pada pemberian beberapa jenis bahan organik di perkebunan kopi robusta. Jurnal Tanah dan Sumberdaya Lahan 2(1) : 111-117.
Yulnafatmawita., Asmar, dan Ramayani, A. 2007. Kajian Sifat Fisika 4 Tanah Utama di Sumatera Barat. Jurnal Solum 4(1): 80-89.
Yulnafatmawita., Detafiano, D., Afner, P. dan Adrinal. 2014. Dynamics of physical properties of ultisol under corn cultivation in wet tropical area. International Journal on Advanced Science, Engineering and Information Technology 4(5) : 11-15.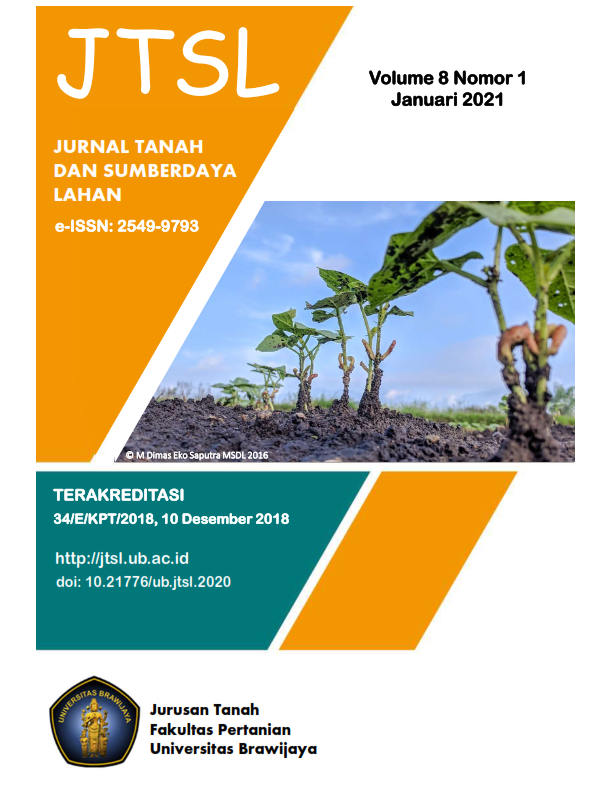 Downloads
How to Cite
Afner, D. D. P., Aprisal, A., & Yulnafatmawita, Y. (2020). INDEKS STABILITAS AGREGAT TANAH PADA PERKEBUNAN TEH BERBASIS SLOPE DAN UMUR TANAMAN DI KECAMATAN GUNUNG TALANG KABUPATEN SOLOK. Jurnal Tanah Dan Sumberdaya Lahan, 8(1), 75–81. https://doi.org/10.21776/ub.jtsl.2021.008.1.10
License
The copyright of the received article shall be assigned to the journal as the publisher of the journal. The intended copyright includes the right to publish the article in various forms (including reprints). The journal maintains the publishing rights to the published articles.

This work is licensed under a Creative Commons Attribution-NonCommercial 4.0 International License.