PERBEDAAN KEMAMPUAN TANAH DALAM MENAHAN AIR PADA BERBAGAI KELERENGAN LAHAN KOPI DI DAERAH SUMBERMANJING WETAN, KABUPATEN MALANG
Keywords:
availability of ground water, movement of water, slope of land, soil properties, water holding capacity
Abstract
Water is a natural resource that is very important because its existence is needed for living things, including plants that need water for their growth and development. The availability of water in the soil has different amounts because it is influenced by various soil properties in the land. Land that has a sloping ground surface, the movement of water that enters the ground does not only move vertically as in land that has a flat surface but also laterally is parallel to the sloping land surface and moves down the slope. The first land has a slope percentage of 6%, the second has a slope of 13%, the third has a slope of 23%, and the fourth has a slope of 37%. The study consisted of 4 treatments for different levels of a land slope, and nine replication points were carried out. The results of this study indicated that the difference in the level of slope in each land had an effect on the water content in the soil at a depth of 40-60 cm; the higher the percentage of the slope of the land reduced the availability of groundwater. Specific gravity, porosity, and soil meso pore had a significant effect on the soil water content with a positive correlation direction, meaning that the higher the density, porosity, and soil meso pores, the more water available in the soil. Macro pores and soil micro pores had a significant effect on soil water content with a negative correlation, meaning that the higher the macro pores and soil micro pores will reduce the available water in the soil.
References
Abyaneh, H.Z., Varkeshi, M.B., Ghasemi, A., Marofi, S. and Chayjan, R.A. 2011. Determination of water requirement, single and dual crop coefficient of garlic (Allium sativum) in the cold semi-arid climate. Australian Journal of Crop Science 5(8):1050-1054.
Amer, A.M.M. 2012. Water flow and conductivity into capillary and non-capillary pores of soils. Journal of Soil Science and Plant Nutrition 12(1): 99-112.
Dariah, A., Haryati, U. dan Budhyastoro, T. 2005. Teknologi Konservasi Tanah Mekanik. Balai Penelitian dan Pengembangan Pertanian Departemen Pertanian. Jakarta.
Hanafiah KA. 2012. Dasar-Dasar Ilmu Tanah. Jakarta: Penerbit Rajawali Press.
Haridjaja, O., Baskoro, D.P.T. dan Setianingsih, M. 2013. Perbedaan nilai kadar air kapasitas lapang berdasarkan metode alhricks, drainase bebas, dan pressure plate pada berbagai tekstur tanah dan hubungannya dengan pertumbuhan bunga matahari (Helianthus annuus L.). Jurnal Ilmu Tanah dan Lingkungan 15(2): 52-59, doi: 10.29244/jitl.15.2.52-59
Haridjaja, O., Murtilaksono, K., Sudarmo dan Rachman. 1991. Hidrologi Pertanian. IPB Press. Bogor.
Harjdowigeno, S. 2010. Ilmu Tanah. Akademika Pressindo, Jakarta.
Hasibuan, B. E. 2006. Pupuk dan Pemupukan. USU Press. Medan.
Istiqomah, D.N., Dias G. dan Prijono, S. 2015. Uji efektivitas kombinasi jenis pupuk organik dan biourin kelinci terhadap kemantapan agregat dan pertumbuhan tebu pada fase pertunasan. Tanah dan Sumberdaya Lahan 2(1): 129-137
Khodijah, S. dan Soemarno. 2019. Studi Kemampuan Tanah Menyimpan Air Tersedia di Sentra Bawang Putih Kecamatan Pujon, Kabupaten Malang. UB Malang.
Kurnia, U., Agus, F., Adimiharja, A. dan Dariah, A. 2006. Sifat Fisik Tanah dan Metode Analisisnya. Balai Penelitian dan Pengembangan Pertanian Departemen Pertanian. Jakarta.
Lee, E. and Kim, S. 2019. Seasonal and spatial characterization of soil moisture and soil water tension in a steep hillslope. Journal of Hydrology 568: 676-685.
Lipiec, J., Hajnos, M. and Swieboda, R. 2006. Estimating effectsof compaction on pore size distribution of soil aggregates by mercury porosimeter. Geoderma 179-180: 20-27.
Malau, R.S. dan Utomo, W.H. 2017. Kajian sifat fisik tanah pada berbagai umur tanaman kayu putih (Melaleuca cajuputi) di lahan bekas tambang batubara PT Bukit Asam (Persero). Jurnal Tanah dan Sumberdaya Lahan. 4(2): 525-531.
Maritha, N.K. dan Yulfiah. 2018. Hubungan Porositas dengan Sifat Fisik Tanah pada Infiltration Gallery. Institut Teknologi Adhi Tama: Surabaya
Nugroho, Y. 2016. Pengaruh Posisi Lereng Terhadap Sifat Fisika Tanah. Fakultas Kehutanan Universitas Lambung Mangkurat.
Wang, X. and Wang, L.B. 2007. Dynamic analysis of a water–soil–pore water coupling system. Computers & Structures 85(11-14): 1020-1031.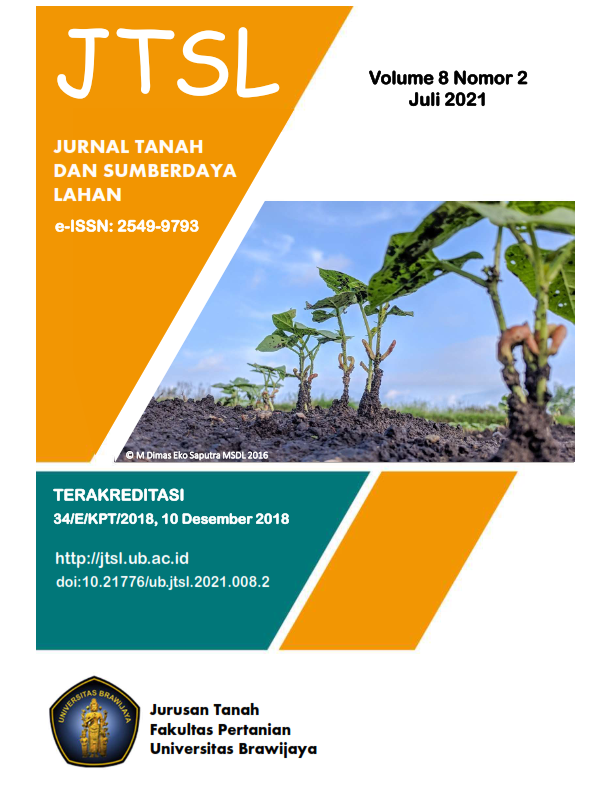 Downloads
How to Cite
Faiz, A. M., & Prijono, S. (2021). PERBEDAAN KEMAMPUAN TANAH DALAM MENAHAN AIR PADA BERBAGAI KELERENGAN LAHAN KOPI DI DAERAH SUMBERMANJING WETAN, KABUPATEN MALANG. Jurnal Tanah Dan Sumberdaya Lahan, 8(2), 481–491. https://doi.org/10.21776/ub.jtsl.2021.008.2.19
License
The copyright of the received article shall be assigned to the journal as the publisher of the journal. The intended copyright includes the right to publish the article in various forms (including reprints). The journal maintains the publishing rights to the published articles.

This work is licensed under a Creative Commons Attribution-NonCommercial 4.0 International License.