PERBANDINGAN INDEKS ERODIBILITAS TANAH YANG DITETAPKAN DENGAN METODE WISCHMEIER DAN RAINFALL SIMULATOR
Keywords:
land use changed, land degradation, rainfall simulator, soil erodibility, Wischmeier
Abstract
Land use in the upstream area of the Brantas watershed, including that in  Tawangsari village, Pujon District of Malang Regency, has undergone significant changes. The conversion of forest to moor, plantations, and settlements has resulted in decreased soil quality leading to soil degradation. The purpose of this research was aimed to compare the soil erodibility index determined by the rainfall simulator with Wischmeier methods. The results showed that there was a relationship between the results of the soil erodibility value using the Wischmeier method with land use and slopes based on the correlation and regression values caused by the physical properties of the soil. There were differences in soil erodibility index with the Wischmeier method and the Rainfall Simulator method, namely the average agroforestry results of 0.108 and 0.112 and an average of 0.152 and 0.147 moor. The use of the Wischmeier method is more recommended.
References
Arsyad, S. 2010. Konservasi Tanah dan Air. Edisi kedua. IPB Press. Bogor. pp 110-121.
Asdak, C. 2010. Hidrologi dan Pengelolaan Daerah Aliran Air Sungai: Edisi. Revisi Kelima. Yogyakarta: Gadjah Mada University Press Yogyakarta.
Bakri, I., Thaha, A. R. dan Isrun. 2016. Status Beberapa Sifat Kimia Tanah Pada Berbagai Penggunaan Lahan Didesa Poboyo Kecamatan Palu Slatan. Fakultas Pertanian Universitas Tadulako. P 16
Hamam, A. 2017. Analisis Potensi Bahaya Erosi di Sub DAS Mikro Hulu Brantas. UMM. Malang
Muklis. 2007. Analisis Tanah dan Tanaman. USU press, Medan.
Mulyono, A., Lestiana, H. dan Fadilah, A. 2019. Permeabilitas tanah berbagai tipe penggunaan lahan di tanah aluvial pesisir DAS Cimanuk, Indramayu. Jurnal Ilmu Lingkungan 17: 1-6.
Oktiviani, F. 2009. Pengaruh Penggunaan Lahan terhadap Sifat Fisik Kimia dan Erodibilitas Tanah Pada Berbagai Kemiringan Lereng. Fakultas Pertanian. Institut Pertanian Bogor. PP 12-48.
Priatna, S.J. 2011. Indeks Erodibilitas dan Potensi Erosi pada Areal Perkebunan Kopi Rakyat Dengan Umur dan Lereng yang Berbeda. Jurnal Ilmu-Ilmu Pertanian Indonesia 3 (2): 84-88.
Purwanto, Sukresno, Cahyono, S.A., Irawan, E. dan Yuliantoro, D. 2013. Nilai ekonomi erosi tanah Ultisols (studi kasus di sub DAS Ngunut, Desa Ngunut,
Veiche, A. 2002. The spatial variability of erodibility and its relation to soil types. a study from Northern Ghana. Geoderma 106: 110-120.
Wenyi, S., Quanqin, S., Jiyuan, L. and Jun, Z. 2014. Assessing the effects of land use and topography on soil erosion on the Loess Plateau in China. Catena 121: 151-163, doi: 10.1016/j. catena.2014.05.009.
Wischmeier, W.H. and Smith, D.D. 1978. Predicting rainfall erosion losses—a guide to conservation planning. U.S. Department of Agriculture, Agriculture Handbook No. 537.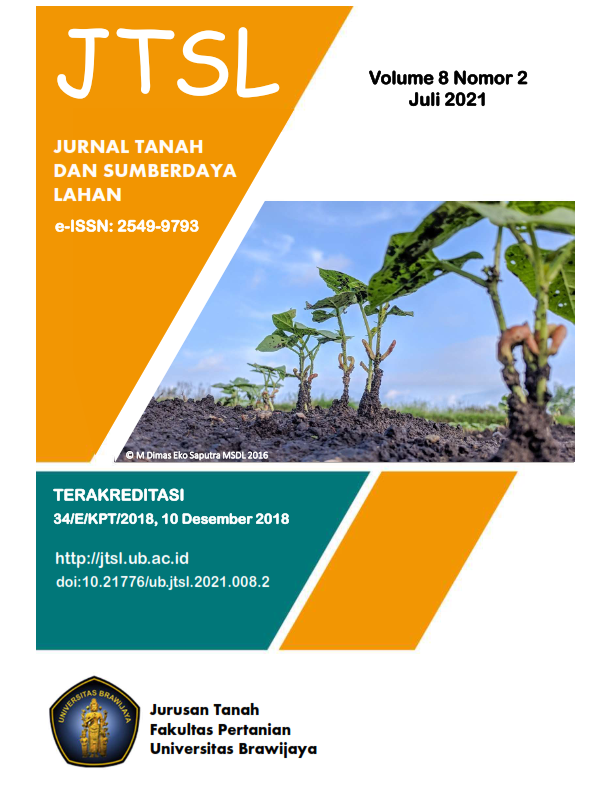 Downloads
How to Cite
Triyudanto, S. R., Kusuma, Z., & Nita, I. (2021). PERBANDINGAN INDEKS ERODIBILITAS TANAH YANG DITETAPKAN DENGAN METODE WISCHMEIER DAN RAINFALL SIMULATOR. Jurnal Tanah Dan Sumberdaya Lahan, 8(2), 377–384. https://doi.org/10.21776/ub.jtsl.2021.008.2.9
License
The copyright of the received article shall be assigned to the journal as the publisher of the journal. The intended copyright includes the right to publish the article in various forms (including reprints). The journal maintains the publishing rights to the published articles.

This work is licensed under a Creative Commons Attribution-NonCommercial 4.0 International License.