UPAYA MENDORONG MUNCULNYA UNIT USAHA PRODUK AMELIORAN DI MASYARAKAT
Keywords:
assistance, demo plot, local, packaging label, SIUMK
Abstract
Training activities on the process of making organic fertilizer and LMO (local microorganisms) from various agencies have long been carried out in order to increase land productivity. According to the Regulation of the Minister of Agriculture number 70 / Permen / SR.140 / 10/2011, Â organic fertilizer products and soil ameliorant traded must include information on the label and there must be an effective test that applies an experimental design. The implementation of the Ministerial Regulation in the community partnership program is translated in the form of a) assistance to the business unit embryo to take care of a micro-small business permit certificate (SIUMK), b) assistance in making demonstration plots and observing records, c) laboratory testing facility assistance on the type and density of microbes from ameliorant products, as well as soil nutrient testing in various ameliorant application treatments, d) assistance in making packaging labels to search for stores where to buy packaging, and e) assistance in preparing reports on production patterns, production and marketing quantities, and preparing financial reports. Assistance activities can give birth to an ameliorant micro business unit in rural areas that has a business permit certificate and its products can meet the needs of the surrounding community. Besides, the assistance activities can improve the quality of production process skills and increase the quantity of ameliorant production that can provide provisions for micro-businesses to become independent. Because the potential for developing production and marketing of local ameliorant products is faced with the products of large companies, further technical and managerial support is needed. The form of continued support through the incubation of a small scale start-up business is expected to realize the micro-scale local ameliorant business unit to become independent and develop into a medium scale.
References
Ali, J. 2017. Accounting practices of small and medium enterprises in Rangpur, Bangladesh. Journal of Business and Financial Affairs. doi: 10.4172/2167-0234.1000299
James, O.S. and Peter, E. 2015. Farm Records, Bookkeeping and Agricultural Data: A Case Study of Small-Scale Farmers in Nasawara, Nigeria. 1st Annual Converence of The School of Enginering Technology. Nasawara. doi:GSM08066316605
Kessler, J.J. and Moolhuijzen, M. 1994. Low external input sustainable agriculture: expectations and realities. Wageningen Journal of Life Science 42(3): 181-194.
Lewis, H. 2012. Basic Accounting: Guidance for Beginning Farmers. National Sustainable Agriculture Information Service. doi:1-800-346-9140
OECD. 2018. Strengthening SMEs and Enterpreneurship for Productivity and Inclusive Growth. SME Ministerial Conference, (p. 12). Mexico. Retrieved Oktober 25, 2019
Rabie, C.R., Cant, M.C. and Wiid, J.A. 2016. Training and development in SMEs: South Africa's key to survival and success? The Journal of Applied Business Research, 32(4): 1009-1024.
Shamser, R. 2012. The Importance of product attributes influencing purchase decision: a comparative study between FMCG laundry soaps. D.U. Journal of Marketing 15: 231-243.
Susteyo, H.P. 2019. Pos Pelayanan Agen Hayati (PPAH). Direktorat Jendral Holtikultura Kementrian Pertanian. Whistleblower's System.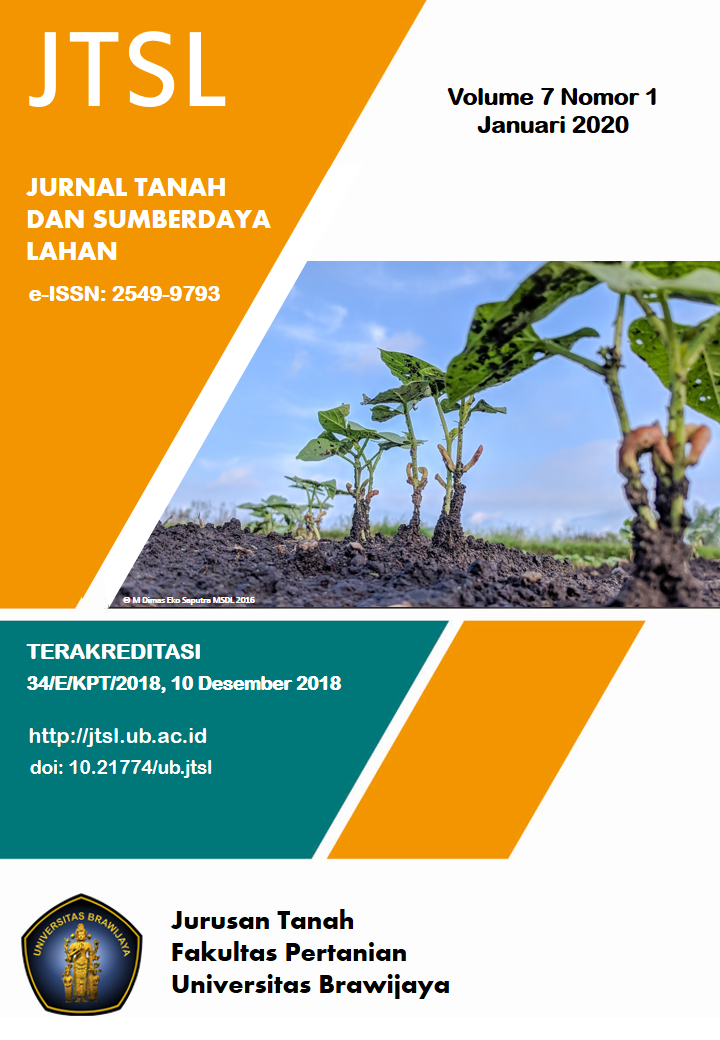 Downloads
How to Cite
Dwiastuti, R., & Sumarni, T. (2020). UPAYA MENDORONG MUNCULNYA UNIT USAHA PRODUK AMELIORAN DI MASYARAKAT. Jurnal Tanah Dan Sumberdaya Lahan, 7(1), 149–158. https://doi.org/10.21776/ub.jtsl.2020.007.1.19
License
The copyright of the received article shall be assigned to the journal as the publisher of the journal. The intended copyright includes the right to publish the article in various forms (including reprints). The journal maintains the publishing rights to the published articles.

This work is licensed under a Creative Commons Attribution-NonCommercial 4.0 International License.