PENENTUAN PEMETAAN KADAR AIR TANAH OPTIMAL PADA LAHAN PERKEBUNAN KELAPA SAWIT (STUDI KASUS: KEBUN CIKASUNGKA, PT PERKEBUNAN NUSANTARA VIII, CIMULANG, BOGOR)
Keywords:
drought index, oil palm productivity, slope gradient, vegetation index
Abstract
Soil water content is one of the dynamics of water conditions that can be a limiting factor in achieving optimal oil palm productivity. The extensive oil palm plantations make it difficult to acquire soil moisture content data. Soil water content conditions can be estimated by remote sensing technology through the vegetation and drought index, and also can be mapped using an interpolation approach. This study aimed to map the optimal soil water content in oil palm plantations based on Normalized Difference Vegetation Index (NDVI), Normalized Multi-band Drought Index (NMDI), and Interpolation. The results showed that the highest soil moisture was found on 0-3% slope gradient and the lowest on 8-15% slope gradient. Vegetation density based on NDVI analysis result was quite high, while the level of dryness based on NMDI analysis result was quite humid. Mapping of soil water content based on NDVI and NMDI had a very weak correlation with soil water content so both indices are less responsive in describing soil moisture conditions in the field. Interpolated water content value had a fairly strong relationship with the soil water content and had the highest suitability, so the interpolation approach can be recommended for mapping soil water content in an oil palm plantation area.
References
Arsyad, S. 2010. Konservasi Tanah dan Air. IPB Press, Bogor.
Bhandari, A.K., Kumar, A. and Singh, G.K. 2012. Feature extraction using normalized difference vegetation index (NDVI): a case study of Jabalpur City. Procedia Technology 6:612-621.
BPS] Badan Pusat Statistik. 2021. Provinsi Jawa Barat dalam Angka 2021. BPS Provinsi Jawa Barat, Jawa Barat.
Champagne, C., Rowlandson, T., Berg, A., Burns, T., L'Heureux, J., Tetlock, E., Adams, J.R., McNairn, H., Toth, B. and Itenfisu, D. 2016. Satellite surface soil moisture from SMOS and Aquarius: Assessment for applications in agricultural landscapes. International Journal of Applied Earth Observation and Geoinformation 45:143-154.
Chen, J., Yang, S., Li, H., Zhang, B. and Lv, J. 2013. Research on geographical environment unit division based on the method of natural breaks (Jenks). International Archives of the Photogrammtry, Remote Sensing, and Spatial Information Sciences - ISPRS Arch 40(4W3) 47-50.
Corley, R.H.V. and Tinker, P.B. 2016. The Oil Palm (World Agriculture Series). Wiley-Blackwell, Oxford.
Engstrom, R., Hope, A., Kwon, H. and Stow, D. 2008. The relationship between soil moisture and NDVI near Barrow, Alaska. Physical Geogrraphy 29:38-53.
Ganie, M.A. and Nusrath, D.A. 2016. Determining the vegetation indices (NDVI) from landsat 8 satellite data. International Journal of Advanced Research 4(8):1459-1463.
Harahap, F.S., Purba, J. dan Rauf, A. 2021. Hubungan curah hujan dengan pola ketersediaan air tanah terhadap produksi kelapa sawit (Elaeis guineensis Jacq) di dataran tinggi. Jurnal Agrikultura 32(1):37-42.
Harahap, I.Y. dan Lubis, M.E.S. 2018. Dinamika air dan fase-fase perkembangan pembungaan penentu produktivitas kelapa sawit. Jurnal Penelitian Kelapa Sawit 26(3):101-112.
İmamoğlu, M.Z. and Sertel, E. 2016. Analysis of different interpolation methods for soil moisture mapping using field measurements and remotely sensed data. International Journal of Environment and Geoinformatics 3(3):11-25.
Intara, Y.I., Sapei, A., Erizal, Sembiring, N. dan Djoefrie, M.H.B. 2011. Pengaruh pemberian bahan organik pada tanah liat dan lempung berliat terhadap kemampuan mengikat air. Jurnal Ilmu Pertanian Indonesia 16(2):130-135.
Keddy, P.A. 2000. Wetland Ecology: Principles and Conservation. Cambridge University Press, Cambridge.
Kuc, G. and Chormański, J. 2019. Sentinel-2 imagery for mapping and monitoring imperviousness in urban areas. International Archives of the Photogrammtry, Remote Sensing, and Spatial Information Sciences - ISPRS Arch. 42(1/W2):43-47.
Latifah, Z. dan Kadir. 2021. Performa komoditas minyak sawit Indonesia di tataran global: mampukah kita menjadi pemain kunci?. Jurnal Sosial Ekonomi Pertanian 14(3):250-268.
Li, J. and Heap, A.D. 2011. A review of comparative studies of spatial interpolation methods in environmental sciences: Performance and impact factors. Ecological Informatics 6(3-4):228-241.
Lillesand, T.M., Kiefer, R.W. and Chipman, J.W. 2004. Remote Sensing and Image Interpretation. John Wiley & Sons, New York.
Murniyanto, E. 2007. Pengaruh bahan organik terhadap kadar air tanah dan pertumbuhan tanaman jagung di lahan kering. Buana Sains 7(1):51-60.
Pahan, I. 2008. Panduan Lengkap Kelapa Sawit (Manajemen Agribisnis dari Hulu hingga Hilir). Penebar Swadaya, Jakarta.
PTPN VIII] PT Perkebunan Nusantara VIII. 2021. Minyak sawit berkontribusi 50 persen pendapatan PTPN VIII [internet]. [diacu 2021 November 17]. Tersedia dari: https://www.ptpn8.co.id/2021/08/minyak-sawit-berkontribusi-50-persen-pendapatan-ptpn-viii/.
Rodhita, M., Limantara, L.M. dan Dermawan, V. 2012. Rasionalisasi jaringan penakar hujan di DAS Kedungsoko Kabupaten Nganjuk. Jurnal Teknik Pengairan 3(2):185-194.
Schattan, P., Köhli, M., Schrön, M., Baroni, G. and Oswald, S.E. 2019. Sensing area-average snow water equivalent with cosmic-ray neutrons: the influence of fractional snow cover. Water Resource Research 55(12):10796-10812.
Setiyoko, A., Arymurthy, A.M. and Arief, R. 2018. Effects of different sampling densities and pixel size on kriging interpolation for predicting elevation. Proceeding International Conference on Signals and Systems (ICSigSys 2018). Bali, Indonesia, 1-3 May 2018, pp. 73-78.
Sun, W., Zhao, Y., Huang, B., Shi, X., Landon-Darilek, J., Yang, J., Wang, Z. and Zhang, B. 2012. Effect of sampling density on regional soil organic carbon estimation for cultivated soils. Journal of Plant Nutrition and Soil Science 175(5):671-680.
Utomo, M., Sudarsono, Rusman, B., Sabrina, T., Lumbanraja, J. dan Wawan. 2016. Ilmu Tanah: Dasar-dasar dan Pengelolaan. Prenadamedia Group, Jakarta.
Wang, L. and Qu, J.J. 2007. NMDI: A normalized multi-band drought index for monitoring soil and vegetation moisture with satellite remote sensing. Geophysical Research Letters 34:1-5.
Wang, L., Qu, J.J. and Hao, X. 2008. Forest fire detection using the normalized multi-band drought index (NMDI) with satellite measurements. Agricultural and Forest Meteorology 148:1767-1776.
Wang, W., Qu, J.J., Liu, Y., Hao, X. and Sommers, W. 2007. An improved algorithm for small and cool fire detection using MODIS data: a preliminary study in the southeastern United States. Remote Sensing of Environment 108(2):163-170.
Widiawaty, M.A., Dede, M. dan Ismail, A. 2018. Kajian Komparatif Pemodelan Air Tanah Menggunakan Sistem Informasi Geografis di Desa Kayuambon, Kabupaten Bandung Barat. Gea. Jurnal Pendidikan Geografi 18(1):63-71.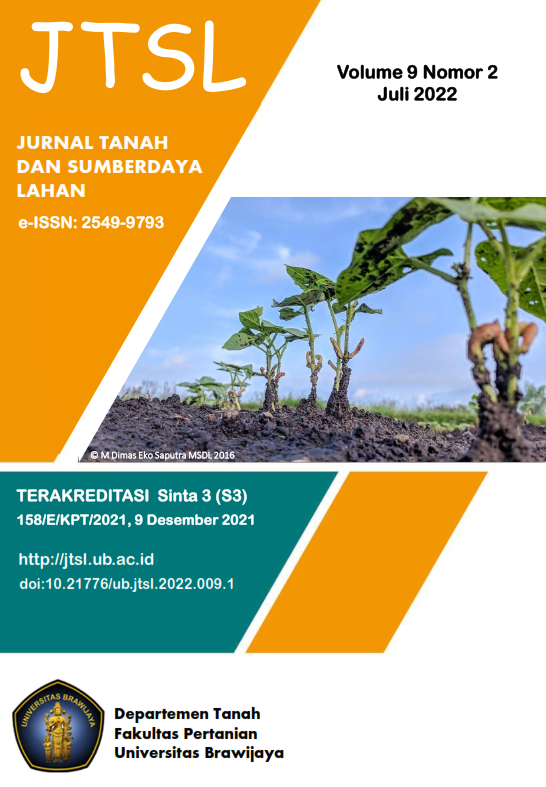 Downloads
How to Cite
Zauhairah, S. F., Barus, B., Wahjunie, E. D., Tjahjono, B., & Murtadho, A. (2022). PENENTUAN PEMETAAN KADAR AIR TANAH OPTIMAL PADA LAHAN PERKEBUNAN KELAPA SAWIT (STUDI KASUS: KEBUN CIKASUNGKA, PT PERKEBUNAN NUSANTARA VIII, CIMULANG, BOGOR). Jurnal Tanah Dan Sumberdaya Lahan, 9(2), 447–456. https://doi.org/10.21776/ub.jtsl.2022.009.2.26
License
Copyright (c) 2022 Jurnal Tanah dan Sumberdaya Lahan
This work is licensed under a Creative Commons Attribution-NonCommercial 4.0 International License.
The copyright of the received article shall be assigned to the journal as the publisher of the journal. The intended copyright includes the right to publish the article in various forms (including reprints). The journal maintains the publishing rights to the published articles.

This work is licensed under a Creative Commons Attribution-NonCommercial 4.0 International License.