PENGARUH KOMBINASI ARANG TEMPURUNG KELAPA DAN ABU SEKAM PADI TERHADAP PERBAIKAN SIFAT KIMIA TANAH SAWAH SERTA PERTUMBUHAN TANAMAN JAGUNG
Abstract
During dry seasons, paddy soils are usually deficit or shortage of water that in turn affecting chemical properties of the soils. The aim of this study  was to look for the effects of coconut shell charcoal and rice husk ash on the improvement of soil properties and growth and yield of maize. The study was conducted in Nganjuk and basic soil analysis was carried out at the Faculty of Agriculture, Brawijaya University. The experimental method used two factors. The first factor was the dose of rice husk ash which consisted of four levels i.e. without husk ash (A0), rice husk ash 50 g polybag-1 (A1), rice husk ash 100 g polybag-1 (A2), and rice husk ash 150 g polybag-1 (A3). The second factor was the dose of coconut shell charcoal which consisted of four levels i.e. without coconut shell charcoal (B0), coconut shell charcoal 50 g polybag-1 (B1), coconut shell charcoal 100 g polybag-1 (B2), and coconut shell charcoal 150 g polybag-1 (B3). Based on the results of the analysis showed that the application did not show significant effect of the two parameters, namely chemical properties and plant growth. But at the treatment of 150 g  polybag-1 coconut shell and husk ash significantly increased the pH value to 5.7.
References
BPS Nganjuk. 2012. Kabupaten Nganjuk dalam Angka, 2012.
Fauzi, A.R. 2014. Pengaruh Pemberian Arang Terhadap Beberapa Sifat dan Kimia Alfisol Serta Hasil Tanaman Kacang Tanah di Jatikerto, Kabupaten Malang. Fakultas Pertanian. Universitas Brawijaya. Malang.
Gani, A. 2010. Multiguna Arang Hayati Arang. Sinar Tani Edisi 13-19. Oktober 2010
Hakim, N., Nyakpa, M.Y., Lubis, A.M., Nugroho, S.G., Saul, M.R., Diha, M.A., Hong, G.B. dan Bailey, H.H. 1986. Dasar-Dasar Ilmu Tanah. Penerbit Universitas Lampung. Lampung.
Nurida, N.L. 2009. Efisikasi Formula Pembenah Tanah Arang dalam berbagai bentuk (serbuk granuler, dan pelet) Dalam Meningkatkan Kualitas Lahan Kering Masam Terdegradasi. Bogor:Balai Penelitian Tanah.
Septiawan, I.G. 2014. Kombinasi Arang Sekam Padi dan Pupuk Kompos Sebagai Bahan Pembenah Tanah Pada Budidaya Tanaman Jagung (Zea mays. L.) di Jatikerto. Fakultas Pertanian. Universitas Brawijaya. Malang
Stevenson, F.T. 1982 Humus Chemistry. John Wiley and Sons, New York.
Tejaswarna, R. dan Fagi, A.M. 1990. Pengaruh Beberapa MetodePemupukan Urea Terhadap Hasil Padi Sawah Kultivar Dodokan Terhadap Upaya Penghematan Pupuk. Kombinasi Hasil Penelitian 1988/1989. Balai Penelitian Tanaman Pangan. Vol 2. Padi (Pusat Penelitian dan Pengembangan Tanaman Pangan) Bogor.
Wahjunie, E.D. 2003. Surface Sealing-Crusting, Pembentukan dan Pengendaliannya. Http://tumoutou.net/702_07134/07134.html, diakses pada tanggal 3 Maret 2014.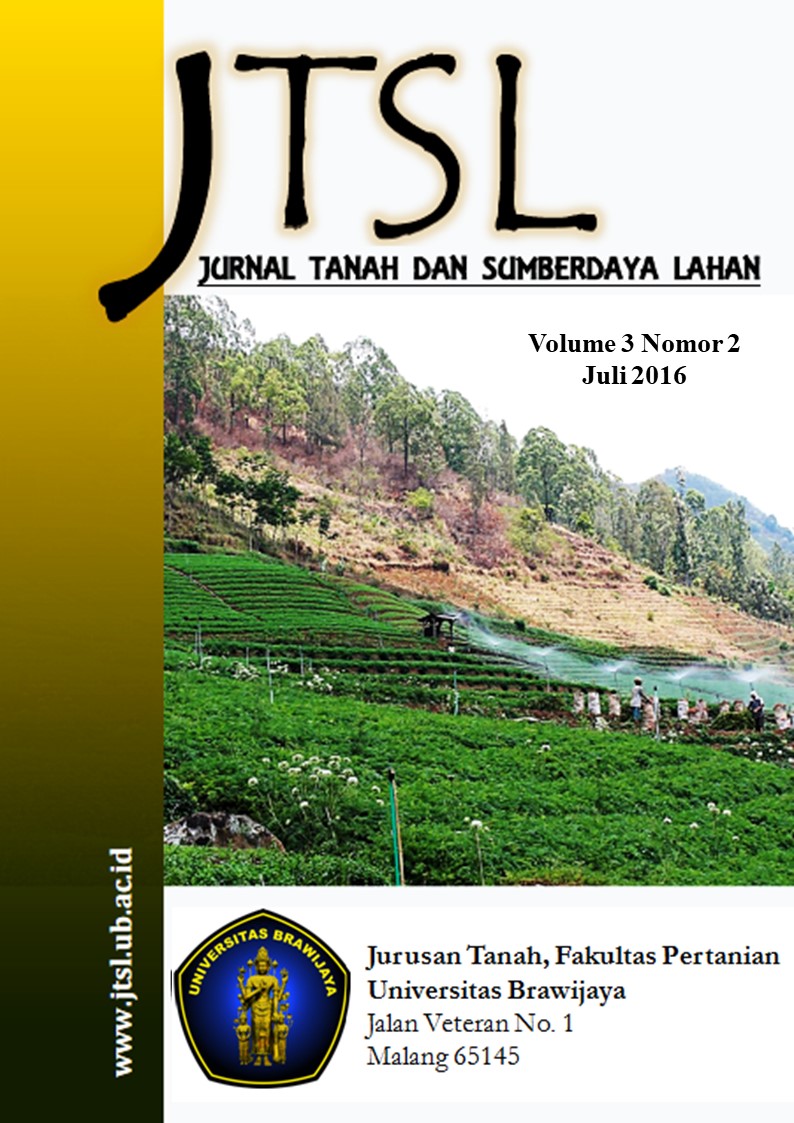 Downloads
How to Cite
Handoko, A. P., Wicaksono, K. S., & Rayes, M. L. (2017). PENGARUH KOMBINASI ARANG TEMPURUNG KELAPA DAN ABU SEKAM PADI TERHADAP PERBAIKAN SIFAT KIMIA TANAH SAWAH SERTA PERTUMBUHAN TANAMAN JAGUNG. Jurnal Tanah Dan Sumberdaya Lahan, 3(2), 381–388. Retrieved from https://jtsl.ub.ac.id/index.php/jtsl/article/view/152
License
The copyright of the received article shall be assigned to the journal as the publisher of the journal. The intended copyright includes the right to publish the article in various forms (including reprints). The journal maintains the publishing rights to the published articles.

This work is licensed under a Creative Commons Attribution-NonCommercial 4.0 International License.