SIMULASI DAMPAK PERUBAHAN IKLIM TERHADAP KEMAMPUAN TANAH MENYIMPAN AIR TERSEDIA DAN POTENSI PRODUKSI PADA TANAMAN KAKAO DI KABUPATEN MALANG
Keywords:
climate change, cocoa production, water balance
Abstract
Cocoa is one of the mainstay commodities of Malang Region, which is sensitive to climate change. This research aimed to simulate climate change and its impact on water availability for cocoa plants in Donomulyo, Dampit, and Kromengan of Malang Regency using a simulated water balance method with climate change scenarios based on predictions from Indonesia Meteorological, Climatological, and Geophysical Agency (BMKG) and Intergovernmental Panel on Climate Change (IPCC). The climate change scenario consisted of an increase in air temperature of 0.5,  0.7, and 1°C, combined with changes in rainfall -5, -10, and -20%. Climate change impacted the air temperature increase at the earth's surface followed by rainfall pattern changing, thus affecting the agricultural sector related to water needed increase and water availability decreased for plants. The results showed that along with the increase in temperature and decrease in rainfall, the water demand increased by 1.08-2.31%. The water availability in the soil decreased, followed by an increase in production reduction. The reduction in cocoa production occurred in each scenario with the highest percentage in scenario C9 (ΔT1⸰C, ΔH-20%). Production reduction results from not meeting the water needs of cocoa plants because it has a value greater than the ability to store water in the soil that occurs in several phases of cocoa plant growth, especially during the dry month period.
References
Ahmeida, A.A.F.D. and Valle, R. 2007. Ecophysiology of the cacao tree. Brazilian Journal of Plant Physiology 19(4):1-12, doi:10.1590/S1677-04202007000400011
Allen, R.G., Pereira, L.S., Raes, D. and Smith. M. 1998. Crop Evapotranspiration - Guidelines for Computing Crop Water Requirements - FAO Irrigation and Drainage Paper 56. Water Resources, Development, and Management Service FAO. Rome: Food and Agriculture Organization of the United Nations.
Ayu, I.W., Prijono. S. dan Soemarno. 2013. Evaluasi ketersediaan air tanah lahan kering di Kecamatan Unter Iwes, Sumbawa Besar. Jurnal Pembangunan dan Alam Lestari 4(1):18–25.
Dianitasari, R. dan Purnama, S. 2017. Analisis neraca air hidrometeorologis dengan pendekatan karakteristik fisik DAS Gondang, Kabupaten Nganjuk, Provinsi Jawa Timur. Jurnal Bumi Indonesia 6(1):1-8.
Direktorat Jenderal Perkebunan. 2016. Statistik Perkebunan Indonesia Tree Crop Estate Statistics of Indonesia: 2015-2017 Kakao. Jakarta: Direktorat Jenderal Perkebunan.
Ichsan, C.N., Hayati, M.,dan Mashtura, S.P. 2010. Respon kedelai kultivar Kipas Putih dan Wilis pada kadar air tanah yang berbeda terhadap pertumbuhan dan hasil. Jurnal Agrista 14(1):29–29.
Intergovernmental Panel on Climate Change [IPCC]. 2007. General Guidelines on The Use of Scenario Data for Climate Impact and Adaptation Assessment. Version 2. Prepared by T.R. Carter on behalf of the Intergovernmental Panel on Climate Change, Task Group on Data and Scenario Support for Impact and Climate Assessment. p.66.
Irianto, G. dan Surmaini, E. 2002. Analisis potensi dan kebutuhan air untuk menyusun rekomendasi irigasi suplementer tanaman tebu lahan kering. Jurnal Tanah dan Iklim 20:1–12.
Kabupaten Malang dalam Angka [KMDA]. 2012. Kabupaten Malang Dalam Angka Tahun 2012 Edisi 2013. Malang: Pemerintah Kabupaten Malang.
Moser, G., Leuschner, C., Hertel, D., Hölscher, D., Köhler, M., Leitner, D., Michalzik, B., Prihastanti, E., Tjitrosemito, S, and Schwendenmann, L. 2010. Response of cacao trees (Theobroma cacao) to a 13-month desiccation period in Sulawesi, Indonesia. Agroforestry Systems 79:171–187.
Omolaja, S.S., Aikpokpodion, P., Oyedeji S. and Vwioko, D.E. 2009. Rainfall and temperature effects on flowering and pollen productions in cocoa. African Crop Science 17(1):41–48.
Prijono, S. 2009. Agrohidrologi Praktis. Cakrawala Indonesia. Malang.
Riebeek, H. 2010. Global Warming. http://earthobservatory.nasa.gov/Features/Global Warming. Diunduh pada tanggal 5 Februari 2021.
Sakiroh, Sobari, I. dan Herman, M. 2015. Teknologi mengurangi dampak perubahan iklim pada kakao di lahan kering. Jurnal Sirinov 3(2):55–66.
Salsabila, A. dan Nugraheni, I. L. 2020. Pengantar Hidrologi. Bandar Lampung: Penerbit Aura.
Setiawan, O. 2012. Analisis variabilitas curah hujan dan suhu di Bali. Jurnal Analisis Kebijakan Kehutanan 9(1):66–79.
Suroso, D.S.A., Abdurahman, O. and Setiawan, B. 2010. Impacts of Climate Change on the Sustainability of Water Supply in Indonesia. Proceedings of the Second International Workshop on Water Supply Management System and Social Capital. March 15-16. Sepuluh Nopember Institute of Technology. Surabaya.
Thornthwaite, C.W. and Mather, J.R. 1957. Instructions and Tables for Computing Potential Evapotranspiration and the Water Balance. Publ. in Climatology, vol.10, no.3, C,W. Thornthwaite & Associates, Centerton, New Jersey
Tusi, A., Rosadi, B. dan Triana, M. 2012. pendugaan kebutuhan air tanaman nanas (Ananas comosus L. Merr) menggunakan model CROPWAT. Jurnal Irigasi 7(1):43–51.
Useng, D., Ali, H. dan Achmad, M. 2013. Deteksi penyebaran stres tanaman kakao akibat kekeringan dan serangan hama penyakit dengan citra satelit. Universitas Hasanudin, Makasar.
Wahjunie, E.D., Haridjaja, O., Soedodo, H. dan Sudarsono. 2008. Pergerakan air pada tanah dengan karakteristik pori berbeda dan pengaruhnya pada ketersediaan air bagi tanaman. Jurnal Tanah dan Iklim 28:15–26.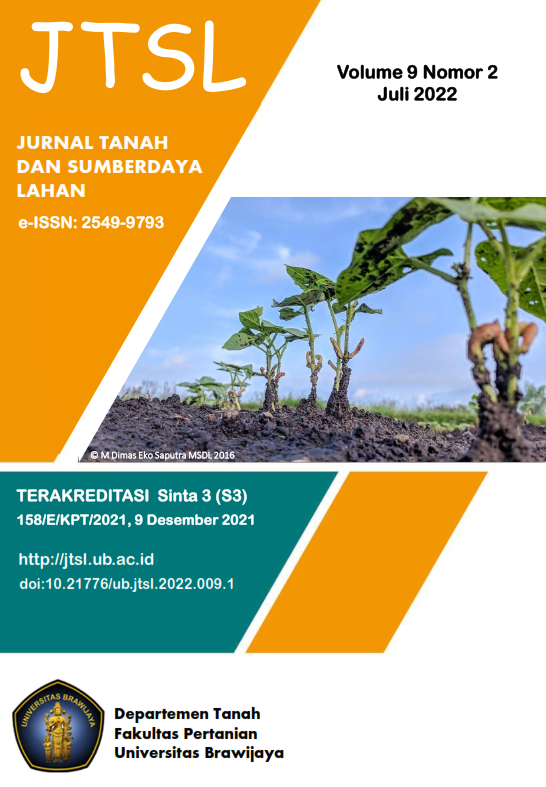 Downloads
How to Cite
Afifah, A. N., & Prijono, S. (2022). SIMULASI DAMPAK PERUBAHAN IKLIM TERHADAP KEMAMPUAN TANAH MENYIMPAN AIR TERSEDIA DAN POTENSI PRODUKSI PADA TANAMAN KAKAO DI KABUPATEN MALANG. Jurnal Tanah Dan Sumberdaya Lahan, 9(2), 385–394. https://doi.org/10.21776/ub.jtsl.2022.009.2.19
License
Copyright (c) 2022 Jurnal Tanah dan Sumberdaya Lahan
This work is licensed under a Creative Commons Attribution-NonCommercial 4.0 International License.
The copyright of the received article shall be assigned to the journal as the publisher of the journal. The intended copyright includes the right to publish the article in various forms (including reprints). The journal maintains the publishing rights to the published articles.

This work is licensed under a Creative Commons Attribution-NonCommercial 4.0 International License.