PERBAIKAN RETENSI AIR TYPIC KANHAPLUDULT TAMAN BOGO DAN PERTUMBUHAN TANAMAN JAGUNG MELALUI PEMBERIAN BIOCHAR TEMPURUNG KELAPA SAWIT
Abstract
Typic Kanhapludult is a soil of Ultisol order that has water availability constraints due to the low available soil water pore and soil water holding capacity so that less support the plant growth. Application of soil amendments such as oil palm shell biochar can help increasing soil water retention and available nutrients to improve plant growth. The objectives of this study that was conducted in the glasshouse of Balai Penelitian Tanah, were to quantify the effect of biochar high doses to soil water retention, to improve some of soil physics and soil chemistry, and to analyze the potential utilization of palm oil shell biochar on vegetative growth of maize in a Typic Kanhapludult. The results of this study showed that application of high doses of oil palm shell biochar increased the soil water retention. Application of high dose of oil palm shell biochar significantly decreased bulk density and particle density, decreased rapid drainage pore, and increased porosity and available water pore. However, it did not significantly affect the saturated hydraulic conductivity and slow drainage pore. Soil organic carbon increased significantly while the soil acidity at the end of experiment increased from very acid to acid. Application of oil palm shell biochar increased maize height, fresh and dry weight of maize. While the stem girth and the number of leaves per plant were not significantly affected.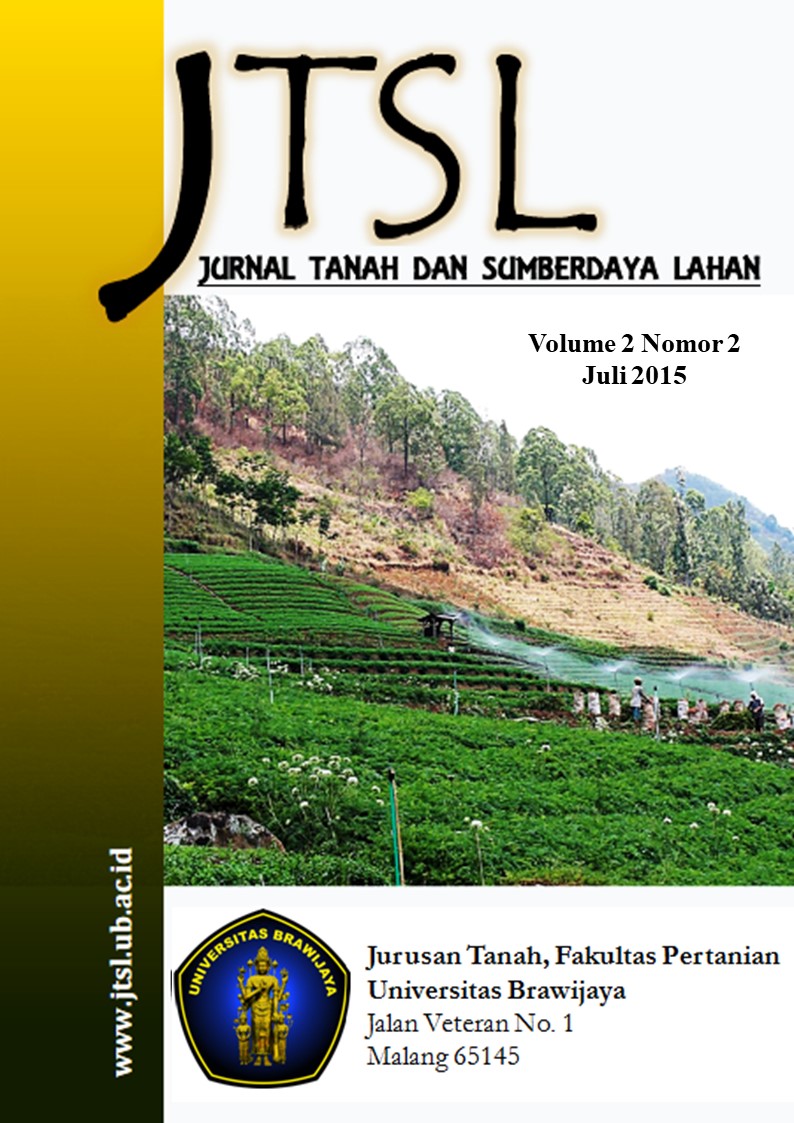 Downloads
How to Cite
Ardiyani, R. R., Sutono, S., & Prijono, S. (2017). PERBAIKAN RETENSI AIR TYPIC KANHAPLUDULT TAMAN BOGO DAN PERTUMBUHAN TANAMAN JAGUNG MELALUI PEMBERIAN BIOCHAR TEMPURUNG KELAPA SAWIT. Jurnal Tanah Dan Sumberdaya Lahan, 2(2), 199–209. Retrieved from https://jtsl.ub.ac.id/index.php/jtsl/article/view/130
License
The copyright of the received article shall be assigned to the journal as the publisher of the journal. The intended copyright includes the right to publish the article in various forms (including reprints). The journal maintains the publishing rights to the published articles.

This work is licensed under a Creative Commons Attribution-NonCommercial 4.0 International License.