MORFOLOGI DAN KLASIFIKASI TANAH PADA BERBAGAI MACAM SUB-LANDFORM KARST DI FORMASI WONOSARI KECAMATAN GEDANGAN, KABUPATEN MALANG
Keywords:
karst landform, limestone, soil classification, soil morphology, Wonosari formation
Abstract
Limestone materials in Wonosari formation produces karst landform through the karstification processes. The different type of karst landform can affect soil morphology and soil classification. This research was conducted in Gedangan District, Malang Regency, East Java Province, Indonesia. Soil morphology identified at 54 minipits to know the range of soil characteristics, continued with detailed survey on 6 typical pedons to detailed soil classification. Soil samples were taken at each horizon for analyses of soil physical and chemical properties. Soil morphology at study area has very dark brown (7.5YR2.5/2) to yellowish brown (10YR5/8) soil colours, silty clay loam to silty clay textures, subangular blocky, fine, weak to moderate structures, very friable to very firm, sticky to very sticky, slightly plastic to plastic consistencies. There are no rock fragments at hilly and valley karst and shallow soil depth in hilly than in valley karst. Soil classification differs at each sub landform, i.e. top hilly karst is classified as Lithic hapludolls, fine, mixed, isohyperthermic, hilly karst classified as Typic calciudolls, fine, calcareous, superactive, isohyperthermic, Typic hapludolls, fine, mixed, superactive, isohyperthermic, plateau karst classified as Inceptic haprendolls, skeletal-clay, mixed, superactive, isohyperthermic, valley karst classified as Eutric humudepts, fine, mixed, superactive, isohyperthermic, and Typic humudepts, fine, mixed, superactive, isohypertermic.
References
Anshori, A. 2015. Erosi Nol Untuk Keberlanjutan Bukit Karst di Gunungkidul. Balai Pengkajian Teknologi Pertanian (BPTP) : 197-202.
Guntarto. 2003. Arahan geologi lingkungan untuk tata guna lahan kawasan karst Kabupaten Gunungkidul Daerah Istimewa Yogyakarta. Buletin Geologi Tata Lingkungan 101 – 109.
Husein, S. dan Sriyono, 2007. Tinjauan Geomorfologi Pegunungan Selatan DIY/Jawa Tengah: Telaah Peran Faktor Endogenik dan Eksogenik dalam Proses Pembentukan Pegunungan. Prosiding Workshop: Potensi geologi Pegunungan Selatan dalam pengembangan wilayah, Hotel Inna Garuda, Yogyakarta.
Marsoedi, Jumus, Suharta, Darul, Hardjowigeno. s, Holft dan Jordens. 1997. Pedoman Klasifikasi Landform/ Guideliers for Landform Clasification Second Land Resource Evaluation and Planning Project II (LREPP II). Centre For Soil and Agroclimate Research. Bogor. 31 Hal.
Mulyanto, D. dan Surono, S. 2009. Pengaruh Topografi dan Kesarangan Batuan Karbonat terhadap Warna Tanah pada Jalur Baron-Wonosari Kabupaten Gunungkidul, DIY. Forum Geografi 23(2): 181-195.
Mulyanto, D., Subroto P.S, dan Lukito, H., 2011. Genesis Pedon Tanah yang Berkembang di Atas Batuan Karbonat Wonosari Gunungkidul. Forum Geografi, 25 (2), 100-115.
Raharjo, D.B. 2013. Klasifikasi dan Morfologi Tanah pada Landform Karst Desa Sitiarjo, Kecamatan Sumbermanjing Wetan. Skripsi Universitas Brawijaya Malang. 56 Hal.
Soil Survey Staff. 2014. Keys to Soil Taxonomy. 12th edition. Natural Resources Conservation Service. USDA. 622 Hal.
Summerfield, M.A., 1991. Global Geomorphology An Introduction to the Study of Landforms. New York, Longman Scientific & Technical and John Wiley & Sons, Inc. 537 Hal
Torrent, J., Schwertmann, U., Fechter, H., and Alferez, F., 1983. Quantitative relationship between soil color and hematite content. Soil Science 136: 354-359.
Wiyono, Siradz, S.A. and Hanudin, E. 2006. Aplikasi Soil Taxonomy pada Tanah-tanah yang Berkembang dari Bentukan Karst Gunung Kidul. Jurnal Tanah dan Lingkungan 6 (1):13-26.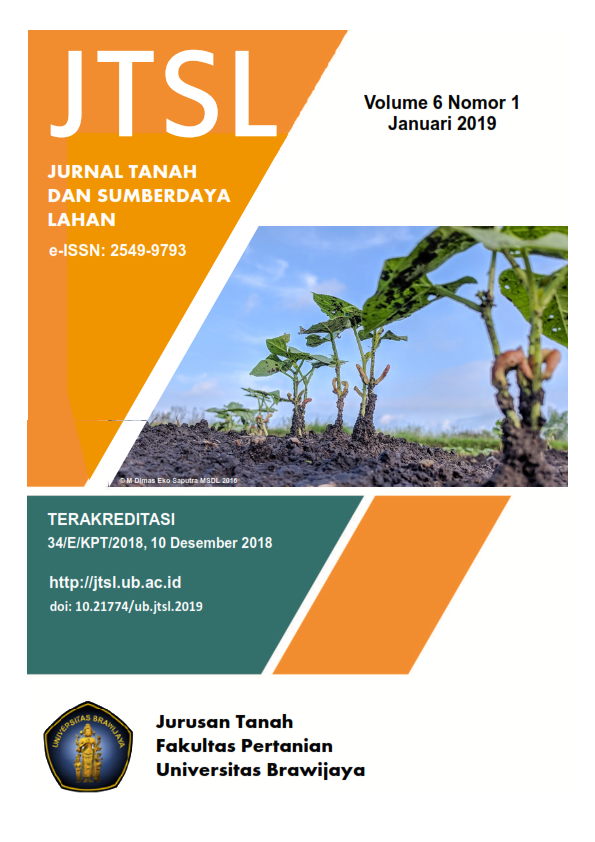 Downloads
How to Cite
S Sitinjak, A. E., Rayes, M. L., & Agustina, C. (2019). MORFOLOGI DAN KLASIFIKASI TANAH PADA BERBAGAI MACAM SUB-LANDFORM KARST DI FORMASI WONOSARI KECAMATAN GEDANGAN, KABUPATEN MALANG. Jurnal Tanah Dan Sumberdaya Lahan, 6(1), 1055–1064. https://doi.org/10.21776/ub.jtsl.2019.006.1.4
License
The copyright of the received article shall be assigned to the journal as the publisher of the journal. The intended copyright includes the right to publish the article in various forms (including reprints). The journal maintains the publishing rights to the published articles.

This work is licensed under a Creative Commons Attribution-NonCommercial 4.0 International License.