PENGARUH PUPUK ORGANIK DAN BATUAN FOSFAT ALAM PADA INCEPTISOL SEBAGAI MEDIA TANAM TERHADAP PERBANYAKAN MIKORIZA ARBUSKULA (MA) DENGAN BERBAGAI TANAMAN INANG
Keywords:
AM colonies, host plants, mycorrhiza, number of AM spores, planting media
Abstract
The distribution of very abundant AM in UB forest is very potential to be used as biological fertilizer. Biofertilizer production through the utilization of AM spores requires the multiplication of AM by using host plants namely maize (Zea mays L.), soybean (Glycine max (L) Merill) and tithonia (Tithonia diversifolia) and planting media consisting of soil added with cattle manure and rock phosphate. This study aimed to obtain the best host plants and growing media in producing the number of AM spores and AM colonies so that they can be used as AM biological fertilizer production. The study design used was a factorial randomized group design with host plants (H) as the first factor and planting media (M) as the second factor consisting of 18 treatments with 3 replications. The multiplication results showed that media with an M5 dose (150 kg ha-1 rock phosphate + 5 t ha-1 cattle manure) was high in producing AM spores amounting to 324,67 AM 100 g soil-1 in maize and 61.11% AM colonies in soybeans. Rock phosphate and cattle manure were sources of P in the growing media and AM which was multiplied to carry out its activities in producing phosphatase enzymes to produce P available for plants. Maize and soybeans had stable growth, good rooting, fast plant growth and low root lignin content which made it easy for AM to make colonies.
References
Carrenho, R., Trufem, S.F.B. and Bononi, V.L.R. 2002. Effects of using different host plants on the detected biodiversity of arbuscular mycorrhiza fungi from an agroecosystem. Revista Brasileira de Botânica 25 (1): 93 – 101.
Drew, E.A., Murray, R.S. and Smith, S.E. 2003. Beyond the rhizosphere: growth and function of arbuscular mycorrhizal external hyhae in sands of varying pore size. Plant, Cell & Environment 251: 105-114.
Fisher, N.M. dan Peter, G. 1992. Fisiologi Tanaman Budidaya Tropik. Gajah Mada University Press. Yogyakarta. p 250-257
Hanafiah, A.S., Sabrina, T. dan Guchi, H. 2009. Biologi dan Ekologi Tanah. Universitas Sumatera Utara. Medan.
Hermawan, H., Muin, A. dan Wulandari, R.S. 2015. Kelimpahan fungi mikoriza arbuskula (FMA) pada tegakan ekaliptus (Eucalyptus pellita) berdasarkan tingkat kedalaman di lahan gambut. Jurnal Hutan Lestari 3(1) : 124 – 132.
Herryawan, K.M. 2012. Perbanyakan inokulum fungi mikoriza arbuskula (FMA) secara sederhana. Pastura 2 (2) : 57 – 60.
Musafa, M.K., Aini, L.Q. dan Prasetya, B. 2015. Peran mikoriza arbuskula dan bakteri Pseudomonas fluorescens dalam meningkatkan serapan P dan pertumbuhan tanaman jagung pada Andisol. Jurnal Tanah dan Sumberdaya Lahan 2 (2): 191-197.
Nurbaity, A. dan Prafitiasari, M. 2010. Infektivitas inokulan Glomus sp. dan Gigaspora sp. pada berbagai komposisi media zeolit-arang sekam dan pengaruhnya terhadap pertumbuhan sorghum (Sorghum bicolor). Jurnal Agrikultura 21 (1) : 39 – 45.
Nurhidayati. 2017. Kesuburan dan Kesehatan Tanah. Intimedia. Malang. p 78
Rosliani, R., Hilman, Y. dan Sumarni, N. 2009. Pemanfaatan mikoriza, bahan organik, dan fosfat alam terhadap hasil, serapan hara tanaman mentimun, dan sifat kimia pada tanah masam Ultisol. Jurnal Hortikultura 19(1) : 66 – 74.
Singh, H. and Reddy, M.S. 2011. Effect of inoculation with phosphate solubilizing fungus on growth and nutrient uptake of wheat and maize plants fertilized with rock phosphate in alkaline soils. European Journal of Soil Biology 47 (1) : 30 – 34.
Smith, S.E and Read, D.J. 2008. Mychorrhizal Symbiosis. Third Edition. Academic Press. Harcourt Brace And Company Publishers, San Diego. p 91
Syibli, M.A., Muhibbudin, A. and S. Djauhari, S. 2013. Arbuscular mycorrhiza fungi as as indicator of soil fertillity. Agrivita 35 (1) : 44-53.
Tahat, M.M., Kamaruzaman, S., Radziah, O., Kadir, J. and Masdek, H.N. 2008. plant host selectivity for multiplication of Glomus mosseae spore. International Journal of Botany 4(4) : 466- 470.
Tarraf, W., Ruta, C., Tagarelli, A., Cillis, F.D. and Mastro, G.D. 2017. Influence of arbuscular mycorrhizae on plant growth, essential oilproduction and phosphorus uptake of Salvia officinalis L. Industrial Crops and Products 102 (1) : 144–153.
Widiastuti, H., Sukarno, N., Darusman, Latifah, dan Kosim. 2005. Tingkat kedinian infeksi Acaulospora tuberculata dan Gigaspora margarita pada bibit ketapa sawit. Jurnal Mikrobiologi Indonesia. 42-44.
Zuhry, E. dan Puspita, F. 2008. Pemberian cendawan mikoriza arbuskular (CMA) pada tanah podzolik merah kuning (PMK) terhadap pertumbuhan dan produksi kedelai (Glycine max (L) Merill). SAGU. 7 : 25-29.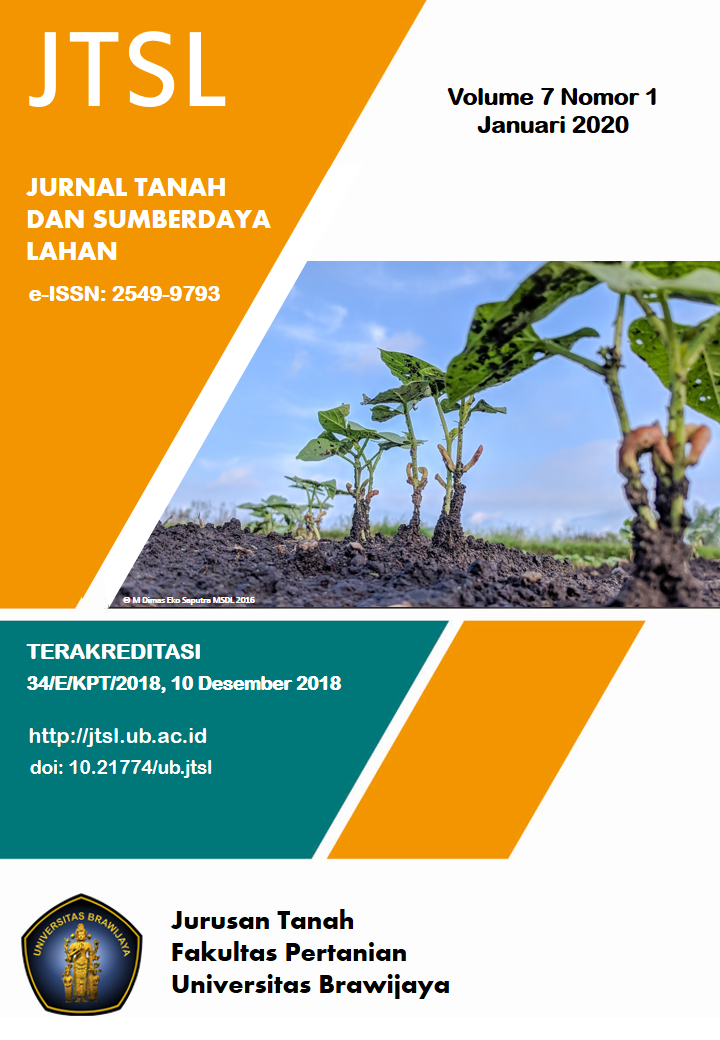 Downloads
How to Cite
Prasetya, B., & Ukhtansyah, I. U. (2020). PENGARUH PUPUK ORGANIK DAN BATUAN FOSFAT ALAM PADA INCEPTISOL SEBAGAI MEDIA TANAM TERHADAP PERBANYAKAN MIKORIZA ARBUSKULA (MA) DENGAN BERBAGAI TANAMAN INANG. Jurnal Tanah Dan Sumberdaya Lahan, 7(1), 109–119. https://doi.org/10.21776/ub.jtsl.2020.007.1.14
License
The copyright of the received article shall be assigned to the journal as the publisher of the journal. The intended copyright includes the right to publish the article in various forms (including reprints). The journal maintains the publishing rights to the published articles.

This work is licensed under a Creative Commons Attribution-NonCommercial 4.0 International License.