PENGARUH TOKSISITAS BESI TERHADAP PERTUMBUHAN DAN HASIL BIOMASSA PADA TIGA KLON TANAMAN NANAS
Abstract
Iron toxicity is a widespread nutrient disorder in lowland crop production, notably in lowland acid soils, swampy lands, coastal swamps and irrigated lowlands of Ultisols and Oxisols. It occurs only in flooded soils when the soil contains excessive amounts of iron. This excessive iron in soil has antagonistic effects on the uptake of many essential nutrients, poor growth and consequently yields reduction. The objective of this work was to evaluate the effects of different iron concentrations on growth characteristics and nutrient uptake of three pineapple clones (Ananas comosus L. Merr.). The experiment was held in a greenhouse of Research and Development Department of Great Giant Pineapple Company on December 2014 until March 2015. A randomize complete factorial design with two factors and four replications were used in this study. The first factor was pineapple clones (GP1, GP3, and F180) and second factor was iron concentration. Different amounts of iron as second factor 5 (control), 50, 100, 150, 200, 250 mg L-1 FeEDTA were added in the nutrient solution. The results showed that increase iron concentration was added in nutrient solution was reduced root length, number of roots, plant height, leaf area, root dry weight, and shoot dry weight significantly at p<0,05. Nutrient solution pH also decreased significantly with increasing concentration of iron in nutrient solution. Increased iron concentration in nutrient solution induced iron plaque formation on root surface and at the same time, Fe concentration on root tissues increased. However, higher iron concentration on nutrient solution results lower accumulation Mn in the roots. Excess iron had the same effect in reducing the absorption of P, K, and Ca on pineapple shoot. Whereas Fe and Mn uptake increased with increasing iron were added in nutrient solution. However, Mg absorption was not affected by the increase in the concentration of iron in the solution.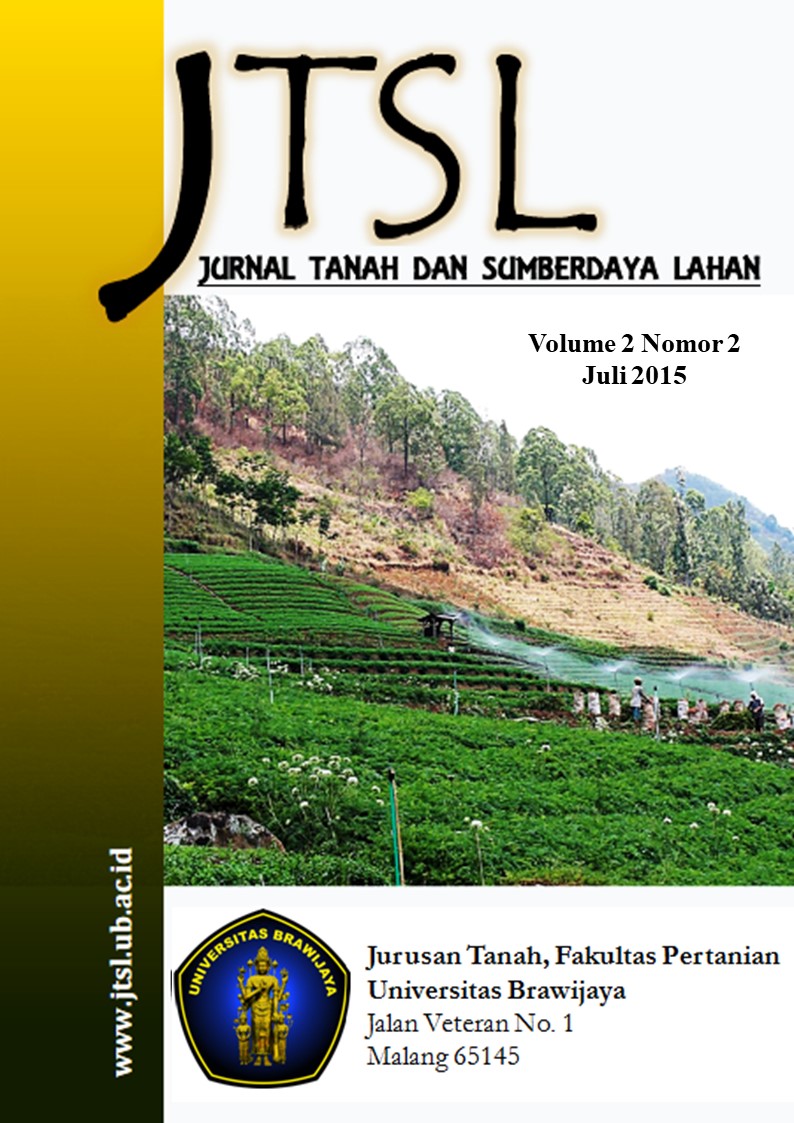 Downloads
How to Cite
Effendi, M. I., Cahyono, P., & Prasetya, B. (2017). PENGARUH TOKSISITAS BESI TERHADAP PERTUMBUHAN DAN HASIL BIOMASSA PADA TIGA KLON TANAMAN NANAS. Jurnal Tanah Dan Sumberdaya Lahan, 2(2), 179–189. Retrieved from https://jtsl.ub.ac.id/index.php/jtsl/article/view/128
License
The copyright of the received article shall be assigned to the journal as the publisher of the journal. The intended copyright includes the right to publish the article in various forms (including reprints). The journal maintains the publishing rights to the published articles.

This work is licensed under a Creative Commons Attribution-NonCommercial 4.0 International License.