ESTIMASI SEBARAN DAERAH RAWAN BANJIR BANDANG SUB DAERAH ALIRAN SUNGAI SUMBER BRANTAS KOTA BATU : APLIKASI MODEL GENRIVER & SISTEM INFORMASI GEOGRAFI
Abstract
Flood is a major disaster which often occurred in last decade. Generally, land management in upper watershed is the main driving factor that cause flood. Upper watershed area should be intended for catchment area, but in fact land use change from natural forest become agriculture practices continuously happened. This research was done in September-October 2008 in Sumber Brantas sub watershed, City of Batu and some part of Malang Regency. Spatial analysis and land maping was done in Geographic Information System Laboratory of Soil Science Department, Brawijaya University. The objective of this research was to estimate troubled area of flash flood distribution. The parameters were:river flow discharge, slope, distance from river & elevation. The predicted river flow discharge was compared to actual river flow discharge and stastistically tested using doubled regression. This was done to know the accuracy of the model. River flow debit assessment using 15 micro sub watersheds with Thiessen Fraction Distribution (TFD-micro watershed) treatment result the most accurate river flow debit compared to field measurement. River flow debit assessment using one watershed with Average Thiessen (AT-watershed) treatment result lower accurate compared to TFD-micro watershed. In AT-watershed treatment river flow debit result is slightly close to measurement, but there are a significant difference in July and August. The worst result of the validation is the method using 15 micro sub watersheds with Average Thiessen. This caused by rainfall distribution which was used as input data was inappropriate with micro sub watershed distribution in Sumber Brantas sub watershed area. Totally the troubled area of flash flood based on troubled river area of flash flood is as much as 202.23 ha. Troubled area of flash flood is located in 4 Sub Regency, they are: Batu sub- regency as much as 29.39 ha, Bumiaji sub-Regency as much as 164.43 ha, Junrejo sub-Regency as much as 6.08 ha and Pujon sub-Regency as much as 2.43 ha.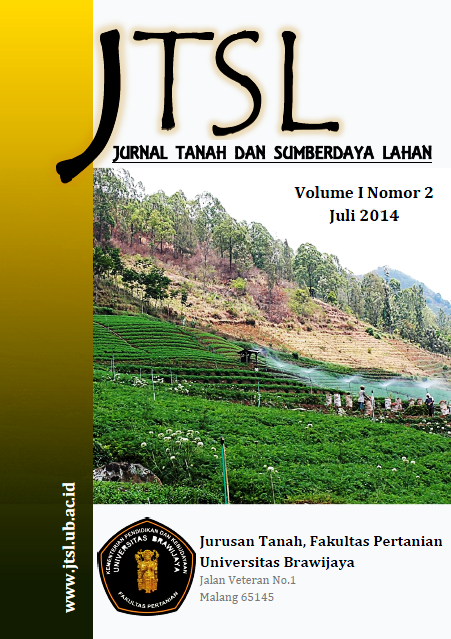 Downloads
How to Cite
Utomo, A. P., Sudarto, S., & Suprayogo, D. (2017). ESTIMASI SEBARAN DAERAH RAWAN BANJIR BANDANG SUB DAERAH ALIRAN SUNGAI SUMBER BRANTAS KOTA BATU : APLIKASI MODEL GENRIVER & SISTEM INFORMASI GEOGRAFI. Jurnal Tanah Dan Sumberdaya Lahan, 1(2), 7–14. Retrieved from https://jtsl.ub.ac.id/index.php/jtsl/article/view/106
License
The copyright of the received article shall be assigned to the journal as the publisher of the journal. The intended copyright includes the right to publish the article in various forms (including reprints). The journal maintains the publishing rights to the published articles.

This work is licensed under a Creative Commons Attribution-NonCommercial 4.0 International License.