KAJIAN LENGAS TERSEDIA PADA TOPOSEKUEN LERENG UTARA G. KAWI KABUPATEN MALANG JAWA TIMUR
Abstract
In one toposequence, soil moisture available at each location will be different. Soil moisture difference is due to many factors, either environmental factors as well as the ability of soil. Because soil moisture is the water available in the soil that can be used by plants, so the difference soil moisture conditions at each location will cause the carrying capacity of land to support a land use will be different. The research was conducted on the northern slopes toposequence of Mount Kawi, administratively located in the village Bendosari, Pujon, Malang, East Java. The purpose of this study to examine the effect of topography for soil moisture available on northern slopes toposequence of Mount Kawi. Site observations this study divided into five locations by ortophoto northern slopes toposequence of Mount Kawi 1984. The results showed that the bulk density, organic matter, micro pores and meso pores positive effect on soil moisture available, while silt and clay particles negatively effect. Great influence exerted on each factors is different, the highest influence is bulk density which amounted to 29,49% and the decline in organic matter 0,642%, micro pores 0,5509%, meso pores 0,3931 %, silt particles 0,2595% and clay particles 0,2753%. In one row of topography is associated elevation with slope apparently affects the soil moisture available at the study site. Factors elevation positive influence on soil moisture available at 0,00991%, while the negative influence slope of 0,35%.
Keyword: soil moisture, toposequent, Mount Kawi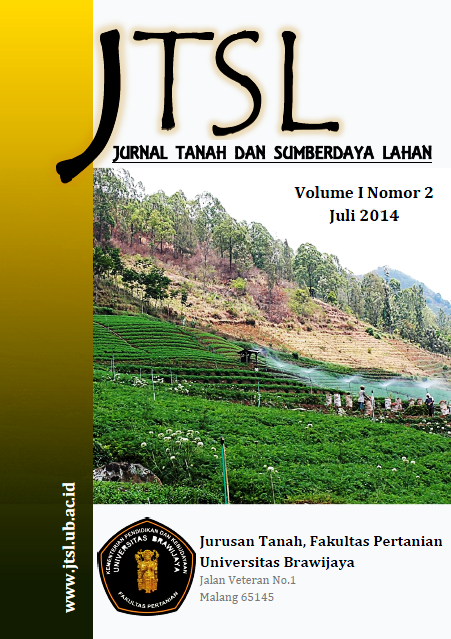 Downloads
How to Cite
Nita, I., Listyarini, E., & Kusuma, Z. (2017). KAJIAN LENGAS TERSEDIA PADA TOPOSEKUEN LERENG UTARA G. KAWI KABUPATEN MALANG JAWA TIMUR. Jurnal Tanah Dan Sumberdaya Lahan, 1(2), 53–62. Retrieved from https://jtsl.ub.ac.id/index.php/jtsl/article/view/112
License
The copyright of the received article shall be assigned to the journal as the publisher of the journal. The intended copyright includes the right to publish the article in various forms (including reprints). The journal maintains the publishing rights to the published articles.

This work is licensed under a Creative Commons Attribution-NonCommercial 4.0 International License.