KARAKTERISTIK DAN KLASIFIKASI TANAH PADA LAHAN KERING DAN LAHAN YANG DISAWAHKAN DI KECAMATAN PERAK KABUPATEN JOMBANG
Abstract
Paddy soil processes and puddling caused by soil formation processes in paddy soil is different with in dry soil. This research aimed to determine the differences of characteristics and soil classification on dry land and paddy soil in Perak Dystrict Jombang. There are 6 soil profile which is involve 3 soil profiles in dry land and 3 soil profiles in paddy soil have been described in the field, after that the soil sample have been taken to soil physic and chemical analysis. Research shown that dry land and paddy soil have a different of soil characteristic (morphologies, physics and chemicals), also soil classification. Morphologically, change occure at the horizon arrangement, colours and plow pan (Adg) form in the paddy soil profile. Differences of soil physic are soil structure, bulk density also consistency. Paddy soil usually have a content cation exchange capacity (K+, Na+, Ca2+ dan Mg2+), C-Organik and base saturation that higher than dry land. Soil classification in dry soil and paddy soil different start at the sub order, as a result of changes in soil moisture regime from ustic to be endoaquic in paddy soil.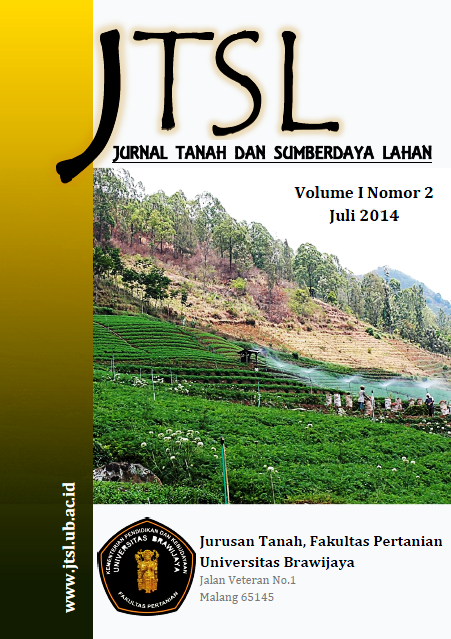 Downloads
How to Cite
Rahayu, A., Utami, S. R., & Rayes, M. L. (2017). KARAKTERISTIK DAN KLASIFIKASI TANAH PADA LAHAN KERING DAN LAHAN YANG DISAWAHKAN DI KECAMATAN PERAK KABUPATEN JOMBANG. Jurnal Tanah Dan Sumberdaya Lahan, 1(2), 79–87. Retrieved from https://jtsl.ub.ac.id/index.php/jtsl/article/view/115
License
The copyright of the received article shall be assigned to the journal as the publisher of the journal. The intended copyright includes the right to publish the article in various forms (including reprints). The journal maintains the publishing rights to the published articles.

This work is licensed under a Creative Commons Attribution-NonCommercial 4.0 International License.