PENGARUH KOMBINASI BIOCHAR DAN SISA TANAMAN LEGUM TERHADAP KETERSEDIAAN N DAN P TANAH SERTA EMISI CO2 PADA LAHAN KERING
Abstract
A research that was aimed to study the effect of the combination of biological charcoal (biochar) and a biomass plant Mucuna pruriens, Psophocarpus tetragonolubus, Phaseolus lunatus, Dolichos lablab the availability of N, P availability and release of CO2 from the decomposition. The research was conducted in the laboratory of Biology, Faculty of Agriculture, University of Brawijaya, Malang. Research began in October 2014 and February 2015. Materials used are fresh biomass, soil and biochar. Fresh biomass of four species of wild plants Mucuna pruriens (MP), Psophocarpus tetragonolubus (PT), Phaseolus lunatus (PL) and Dolichos lablab (DL], biochar rice hulls, bottles 100 mL plastic tube the size of 3 mL and 5 mL tube size. Observations of soil N and available P were conducted at weeks 1, 2, 4, 6, and 8. The results indicated that the combination treatment of 75 MP + 25 AH (Mucuna pruriens 3,75 t ha-1 and 1.25 t biochar ha-1) had the highest value for ammonium in (8 MSI) that was  equal to 143 mg kg-1. The highest average against ammonium was 100 PT + 0AH treatment that hada value of 79.17 mg kg-1  The treatment that had the highest value for nitrate in (8 MSI) was the treatment of 50 PL + 50 AH 236.67 mg kg-1. The treatment having the highest average for nitrate was 75 PT + 25AH of 206 mg kg-1. Combination treatment of 5 t Psophocarpus tetragolubus / ha and 0 t biochar ha-1 (100 PT + 0 AH) had the highest value of available P of 63.64 mg kg-1. The treatment having the highest average value of 75 PL + 25 AH  was 33.45 mg kg-1. The average value of the highest CO2 evolution (1.54 mg CO2 week-1) was in the treatment of 50DL + 50 AH (Dolichos lablab 2,5 t ha-1 and 2,5 t Biochar ha-1).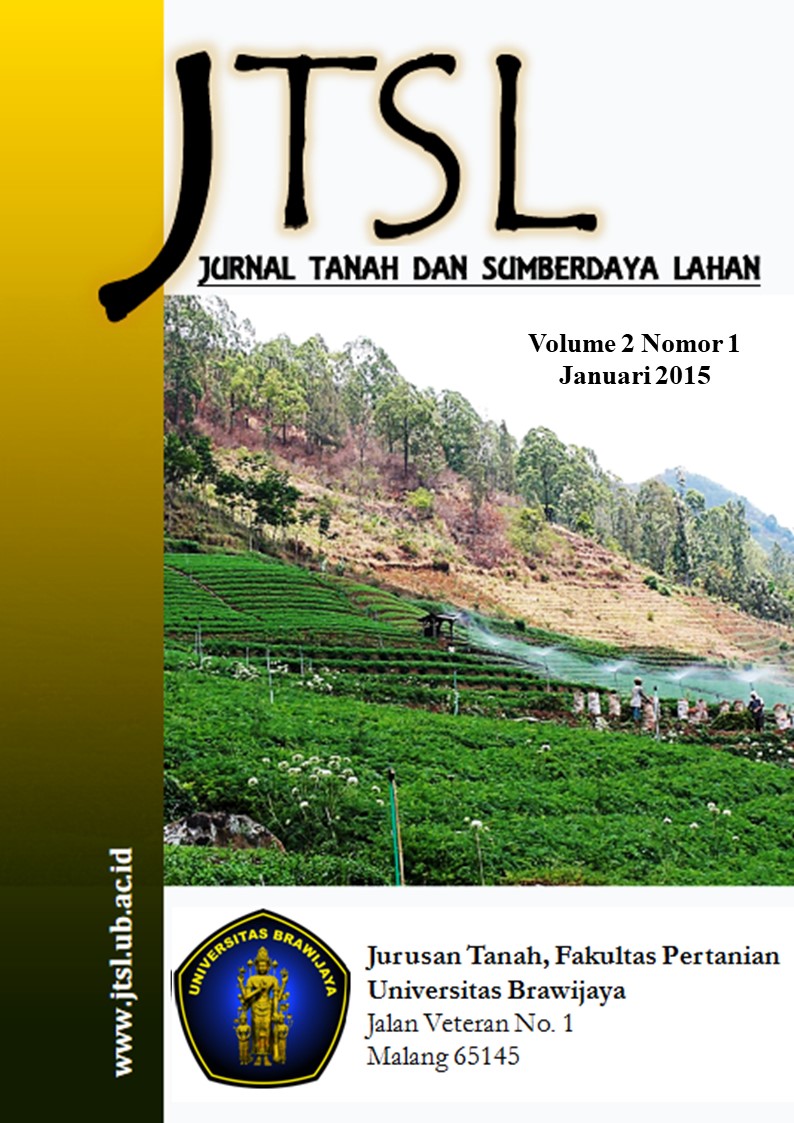 Downloads
How to Cite
Ningtyas, W., Nuraini, Y., & Handayanto, E. (2017). PENGARUH KOMBINASI BIOCHAR DAN SISA TANAMAN LEGUM TERHADAP KETERSEDIAAN N DAN P TANAH SERTA EMISI CO2 PADA LAHAN KERING. Jurnal Tanah Dan Sumberdaya Lahan, 2(1), 139–146. Retrieved from https://jtsl.ub.ac.id/index.php/jtsl/article/view/123
License
The copyright of the received article shall be assigned to the journal as the publisher of the journal. The intended copyright includes the right to publish the article in various forms (including reprints). The journal maintains the publishing rights to the published articles.

This work is licensed under a Creative Commons Attribution-NonCommercial 4.0 International License.