PENGARUH BIOCHAR, ABU KETEL DAN PUPUK KANDANG TERHADAP PENCUCIAN NITROGEN TANAH BERPASIR ASEMBAGUS, SITUBONDO
Abstract
Sandy soil has many macro pores that can cause water and soil nutrients difficult to remain at top soil because of leaching. This study was aimed to elucidate the effects of application of biochar, sugarcane boiler ash, and cattle manure on nitrogen leaching and availability in a sandy soil of Asembagus, Situbondo. Treatments tested were without soil amendment (control soil), 10 t biochar ha-1, 10 t sugarcane boiler ash ha-1, 10 t of cattle manure ha-1, combination of 5 t biochar ha-1 + 5 t cattle manure ha-1, and combination of 5 t sugarcane boiler ash ha-1 +  5 t cattle manure ha-1.  The six treatments were arranged in a completely randomized design with three replicates. Measurement of leachate was carried out every two week for ten weeks after incubation. The results showed that application of 10 t biochar ha-1 decreased leaching of total nitrogen with more stable than the other treatments. Leaching of total nitrogen in application 10 t biochar ha-1 always decreased at 2 week until 10 week after incubation with the value of 0.10 – 0.29 ppm. On the other treatments and control, the leaching of total nitrogen has a value 0.07-0.77ppm and 0.18 – 1.08 ppm, respectively. The percentage of leachate volume in application of 10 t biochar ha-1 was lower than the control soil and the other treatments with values ranging from 51.45 to 82.46%.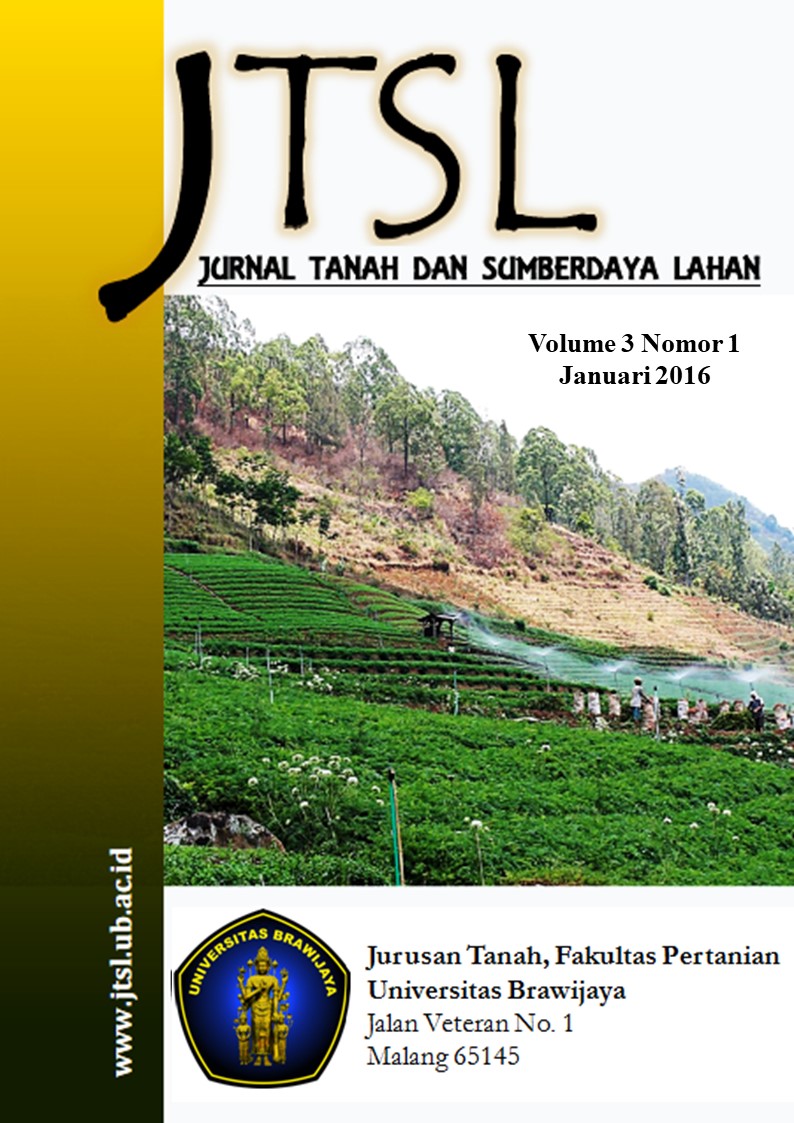 Downloads
How to Cite
Wibowo, W. A., Hariyono, B., & Kusuma, Z. (2017). PENGARUH BIOCHAR, ABU KETEL DAN PUPUK KANDANG TERHADAP PENCUCIAN NITROGEN TANAH BERPASIR ASEMBAGUS, SITUBONDO. Jurnal Tanah Dan Sumberdaya Lahan, 3(1), 269–278. Retrieved from https://jtsl.ub.ac.id/index.php/jtsl/article/view/138
License
The copyright of the received article shall be assigned to the journal as the publisher of the journal. The intended copyright includes the right to publish the article in various forms (including reprints). The journal maintains the publishing rights to the published articles.

This work is licensed under a Creative Commons Attribution-NonCommercial 4.0 International License.