EFEKTIFITAS KOMPOS CAMPURAN AMPAS TEH, KOTORAN SAPI DAN KOTORAN KAMBING TERHADAP SERAPAN N PADA TANAMAN BAWANG DAUN PADA INCEPTISOL
Abstract
Inceptisols are young soils that have undergone further development are characterized by low nitrogen content, low organic matter contend, and low pH. Fertilizer application is therefore needed to improve fertility of the soils. Tea waste that is easily found at home or factories can be used as organic fertilizer to supply nutrient elements in the soil. The purpose of this study was to elucidate the influence of application of combined compost (mixture of tea waste, cow dung and goat dung) on N uptake by leek plant (Allium fistulosum L.). Eight treatments (control, 5%, 25%, 50%, 75%, 100%, 125%, and 150% compost) were arranged in a completely randomized design with three replicates. The results showed that application of combined compost of tea waste, cow dung and goat dung significantly affected soil pH, soil organic carbon, soil total N, N uptake by plant, plant growth and plant yield. The highest N uptake by plant was observed for treatment 100% compost application (9.1 t ha-1) that yielding 114.62 mg plant-1, while the lowest N uptake was found on the control treatment that yielding only 54.98 mg plant-1.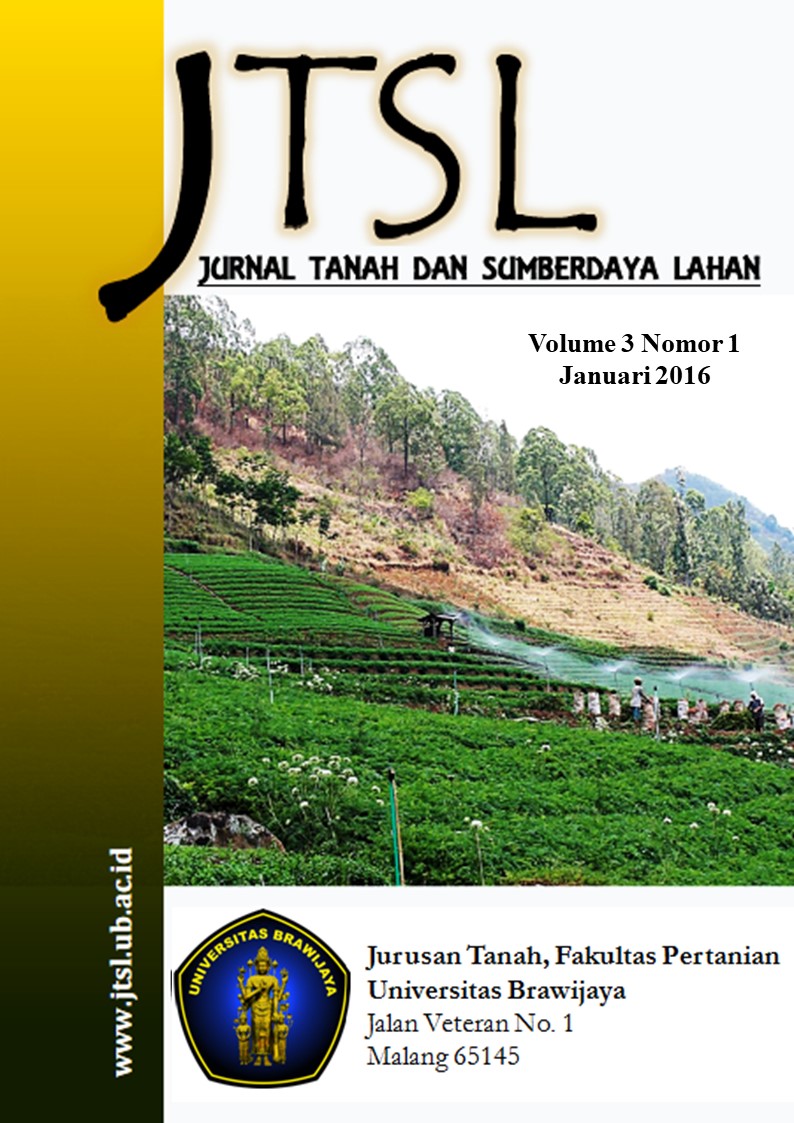 Downloads
How to Cite
Dyasmara, S. P., Syekhfani, S., & Nuraini, Y. (2017). EFEKTIFITAS KOMPOS CAMPURAN AMPAS TEH, KOTORAN SAPI DAN KOTORAN KAMBING TERHADAP SERAPAN N PADA TANAMAN BAWANG DAUN PADA INCEPTISOL. Jurnal Tanah Dan Sumberdaya Lahan, 3(1), 285–292. Retrieved from https://jtsl.ub.ac.id/index.php/jtsl/article/view/140
License
The copyright of the received article shall be assigned to the journal as the publisher of the journal. The intended copyright includes the right to publish the article in various forms (including reprints). The journal maintains the publishing rights to the published articles.

This work is licensed under a Creative Commons Attribution-NonCommercial 4.0 International License.