PENGARUH SIFAT FISIK TANAH TERHADAP JAMUR AKAR PUTIH PADA TANAMAN KARET
Abstract
The main problem in the Indonesian rubber plantations is white root rot disease (Rigidoporus microporus). White root rot disease causes the death in rubber so that the amount of crop production declines. The growth of white root rot in the soil is influenced by the nature of the soil itself that include  soil physical, chemical and biological properties. It is known that the white root rot disease likes porous soils. The purpose of this study was to determine the effect of soil physical properties on  the intensity of white root rot disease attacking the roots of white rubber plant. The study was done by calculating the intensity of disease and soil sampling for analysis in laboratororium. The results showed that the physical properties of soil that influenced the intensity of white root rot was organic matter 10.75%; clay fraction 30.53%; pH 30.8%; available moisture 40.69%; sand fraction 41.9% and porosity 73.37%. However, the porosity of the soil had a very strong influence and it was highly significant (p <0.01) with the regression equation y = 226.32 - 5,0311x. The high porosity of the soil was able to suppress the intensity of white root fungus attacks.
References
Buckman, H.O. and Brady, N.C. 1982. Ilmu Tanah. Bhratara Karya Aksara. Jakarta.
Damanik, S. 2012. Pengembangan karet (Hevea brasilliensis) berkelanjutan di Indonesia. Jurnal Perspektif 11 (1), 91-102.
Ding, G., Novak, J.M., Amarasiriwardena, D., Hunt, P.G. and Xing, B. 2002. Soil organic matter characteristics as affected by tillage management. Soil Science Society of America Journal 66, 421-429.
Hakim, N., Nyapka M.Y., Lubis A.M., S.G. Nugroho, Saul M.R., Dina M.A, Hong G.B. dan Bailey, H.H. 1986. Dasar-Dasar Ilmu Tanah. Penerbit Universitas Lampung. Lampung.
Harni, R. dan Amaria,W 2011. Penyakit jamur akar putih dan cokelat pada jambu mete dan strategi pengendaliannya. Buletin RISTRI 2(2), 215.
Liyanage, G.W., Liyanage, A. de S., Peries, O.S. and Halangoda, L. 1977. Studies on the variability and pathogenicity of Rigidoporus Lignosus. Journal of Rubber Research Institute of Sri Lanka 54 (1), 363-372.
Mulyati, S. 2009. Pengaruh kandungan pasir pada media semai terhadap penyakit rebah kecambah (Sclerotium rolfsii Sacc) pada persemaian tanaman cabai. Jurnal Agronomi 13 (1), 21-28.
Ogbebor, O.N., Omorusi, V.I., Adekunle, A.T., Orumwense, K. and Ijeh, K. 2013. Fast method for the detection of Rigidiporus lignosus (klotzsch) Imaz in hevea plantations. International Journal of Science & Nature 4(1), 109-116
Perkasa, A. 2015. Jamur Akar Putih Tanaman Karet. [Online]. Agrikencanaperkasa.com. Diakses pada 26 Januari 2015.
Porth, G., Mangan, F., Wick, R. and Autio, W. 2003. Evaluation of Management Strategies For Clubroot Disease of Brassica Crops. http://www.umassvegetable.org.
Prasetyo, J., Aeny, T.N. and Suharjo, R. 2009. The corelations between white rot (Rigidoporus lignosus L.) incidence and soil characters of rubber ecosystem in Penumangan Baru, Lampung. Jurnal HPT Tropika 9 (2), 149-157.
Purnomo, B.. 2006. Konsep Ilmu Penyakit Hutan. Fakultas Pertanian. UNIB.
Refliaty dan Marpaung, E.J. 2010. Kemantapan agregat Ultisol pada beberapa penggunaan lahan dan kemiringan lereng. Jurnal Hidrolitan 1, 2:35-42.
Ritz, K. and Young, I. M. 2004. Interactions Between Soil Structure and Fungi. Mycologyst, Volume 18 Part 2. Cambridge University Press.
Semangun, H. 1987. Penyakit-Penyakit Tanaman Perkebunan Di Indonesia. Gadjah Mada University Press. Yogyakarta.
Sinaga, M. S. 1997. Dasar-Dasar Ilmu Penyakit Tumbuhan. Diktat. Institut Pertanian Bogor. Bogor.
Tate, R.L. 1995. Soil Microbiology. John Wiley and Sons, Inc. New Jersey.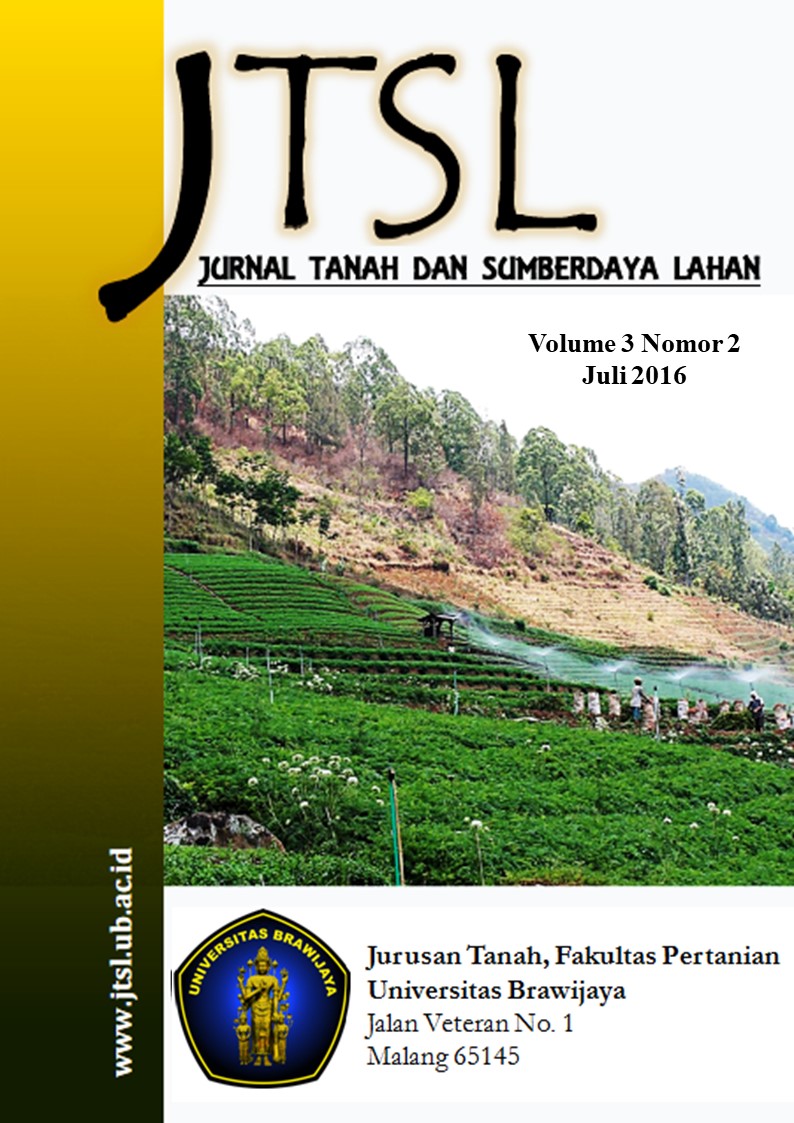 Downloads
How to Cite
Parasayu, K. S., Wicaksono, K. S., & Munir, M. (2017). PENGARUH SIFAT FISIK TANAH TERHADAP JAMUR AKAR PUTIH PADA TANAMAN KARET. Jurnal Tanah Dan Sumberdaya Lahan, 3(2), 359–364. Retrieved from https://jtsl.ub.ac.id/index.php/jtsl/article/view/148
License
The copyright of the received article shall be assigned to the journal as the publisher of the journal. The intended copyright includes the right to publish the article in various forms (including reprints). The journal maintains the publishing rights to the published articles.

This work is licensed under a Creative Commons Attribution-NonCommercial 4.0 International License.