PENGARUH PEMBERIAN ABU KETEL TERHADAP SIFAT FISIK TANAH, PERTUMBUHAN DAN PRODUKSI TANAMAN TEBU PADA ULTISOL DI PABRIK GULA BONE, SULAWESI SELATAN
Abstract
Waste of Bone sugar factory in the form of sugarcane boiler ash has not been used optimally, yet the sugarcane boiler ash contains significant amounts of K, Ca, Mg and P.  The objective of this study was to elucidate the effects of sugarcane boiler ash on soil physical properties, and growth and yield of PSBM 901 sugarcane variety at Bone sugar Factory. Treatments tested in this study were Kontrol (Urea 300 kg ha-1, SP36 200 kg ha-1, KCL 100 kg ha-1, Dolomit 1 t ha-1) (P1),  compost 6 t ha-1 (P2),  sugarcane boiler ash 40 t ha-1 + compost 6 t ha-1 (P3), sugarcane boiler ash 40 t ha-1 (P4), sugarcane boiler ash 40 t ha-1 without K fertilizer (P5), and sugarcane boiler ash 40 t ha-1 without dolomite (P6). The results showed that the P6 treatment (P6) was able to decrease soil bulk density by of 0.8 g cm-3 and soil particle density from 2.52 g cm-3 to 2.08 g cm-3. Furthermore, the P6 treatment was also able to increase the total soil porosity to 51.1% volume and aggregate stability value from 0.8 mm to 1.2 mm. The P6 treatment was also  able to increase growth,  trunk of sugarcane,  and number of tillers sugarcane. The best value of sugarcane production was shown by the P6 treatment with the value of 51.56 t ha-1. The highest profit of Rp. 15.585.528,53.was obtained from the P5 treatment.
References
Agus, F., Yustika, R.D. dan Haryati U. 2006. Penetapan berat volume tanah. Dalam Sifat fisik tanah dan metode analisisnya. Balai Besar Litbang Sumberdaya Lahan Pertanian. pp 25-34.
Anom, E. 2008. Pengaruh residu pemberian tricho-kompos jerami padi terhadap pertumbuhan dan produksi sawi hijau (Brassica juncea, L.). Sagu 7 (2), 7-12.
Anonimus. 2013. Kebutuhan Gula Nasional Mencapai 5,700 Juta Ton Tahun 2014. Available online at http://ditjenbun. deptan.go.id/s etditjenbun/ berita-172-dirjenbun--kebutuhan-gula-nasional-mencapai-5700-juta-ton - tahun-2014. html. Diakses pada tanggal 18 Februari 2014.
Chan, K.Y., Van Zwieten, B.L., Meszaros, I.,Downie, D., and Joseph, S. 2007. Agronomic values of greenwaste biochars a soil amandements. Australian Journal of Soil Research 45, 437-444.
Chan, K.Y., Van Zwieten, B.L., Meszaros, I.,Downie, D., and Joseph, S. 2008. Using poultry linier biochars a soil amandements. Australian Journal of Soil Research 46, 437-444.
Demirbas, A. 2006. Production and characterization of biochar from biomass via phyrolisis. Energy Sources Part A 28, 413-422.
Downie, A., Crosky, A. and Munroe, P. 2009. Physical properties of biochar. In: Lehman, J., Joseph, S.(Eds), Biochar of Environmental Managemen: Science and Technology. Earthscan, London.
Glaser, B., Lehmann,J. and Zech, W. 2002. Ameliorating physical and chemical properties of highly weathered soils in the tropics with charooal. A Review. Biology and Fertility of Soils 35, 219-230.
Lehmann, J. 2007. A handful of carbon. Nature. 447, 143-144.
Major, J., Rondom, M., Marina, D., Susan J.R. and Lehmann, J., 2010 Maize yield and nutrition during 4 years after biochar application to a Colombian savanna oxisol. Plant and Soil 333, 117-128
Masulili, A., Utomo, W.H. and Syechfani, M.S. 2010. Rice husk biochar for rice based cropping system in acid soil 1. The characteristics of rice husk biochar and its influence on the properties of acid sulfate soil and rice growth in West Kalimantan, Indonesia. Journal of Agriculture Science 2 (1): 39-45.
Maswal, Z. dan Abidin, M. 1988. Pengaruh pemupukan NPK terhadq pertumbuhrw vegetatif dan produksi tebu varieCas F-156 pada tanah aluvial. Bulletin (2): 1 – 36.
Nurrofiq, A. 2005. Analisis Efisiensi Produksi Gula. Skripsi. Jurusan Ilmu-ilmu Sosial Ekonomi Pertanian. Fakultas Pertanian. Institut Pertanian Bogor.
Pairunan, A., Nonere, K., Samosir, S.R., Tangkaisari, R., Lolopua, J.R., Ibrahim, B. dan Asmadi, H.1997. Dasar-Dasar Ilmu Tanah. BKPTN Indonesia bagian Timur.Makassar.
Piccolo, A., Pietramellara,G. and Mbagwu, J.S.C. 1997. Use of humic substances as soil conditioners to increase aggregate stability. Geodarma, 75, 267-277.
Prijono, S. 2008. Analisis Fisika Tanah. Universitas Brawijaya. Malang.
Santo, S., Arifm, S. dan Budiono. 1993. Tanggap varietas PS 77-1553, PS 78-561 dan PS 78-8238 terhadap pemupukan ammonium sulfat di lahan sawah regosol Kediri. Berita (10): 29-36.
Soemarso. 2002. Akuntansi Suatu Pengantar. PT.Rineka Cipta. Jakarta . Ed. Ke-4.
Sohi, S., Elisa Lopes-Capel, E., Krull, E. And Bol, R. 2009. Biochar, Climate change & soil: A review to guide future research. CSIRO L and Water Science Report 05/09, 64 pp.
Stainer, C., Teixeris, W.G. and Lehmann, J., 2007. Long term effect of manure,charcoal and mineral fertilization on crop production and fertility on a highly weathered Central Amazonian upland soil soil. Plant and Soil 291, 257-290
Sukartono. 2010. Tanaman Tebu. digilib ipb.ac.id. Diakses pada tanggal 18 Februari 2014.
Susilowati, L.E. dan Sukartono. 2007. Budidaya Tanaman Tebu. Babr II-Tinjauan Pustaka. Universitas Mataram.
Toruan, M.L., Erwin, Z. dan Abidin, M. 1987. Percobaan pemupukan NPK pada berbagai Tingkat tanaman tebu dan type tanah kebun rotasi PT Perkebunan IX. Bulletin (6): 1-22.
Usman, B. 1989. Pengaruh penambahan dosis AS dan jumlah bibit bagal terhadap pertumbuhan, kadar NPK daun dan hasil beberapa varietas tebu. Majalah Perusahaan Gula 25 (1), 1-12.
Utomo, W.H., dan B, Siswanto. 2013. Upaya Peningkatan Produktivitas Dan Redemen Tebu Di Pg Bone, Caming Dan Takalar Berbasis Pemanfaatan Limbah Dan Pemurnian Varitas. Universitas Brawijaya Malang.
Uzoma, K.C., Inoue, M., Andry, H., Fujimaka, H., Zahoor, A. and Nishihara, E., 2011. Effect of cow manure biochar on maize productivity under sandy soil condition. Soil Use and Management 27 (2), 205-212.
Wahyuni, I.T. 2007. Analisis Efisiensi Produksi Gula di PG Mudokismo, Yogyakarta. Skripsi. Jurusan Ilmu-ilmu Sosial Ekonomi Pertanian. Fakultas Pertanian. Institute Pertanian Bogor.
Widarwati, T. 2008. Analisis Faktor-Faktor yang Mempengaruhi Produksi Gula PG Pagottan. Skripsi. Jurusan Ilmu-ilmu Sosial Ekonomi Pertanian. Fakultas Pertanian. Institute Pertanian Bogor.
Winsley, P. 2007. Biochar and bioenergy production for climate change. New Zealand Science Review 64 (1), 1-10.
Yamato, M., Okimori, Y., Wibowo, I.F., Anshiori, S. and Ogawa, M. 2006. Effects of the Application of charred bark of Acacia mangium on the yield of maize, cowpea and peanut, and soil chemical properties in Sout Sumatra, Indonesia. Soil Science and Plant Nutrition 52, 489 – 495.
Yeboah, E., Ofari, P., Quansah, G.W., Dugan, E. and Sohi, S.P. 2009. Improving soil productivity through biochar amendment to soil. African Journal of Environmental Science and Technology. 3 (2), 34-41.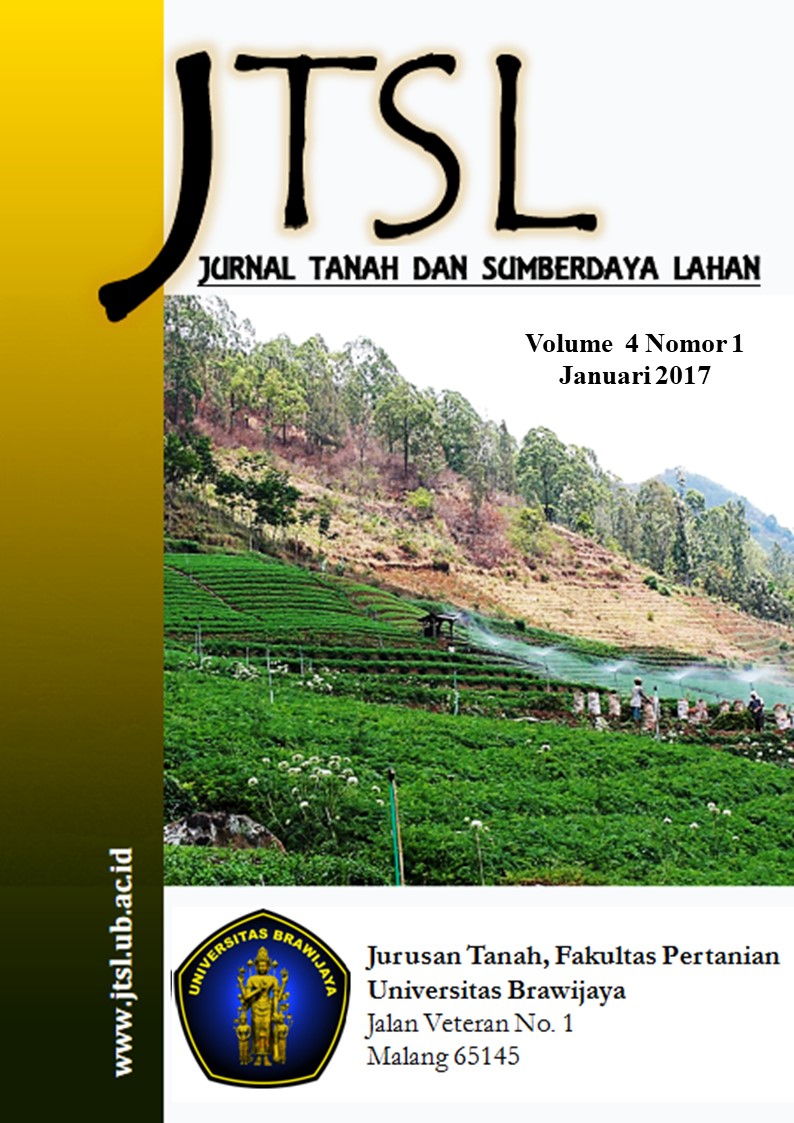 Downloads
How to Cite
Abror, K., Siswanto, B., & Utomo, W. H. (2017). PENGARUH PEMBERIAN ABU KETEL TERHADAP SIFAT FISIK TANAH, PERTUMBUHAN DAN PRODUKSI TANAMAN TEBU PADA ULTISOL DI PABRIK GULA BONE, SULAWESI SELATAN. Jurnal Tanah Dan Sumberdaya Lahan, 4(1), 445–452. Retrieved from https://jtsl.ub.ac.id/index.php/jtsl/article/view/158
License
The copyright of the received article shall be assigned to the journal as the publisher of the journal. The intended copyright includes the right to publish the article in various forms (including reprints). The journal maintains the publishing rights to the published articles.

This work is licensed under a Creative Commons Attribution-NonCommercial 4.0 International License.