KAJIAN SIFAT FISIK TANAH PADA BERBAGAI UMUR TANAMAN KAYU PUTIH (Melaleuca cajuputi) DI LAHAN BEKAS TAMBANG BATUBARA PT BUKIT ASAM (PERSERO)
Abstract
Mining activities have an impact on the ground in the form of a high content of heavy metals, soil density increased due to the use of heavy equipment, a process of reversal and mixing top soil and sub soil, as well as poor aeration and drainage. One way to do PT Bukit Asam (Persero) to overcome it by doing reclamation using Cajuputi plant (Melaleuca cajuputi). Cajuputi plants have a high level of adaptation can improve soil physical properties such as texture, porosity, saturated hydraulic conductivity, moisture content, bulk density, specific gravity, pH and C-Organic. This study was conducted to determine the effect on the development of reclaimed land in the physical properties at area coal post mining and determine the effect of age Cajuputi reclamation plant (Melaleuca cajuputi) to changes in the physical properties of the soil. On the difference in age of the plant 1 year, 3 years and 5 years, and there are 5 replicates. Texture has increased in the sand at 19.3%, porosity and saturated hydraulic conductivity increases proportional to the levels of C-organic soil. Bulk density and density decreased. Value acidity decreased, but no real effect on the t test between the age of the plant reclamation. The decline also occurred at the level of the water content caused increasing age of root crops will be easier to absorb water in field capacity and the addition of organic matter to add the activity of organisms in the soil and plant litter to protect ground water from direct blows.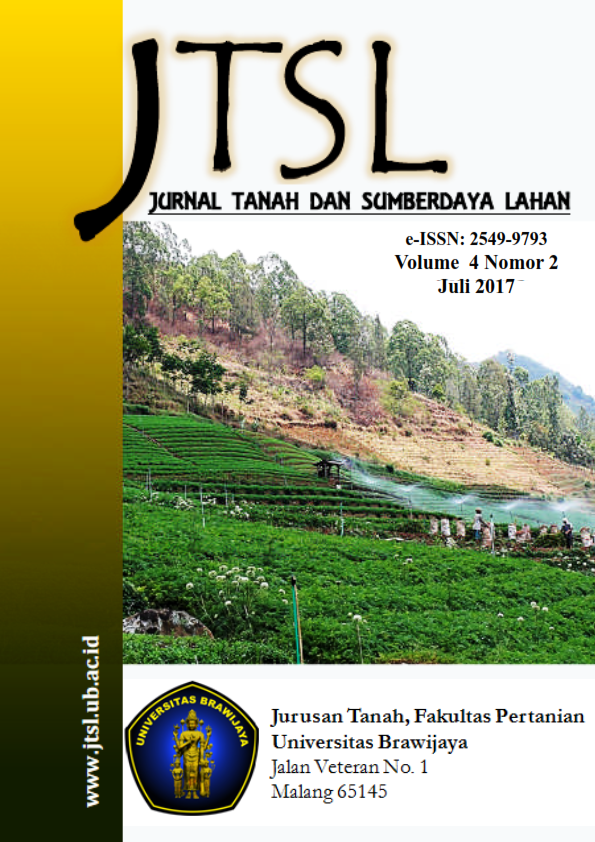 Downloads
How to Cite
Malau, R. S., & Utomo, W. H. (2017). KAJIAN SIFAT FISIK TANAH PADA BERBAGAI UMUR TANAMAN KAYU PUTIH (Melaleuca cajuputi) DI LAHAN BEKAS TAMBANG BATUBARA PT BUKIT ASAM (PERSERO). Jurnal Tanah Dan Sumberdaya Lahan, 4(2), 525–531. Retrieved from https://jtsl.ub.ac.id/index.php/jtsl/article/view/169
License
The copyright of the received article shall be assigned to the journal as the publisher of the journal. The intended copyright includes the right to publish the article in various forms (including reprints). The journal maintains the publishing rights to the published articles.

This work is licensed under a Creative Commons Attribution-NonCommercial 4.0 International License.