PENGARUH SISTEM OLAH TANAH DAN APLIKASI MULSA TERHADAP SIFAT FISIK, PERAKARAN, DAN HASIL TANAMAN KACANG HIJAU (Vigna Radiata L.)
Abstract
Long term intensive tillage causes land degragation or damage soil physics and  affect on root growth and plant production. This research aimed to know the effect of tillage system and mulch aplication on soil physical properties, rooting, and green bean producton. The experiment was conducted in March - May 2016 in the village of Pendem, Junrejo District, Batu City. The study was conducted using a Randomized Block Design Factorial (RBDF) with two factor and each factor has 3 levels. The first factor is the tillage (T) and the second factor is the application of mulch (M), so that the total combination of the factors is 9 treatments. Each one is made of the plot and the treatment was repeated 3 times. The treatment are, no tillage (T0), minimum tillage(T1), intensive tillage (T2), without mulch (M0), silvery black plastic mulch (M1), and straw mulch (M2). The system of minimum tillage with straw mulch application is the best treatment of all combinations because it has the best value in bulk density, porosity total, roots, and the produce of green bean. The effect just occur on the short term, that is 14 days after planting, whereas after harvest (60 HST) there are not effected.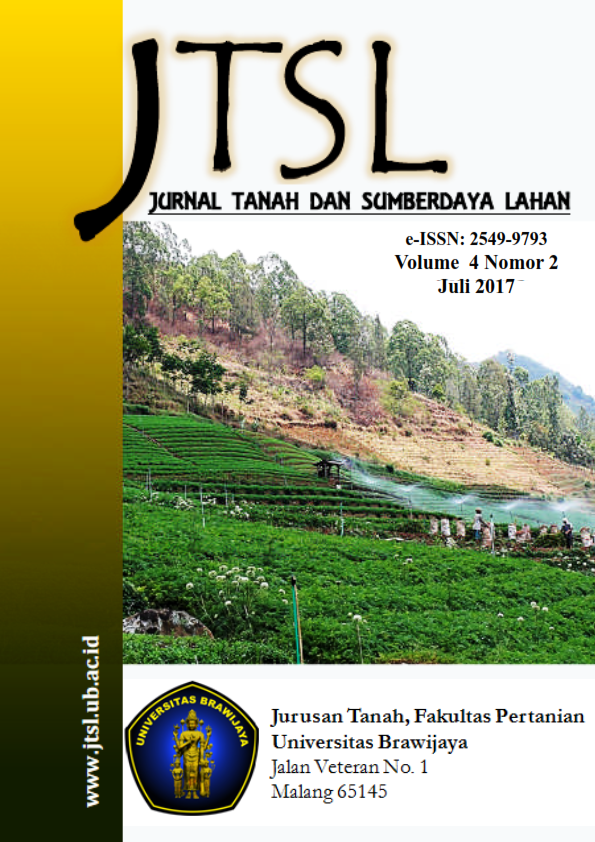 Downloads
How to Cite
Solyati, A., & Kusuma, Z. (2017). PENGARUH SISTEM OLAH TANAH DAN APLIKASI MULSA TERHADAP SIFAT FISIK, PERAKARAN, DAN HASIL TANAMAN KACANG HIJAU (Vigna Radiata L.). Jurnal Tanah Dan Sumberdaya Lahan, 4(2), 553–558. Retrieved from https://jtsl.ub.ac.id/index.php/jtsl/article/view/172
License
The copyright of the received article shall be assigned to the journal as the publisher of the journal. The intended copyright includes the right to publish the article in various forms (including reprints). The journal maintains the publishing rights to the published articles.

This work is licensed under a Creative Commons Attribution-NonCommercial 4.0 International License.