INTEGRASI SIG DAN SPKL UNTUK EVALUASI KESESUAIAN LAHAN TANAMAN KOPI ROBUSTA DAN ARAHAN PENGEMBANGAN PERTANIAN DI KABUPATEN LAHAT, SUMATERA SELATAN
Abstract
The coffee is not only a drink but also become a life style which is increase the consumption of coffee, but the production of coffee in Indonesia is still low. Lahat District classified as an agricultural area with the coffee plant area covering 51.788 ha and the coffee production is 19.692 tons, viewed from the area, the coffee production is still relatively low (BPS Lahat, 2016). The formulation of policies for the development of agricultural areas required the support of information systems such as maps, by utilizing the Geographic Information System (GIS) integrated with the Land Conformity Assessment System (SPKL) program. The purpose of this research is to know the suitability level of robusta coffee plant land, to analyze the availability of land for the development of robusta coffee plant and to arrange the development of robusta coffee plant in Lahat District. The method used in this research is spatial analysis and mapping using GIS integrated with SPKL and field verification activities. The result of this study is Lahat District has a suitability class of coffee plantation including marginal and unsuitable, with 4 limiting factors identified. Lahat District is dominated for intensification with percentage of 76% with 122,140 ha, extensification with 23% percentage with 37,714 ha and diversification with 1% percentage with 2,148 ha area.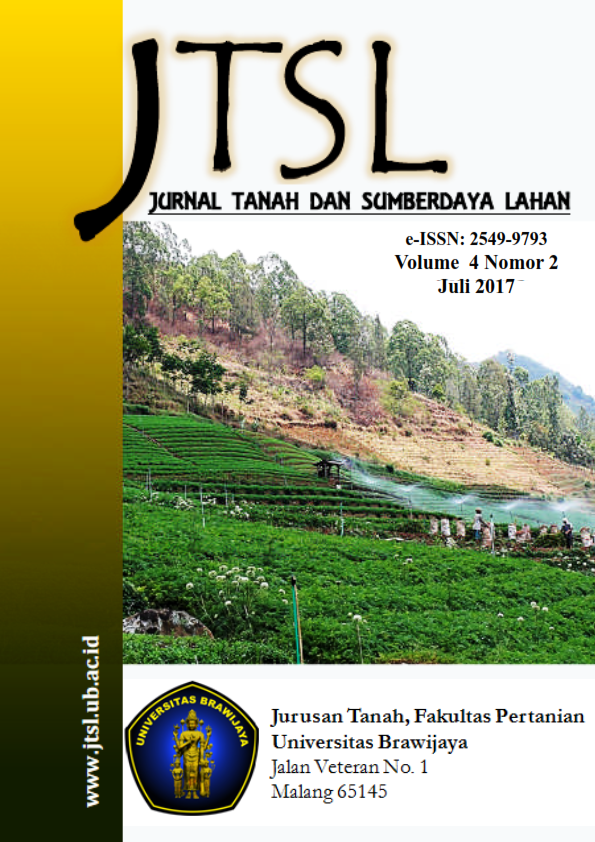 Downloads
How to Cite
Holyman, A., Munir, M., & Sulaeman, Y. (2017). INTEGRASI SIG DAN SPKL UNTUK EVALUASI KESESUAIAN LAHAN TANAMAN KOPI ROBUSTA DAN ARAHAN PENGEMBANGAN PERTANIAN DI KABUPATEN LAHAT, SUMATERA SELATAN. Jurnal Tanah Dan Sumberdaya Lahan, 4(2), 589–597. Retrieved from https://jtsl.ub.ac.id/index.php/jtsl/article/view/176
License
The copyright of the received article shall be assigned to the journal as the publisher of the journal. The intended copyright includes the right to publish the article in various forms (including reprints). The journal maintains the publishing rights to the published articles.

This work is licensed under a Creative Commons Attribution-NonCommercial 4.0 International License.