SEBARAN STATUS BAHAN ORGANIK SEBAGAI DASAR PENGELOLAAN KESUBURAN TANAH PADA PERKEBUNAN TEBU (Saccharum officinarum L.) LAHAN KERING BERPASIR DI PT. PERKEBUNAN NUSANTARA X, DJENGKOL-KEDIRI
Abstract
Application of organic matter is done as one of the basic activities of soil fertility management in sugarcane plantation. Application of organic matter at the planting site can be done based on the status of soil organic matter from map of the status of soil organic matter. Differences in the status of soil organic matter can be caused by differences of soil management, such as compost, liquid organic fertilizer and trashes application. As a basic activity of soil fertility management, organic matter application has a significant influence in the availability of soil-N, C/N ratio and soil pH. Content of soil organic matter in the sugarcane land are ranged from 0.9% to 3.5%, and distributed from "very-low†to "moderate†status.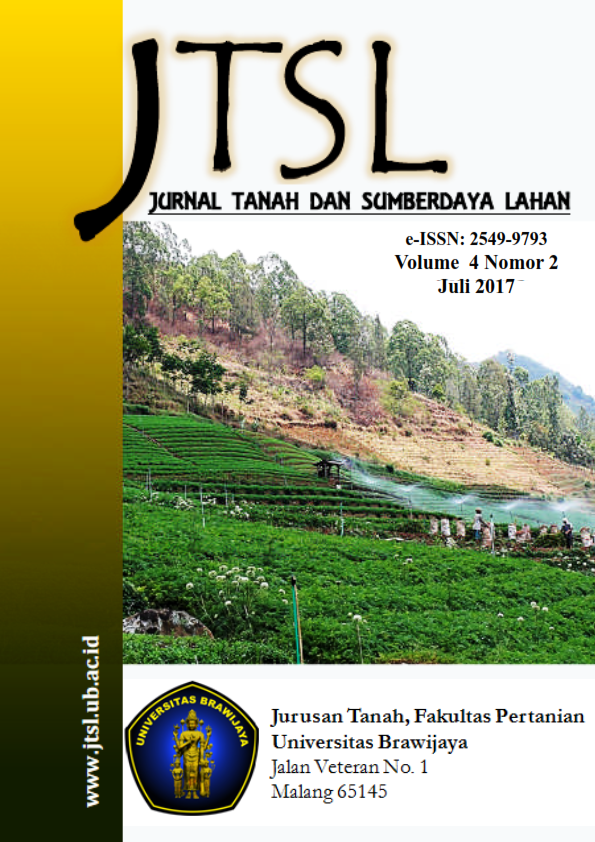 Downloads
How to Cite
Harista, F. I., & Soemarno, s. (2017). SEBARAN STATUS BAHAN ORGANIK SEBAGAI DASAR PENGELOLAAN KESUBURAN TANAH PADA PERKEBUNAN TEBU (Saccharum officinarum L.) LAHAN KERING BERPASIR DI PT. PERKEBUNAN NUSANTARA X, DJENGKOL-KEDIRI. Jurnal Tanah Dan Sumberdaya Lahan, 4(2), 609–620. Retrieved from https://jtsl.ub.ac.id/index.php/jtsl/article/view/178
License
The copyright of the received article shall be assigned to the journal as the publisher of the journal. The intended copyright includes the right to publish the article in various forms (including reprints). The journal maintains the publishing rights to the published articles.

This work is licensed under a Creative Commons Attribution-NonCommercial 4.0 International License.