PENGARUH IMPLEMENTASI SISTEM IRIGASI BIG GUN SPRINKLER DAN BAHAN ORGANIK TERHADAP KELENGASAN TANAH DAN PRODUKSI JAGUNG DI LAHAN KERING
Abstract
Dry land in Indonesia has high potential for agricultural development because of its area, but its utilization is still not optimal. Low water availability is a major issue on dry land. The availability of water is affected by the topography and physical properties in dry land in the holding or to save water. Easy removable irrigation systems such as the Big Gun Sprinkler can meet water demands, while adding organic material can prolong its availability. The purpose of this study  was to analyze the effect of the use of Big Gun Sprinkler irrigation system and organic material against moisture of soil and maize yield. Experimental design used in this research was a Split Splot design with two factors, the first factor was dose the water with three levels consisting of A1 ((100% dose of water), A2 (85% dose of water), A3 (70% dose of water), and the second factor was a dose of organic matter with three levels consisting of B1 (3 t ha-1), B2 (4 t ha-1), B3 (5 t ha-1), and the combination of these factors that consisted of three replicates. The results of this study showed that with irrigation systems water distribution was not uniform because of the influence of the distance from the centre and the wind. Combination of doses of water and organic matter did not give significant influence over all  parameters. However, each treatment produced different values on each parameter.
References
Direktorat Jendral Pengelolaan Lahan dan Air. 2008. Pedoman Umum Pelaksanaan Kegiatan Pengelolaan Lahan dan Air Tahun 2006. Departemen Pertanian, Jakarta.
Efendi, R. 2009. Tanggap Genotipe Jagung Terhadap Cekaman Kekeringan Pada Fase Perkecambahan. Prosiding Seminar Nasional Serealia. ISBN 978-979-8940-27-9.
Khair, H., Pasaribu, M.S. dan Suprapto, E. 2013. Respon pertumbuhan dan produksi tanaman jagung (Zea mays L.) terhadap pemberian pupuk kandang ayam dan pupuk organik cair plus. Agrium 18 (1): 13-22.
Murniyanto, E. 2007. Pengaruh bahan organik terhadap kadar air tanah dan pertumbuhan tanaman jagung di lahan kering. Buana Sains 7 (1): 51-60.
Mustoyo, Simanjuntak, B.H. dan Suprihati. 2013. Pengaruh dosis pupuk kandang terhadap stabilitas agregat tanah pada sistem pertanian organik. Agric 25 (1): 51-57.
Rahmat, A., Afandi, Manik, T.K. dan P. Cahyono. 2013. Pengaruh irigasi dan mulsa kulit singkong terhadap kadar air tanah serta pertumbuhan tanaman nanas. Jurnal Irigasi 8 (2): 99-114.
Salmeron, M., Urrego, Y.F., Isla, R. and Cavero, J. 2012. Effect of non-uniform sprinkler irrigation and plant density on simulated maize yield. Agricultural Water Management 113: 1-9.
Sanchez, I., Zapata, N.,Faci, J.M. and Martinez-Cob, A. 2011. The spatial variability of the wind in a sprinkler irrigated district: implications for irrigation management. Biosystems Engineering 109: 65-76.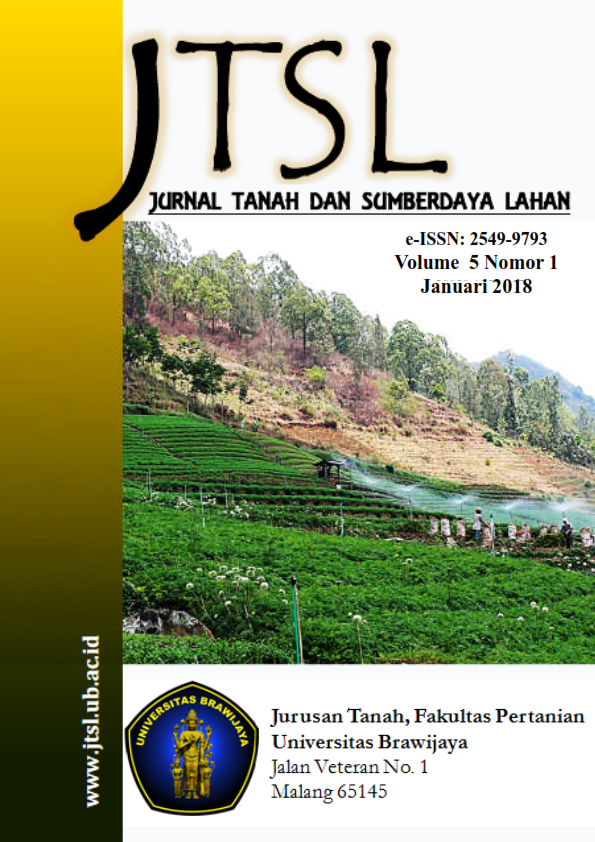 Downloads
How to Cite
Nugroho K, D., Sudarto, S., & Haryono, H. (2018). PENGARUH IMPLEMENTASI SISTEM IRIGASI BIG GUN SPRINKLER DAN BAHAN ORGANIK TERHADAP KELENGASAN TANAH DAN PRODUKSI JAGUNG DI LAHAN KERING. Jurnal Tanah Dan Sumberdaya Lahan, 5(1), 637–645. Retrieved from https://jtsl.ub.ac.id/index.php/jtsl/article/view/181
License
The copyright of the received article shall be assigned to the journal as the publisher of the journal. The intended copyright includes the right to publish the article in various forms (including reprints). The journal maintains the publishing rights to the published articles.

This work is licensed under a Creative Commons Attribution-NonCommercial 4.0 International License.