HUBUNGAN KANDUNGAN BAHAN ORGANIK TANAH DENGAN BERAT ISI, POROSITAS DAN LAJU INFILTRASI PADA PERKEBUNAN SALAK DI KECAMATAN PURWOSARI, KABUPATEN PASURUAN
Abstract
Poor quality of agricultural soil is characterized by low soil organic matter (OM) content, high bulk density, low porosity, and low infiltration. One of efforts to improve soil quality is by adding OM from biomass prunings. Aim of this study was to test the effectiveness of adding OM to the increase of soil organic carbon (SOC) and its relationship with soil bulk density, porosity and infiltration. This study was conducted at Salak (Salacca zalacca Gaertner Voss) plantation owned by a smallholder farmer in Pasuruan District, East Java. Measurements were done at three different treatments of organic material and condition, i.e. at litter stackline (addition of OM), between the Salak plant (without OM addition) and pathway (farmer traffic line) on two age groups of Salak (10 and 20 years) with 3 replications. Soil samples were collected from three f soil profile depths, 00-10, 10-20 and 20-30 cm. Parameters measured were soil organic carbon content, bulk density, particle density, porosity and infiltration rate. Results showed that addition of organic matter from Salak biomass effectively increased the SOC content. However, the increase of SOC content only had positive effects on soil bulk density, porosity, and infiltration rate at the 10 years old group of Salak plantation.
References
Beven, K. 2004. Robert E. Horton's perceptual model of infiltration processes. Hydrological Processes 18: 3447-3460; doi: 10.1002/hyp.5740
Brouwer, D. and Jenkins, A. 2015. Managing for Healthy Soil: AgGuide – A Practical Handbook. NSW Agriculture, Tocal - New South Wales
Cardoso, E.J.B.N., Vasconcellos, R.L.F., Bini, D., Miyauchi, M.Y.H., dos Santos, C.A., Alves, P.R.L., de Paula, A.M., Nakatani, A.S., Pereira, J.M. and Nogueira, M.A. 2013. Soil Health: looking for suitable indicator. What should be considered to assess the effects of use and management on soil health?. Scientia Agricola 70: 274-298.
Celik, I., Gunal, H., Budak, M. and Akpinar, C. 2010. Effects of long-term organic and mineral fertilizer on bulk density and penetration resistance in semi-arid Mediterranean soil conditions. Geoderma 160: 236-243.
Craswell, E.T. and Lefroy, R.D.B. 2001. The role and function of organic matter in tropical soils. Nutrient Cycling in Agroecosystems 61: 7-18.
Haghnazari, F., Shahgholi, H. and Feizi, M. 2015. Factor affecting the infiltration of agricultural soil: review. International Journal of Agronomy and Agricultural Research 6 (5): 21-35.
Kairis, O., Karavitis, C., Kounalaki, A., Salvati, L., and Kosmas, C. 2013. The Effect of land management practices on soil erosion and land desertification in an olive grove. Soil Use and Management 29: 597-606; doi: 10.1111/sum/12074
Lal, R. 2015. Restoring soil quality to mitigate soil degradation. Sustainability 7: 5875-5895; doi: 10.3390/su7055875
Schoenholtz, S.H., Vam Miegroet, H. and Burger, J.A. 2000. A review of chemical and physical properties as indicators of forest soil quality: challenges and opportunities. Forest Ecology and Management 138: 335-356.
Sklenicka, P., Lhota, T. and Cecetka, J. 2002. Soil porosity along a gradien from forest edge to field. Die Bodenkultur 53 (4): 191-197.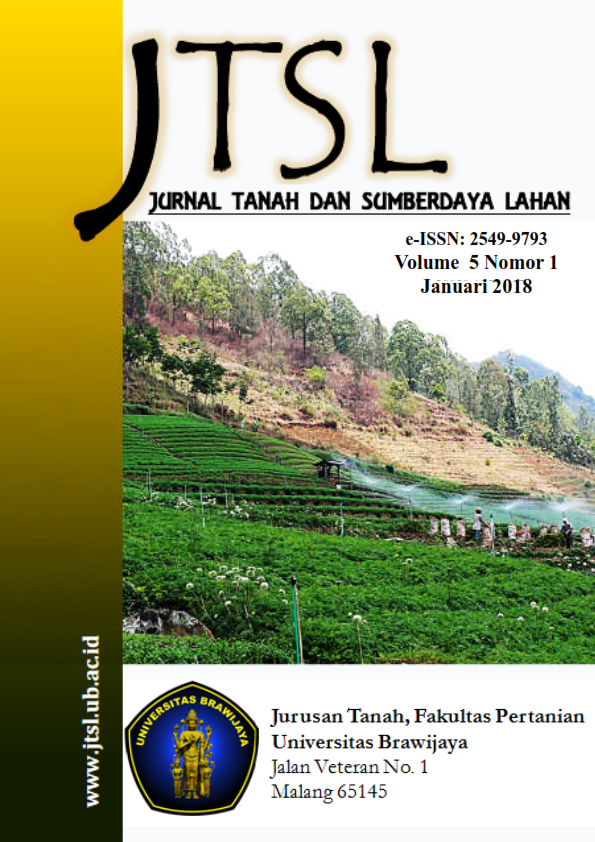 Downloads
How to Cite
Saputra, D. D., Putrantyo, A. R., & Kusuma, Z. (2018). HUBUNGAN KANDUNGAN BAHAN ORGANIK TANAH DENGAN BERAT ISI, POROSITAS DAN LAJU INFILTRASI PADA PERKEBUNAN SALAK DI KECAMATAN PURWOSARI, KABUPATEN PASURUAN. Jurnal Tanah Dan Sumberdaya Lahan, 5(1), 647–654. Retrieved from https://jtsl.ub.ac.id/index.php/jtsl/article/view/182
License
The copyright of the received article shall be assigned to the journal as the publisher of the journal. The intended copyright includes the right to publish the article in various forms (including reprints). The journal maintains the publishing rights to the published articles.

This work is licensed under a Creative Commons Attribution-NonCommercial 4.0 International License.