PENGARUH APLIKASI BIOCHAR TONGKOL JAGUNG DIPERKAYA ASAM NITRAT TERHADAP KADAR C-ORGANIK, NITROGEN, DAN PERTUMBUHAN TANAMAN JAGUNG PADA BERBAGAI TINGKAT KEMASAMAN TANAH
Abstract
The need for food in Indonesia is relatively large, but not followed by optimal land conditions. One of the efforts to improve the quality of land that can be applied is biochar. Biochar used comes from corn cobs with nitrate acid enrichment. The purpose of this research is to know the effect of biochar application of corn cobs enriched nitric acid to C-Organic content, Nitrogen, and vegetative growth of corn plants at different soil pH. The research was implemented in September 2016 - March 2017 at the Tribhuwana Tunggadewi Experimental Garden. This study used a factorial randomized block design with two factors and three replications. The first factor of soil pHs were soil from West Borneo (As), Wajak (Ne), and NTT (Ba). The second factor of biochar applications were without biochar (K), biochar (Bio), and biochar enriched nitrate acid (BioN). The average effect of pH with biochar was no interaction except on the N-total content. However, overall application of 5 t ha-1 of biochar and biochar enriched nitrate acid had better C-organic, N-total, and growth of maize than control treatment on each soil.
References
Balai Penelitian Tanah. 2009. Analisis Kimia Tanah, Tanaman, Air, dan Pupuk. Edisi kedua. Bogor. hal. 211.
Buckman, H., Nyle, O. dan Brady, C. 1982. Ilmu Tanah. Bharatara Karya Aksara. Jakarta.
Gleser, B. 2001. The terra preta phenomenin: a model for sustainable agriculture in the humic tropic. Die Naturwissenschaften 88 : 37-41.
Hardjowigeno, S. 2015. Ilmu Tanah. Akademika Pressindo. Jakarta.
Jassal, R.S., Johnson, M.S., Molodovskaya, M., Black, T.A., Jollymore, A. and Sveinson, K. 2015. Nitrogen enrichment potential of biochar in relation to pyrolysis temperature and feedstock quality. Journal of Enviromental Management 152: 140-144. .
Lehmann, J., Gaunt, J. and Rondon, M. 2006. Bio-char sequestration in terrestrial ecosystems. a review. Mitigation and Adaptation Strategies for Global Change 11 : 403-427.
Maas, A. 1997. Pengelolaan lahan gambut yang berkelanjutan dan berwawasan lingkungan. Alami 2 (1) : 21-28
Njurumana, G.N.D., Hidayatullah, M. dan Butarbutar, T. 2008. Kondisi tanah pada sistem Kaliwu dan Mamar di Timor dan Sumba. Info Hutan 5 (1): 45-51
Paliwal, R. I. 2000. Tropical Maize Morphology. In: Tropical Maize: Improvement and Production. Food and Agriculture Organization of United Nations Rome. p 13-20. Rome.
Stevenson, F.J. 1982. Humus Chemistry, Genenis, Composition, Reaction. 2nd ed. John Wiley and Sons, New York.
Suntoro. 2001. Pengaruh residu penggunaan bahan organik, dolomit, dan KCl pada tanaman lacang tanah (Arachis hypogeae L.) pada Oxic Dystrudept di Jumapolo, Karanganyar. Habitat 12(3): 170-177.
Tambunan, S., Handayanto, E. dan Siswanto, B. 2014. pengaruh aplikasi bahan organik segar dan biochar terhadap ketersediaan P dalam tanah di lahan kering Malang Selatan. Jurnal Tanah dan Sumberdaya Lahan 1(1): 89-98.
Utomo, W.H., Sukartono, Kusuma, Z. and Nugroho, W.H. 2011. Soil fertility status, nutrient uptake, and maize (Zea mays L.) yield following biochar and cattel manure application on sandy soils of Lombok, Indonesia. Journal of Tropical Agriculture. 49 (1-2): 47-52.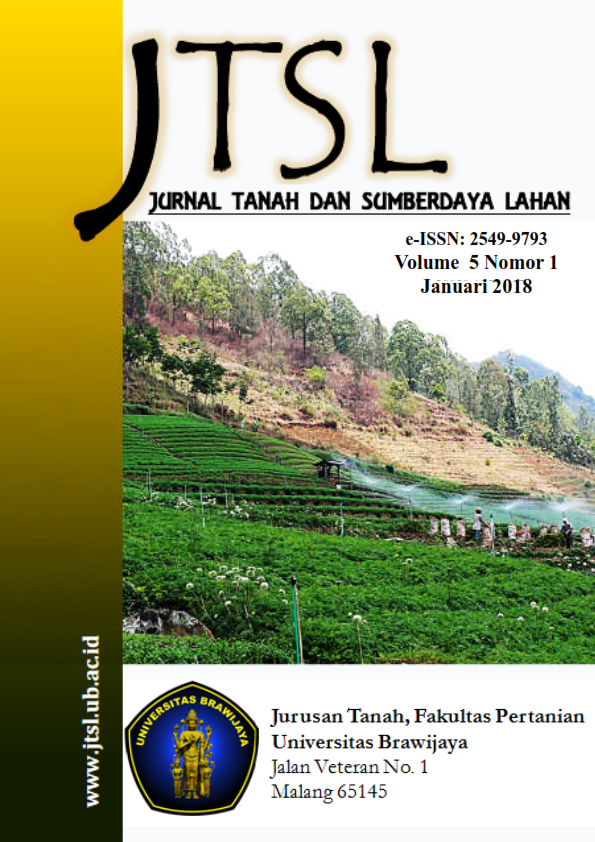 Downloads
How to Cite
Yuananto, H., & Utomo, W. H. (2018). PENGARUH APLIKASI BIOCHAR TONGKOL JAGUNG DIPERKAYA ASAM NITRAT TERHADAP KADAR C-ORGANIK, NITROGEN, DAN PERTUMBUHAN TANAMAN JAGUNG PADA BERBAGAI TINGKAT KEMASAMAN TANAH. Jurnal Tanah Dan Sumberdaya Lahan, 5(1), 655–662. Retrieved from https://jtsl.ub.ac.id/index.php/jtsl/article/view/183
License
The copyright of the received article shall be assigned to the journal as the publisher of the journal. The intended copyright includes the right to publish the article in various forms (including reprints). The journal maintains the publishing rights to the published articles.

This work is licensed under a Creative Commons Attribution-NonCommercial 4.0 International License.