PENGARUH RESIDU BICOHAR TONGKOL JAGUNG DIPERKAYA AMONIUM SULFAT TERHADAP BEBERAPA SIFAT TANAH DAN PERTUMBUHAN TANAMAN JAGUNG MANIS DI pH TANAH YANG BERBEDA
Abstract
Biochar is one of amandement soil that comes from imperfectly combustion (pyrolysis) form of natural charcoal. The addition of biochar as a soil reparing was able to increase the carbon in the soil that able to improve soil characteristic soil. The purpose of this study was to find out the influence of residual biochar enriched with amonium sulphate on soil chemical and physical properties, and plant growth on various soil acidity levels. Treatments tested for this study were biochar residues enriched by amonium sulfate, N fertilizer (BN), biochar residues (B), without biochar, N fertilizer (N), and control (K) and various degrees of soil pH, i.e. pH 6-7 (P1), pH 4-5 (P2), pH 5-6 (P3). Twelve treatments were arranged in a randomzed block design with three replicates. Variables observerd were properties of soils (pH, C-Organic, CEC, N-total, and aggregate stability), and maize growth parameters (plant height and the number of leaves). The results showed that aplication of biochar of residues maize cob enriched with amonium sulfphate and various pH soil had interactions towards soil CEC and soil N-total, and had an interactions towards plant growth at plant age of 8 weeks-10 weeks, and number of leaves at age 9 weeks-10 weeks.
References
Arif, A., Sugiharto, A.N. dan Widaryanto, E. 2014. Pengaruh umur transplanting benih dan pemberian berbagai macam pupuk nitrogen terhadap pertumbuhan dan hasil tanaman jagung manis (Zea mays L. saccharata Strut). Jurnal Produksi Tanaman 2(1): 2-8.
Gani, A. 2009. Potensi arang hayati biochar sebagai komponen teknologi perbaikan produktivitas lahan pertanian. Iptek Tanaman Pangan 4(1): 33-48
Glaser, B., Lehmann, J. dan Zech, W. 2002. Ameliorating physical and chemical properties of highly weathered soils in the tropics with charcoals: a review. Biology and Fertility of Soils 351: 219-230.
Hardjowigeno, S. 2007. Ilmu Tanah. Jakarta: Akademika Pressindo
Mulyani, A., Nursyamsi, D. dan Las, I. 2014. Percepatan Pengembangan Pertanian Lahan Kering Iklim Kering Di Nusa Tenggara. Balai Besar Penelitian dan Pengembangan Sumberdaya Lahan Pertanian. Jalan Tentara Pelajar No. 12, Bogor.
Steiner, C., Teixeira, W.G., Lehmann, J., NEhls, T., Macedo, J.L.V., Blum, W.E.H. and Zech, W. 2007. Long term effects of manure, charcoal and mineral fertilization on crop production and fertility on a highly weathered Central Amazonian upland soil. Plant and Soil 291:275-290.
Suharta, N. 2007. Sistem lahan Barongtongkok di Kalimantan. Potensi, Kendala dan Pengembangan untuk Pertanian Lahan Kering. Balai Besar Penelitian dan Pengembangan Sumberdaya Lahan Pertanian. Bogor.
Sujana, I.P. 2014. Rehabitasi Lahan Tercemar Limbah Garmen dengan Pemberian Biochar. Disertasi. Universitas Udayana. Bali.
Tisdal, J.M. dan Oades, J.M. 1980. The effect of crop rotation on aggregation in red brown earth. Australian Journal of Soil Research 18: 423-434.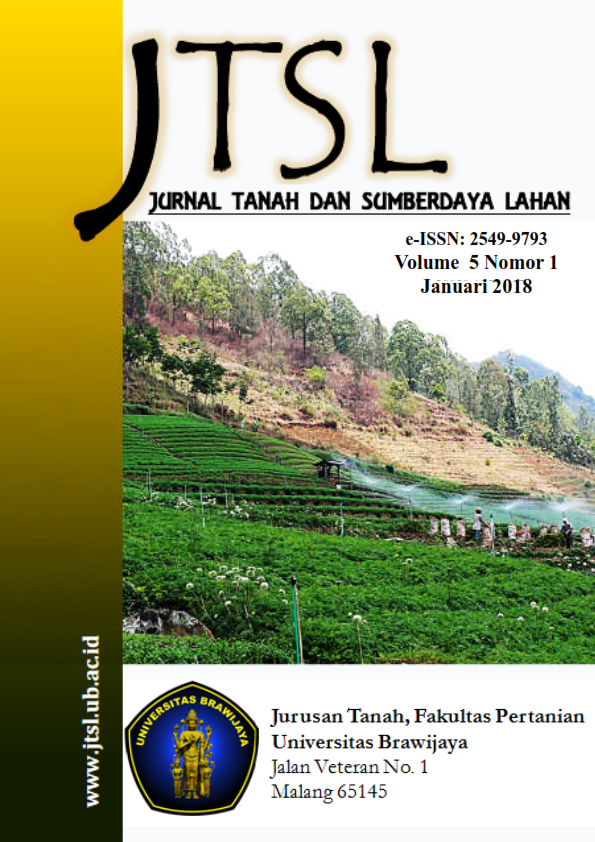 Downloads
How to Cite
Sitohang, E. A., & Utomo, W. H. (2018). PENGARUH RESIDU BICOHAR TONGKOL JAGUNG DIPERKAYA AMONIUM SULFAT TERHADAP BEBERAPA SIFAT TANAH DAN PERTUMBUHAN TANAMAN JAGUNG MANIS DI pH TANAH YANG BERBEDA. Jurnal Tanah Dan Sumberdaya Lahan, 5(1), 713–720. Retrieved from https://jtsl.ub.ac.id/index.php/jtsl/article/view/190
License
The copyright of the received article shall be assigned to the journal as the publisher of the journal. The intended copyright includes the right to publish the article in various forms (including reprints). The journal maintains the publishing rights to the published articles.

This work is licensed under a Creative Commons Attribution-NonCommercial 4.0 International License.