PENGARUH APLIKASI PLANT GROWTH PROMOTING RHIZOBACTERIA (PGPR) PADA PERTUMBUHAN TANAMAN KACANG HIJAU DENGAN MEDIA TANAM YANG BERBEDA
Abstract
Green bean plants are still used as side plants, yet the technique of green bean cultivation has not been done optimally. The advantages of green bean plants is that the plant can be planted in less fertile soil conditions such as Ultisols. This srtudy was aimed to elucidate the effect of application biofertilizer (plant growth proting rhizobacteria (PGPR) on growth of geen bean on an Ultisol. Treatments tested were combinations of soil (soil only =T1, soil + kompos =T2), and biofertilizer (H0=no bifertilizer, H1: biofertilizer of formula 1, H2: biofrtilizer of formula 2, and H3: Beyonic StarTmik biofertilizer). Results of the study showed that T2H2 treatment could increase population of N fixing bacteria, respiration, soil pH, and soil enzymes, T2H0 treatment could increase C-organic (5.46%), and T2H3 treatment could increase available N in the soil. T2H3 treatment gave the best growth of geen bean.
References
Angelova, V.R., Akova, V.I., Artinova, N.S. and Ivanov, K.I. 2013. The effect of organic amendments on soil chemical characteristics. Bulgarian Journal of Agricultural Science 19 (5): 958-971.
Armiadi. 2009. Penambatan nitrogen secara biologis pada tanaman leguminosa. Wartazoa 19 (1): 17-24..
Broadbent, F. E. 2011. Soil Organic Matter. Bay of Plenty Regional Council.
Brockwell, J., Pilka,A. and Holliday, R.A. 1991. Soil pH is a major determinant of the numbers of naturally occurring Rhizobium meliloti in non-cultivated soils in central New South Wales. Australian Journal of Experimental Agriculture 31: 211-19.
Dewi, E.K., Nuraini, Y., dan Handayanto, E. 2014. Manfaat biomasa tumbuhan lokal untuk meningkatkan ketersediaan nitrogen tanah di lahan kering Malang Selatan. Jurnal Tanah dan Sumberdaya Lahan 1 (1): 17-25.
Hairiah, K., Widianto, Utami, S.R., Suprayogo, D., Sunaryo, Sitompul, S.M., Lusiana, B., Mulia, R., Van Noordwijk, M. dan Cadisch, G. 2000. Pengelolaan Tanah Masam Secara Biologi. International Centre for Research in Agroforestry. Bogor, Indonesia.
Hayat, R., Ali, S., Amara, U., Khalid, R. and Ahmed, I. 2010. soil beneficial bacteria and their role in plant growth promotion: a review. Annal Microbiology 60: 579 598.
Herfyany, E., Mukarlina dan R. Linda. 2013. Pertumbuhan tanaman kedelai (Glycine max (L.) Merril) pada media tanah gambut yang diberi abu jerami padi dan pupuk kandang sapi. Journal Protobiont 2 (2): 107–111.
Kaur, H., Gosal, S.K. and Walia, S.S. 2017. Synergistic effect of organic, inorganic and biofertilizers on soil microbial activities in rhizospheric soil of green pea. Annual Research & Review in Biology 12(4): 1-11.
Nosheen, A. and Bano, A. 2014. Potential of plant growth promoting rhizobacteria and chemical fertilizers on soil enzymes and plant growth. Pakistan Journal of Botany 46 (4): 1521-1530.
Novriani. 2011. Peranan Rhizobium dalam meningkatkan ketersediaan nitrogen bagi tanaman kedelai. Agronobis 3 (5): 35-42
Prasetyo, B.H. dan Suriadikarta, D.A. 2006. Karakteristik, potensi, dan teknologi pengelolaan tanah ultisol untuk pengembangan pertanian lahan kering di Indonesia. Jurnal Litbang Pertanian. Bogor.
Raza, M.W., Akhtar,J., Arshad, M. and Yousaf, S. 2004. Growth, nodulation and yield of mungbean (Vigna radiata L.) as influenced by coinoculation with rhizobium and plant growth promoting rhizobacteria. Pakistan Journal of Agriculture Science 15(4): 211-222.
Reid, B.J., MacLeod, C.J.A., Lee, P.H., Morriss, A.W.J., Stokes, J.D. dan Semple, K.T. 2001. A simple 14C-respirometric method for assessing microbial catabolic potential and contaminant bioavailability. FEMS Microbiology Letters 196: 141-146.
Simanungkalit, R.D.M., Suriadikarta, D.A., Saraswati, R., Setyorini, D. dan Hartatik, W. 2006. Pupuk Organik dan Pupuk Hayati. Jakarta: Balai Besar Litbang Sumber Daya Lahan Pertanian. Badan Penelitian dan Pengembangan Pertanian.
Singh, A. and Sharma, S. 2002. Composting of a crop residue through treatment with microorganisms and subsequent vermicomposting. Bioresource Technology 85(2): 107-111.
Supeno, A. dan Sujudi. 2004. Teknik Pengujian Adaptasi Galur Harapan Kacang Hijau Di Lahan Sawah. Buletin Teknik Pertanian. Aceh.
Wahyudi, I. 2009. Serapan N tanaman jagung (Zea Mays L.) akibat pemberian pupuk guano dan pupuk hijau lamtoro pada Ultisol Wanga. Jurnal Agroland 16 (4): 265-272.
Walworth, J. 2013. Nitrogen In Soil and The Environment. College Of Agriculture and Life Sciences.
Widawati, S., Suliasih dan Saefudin. 2015. Isolasi dan uji efektivitasPlant Growth Promoting Rhizobacteria Di Lahan Marginal Pada Pertumbuhan Tanaman Kedelai (GlycinemaxL. Merr.) var.Wilis. Prosiding Seminar Nasional Masyarakat Biodiversitas Indonesia 1 (1).
Yulnafatmawita, Gusnidar, and Saidi, A. 2010. Role of organic matter in situ for aggregate stability improvement of Ultisol in West Sumatra and chili (Capsicum annuum) production. Proceeding ISFAS (Int'l Seminar on Food and Agric. Sci.), Bukit Tinggi, Indonesia.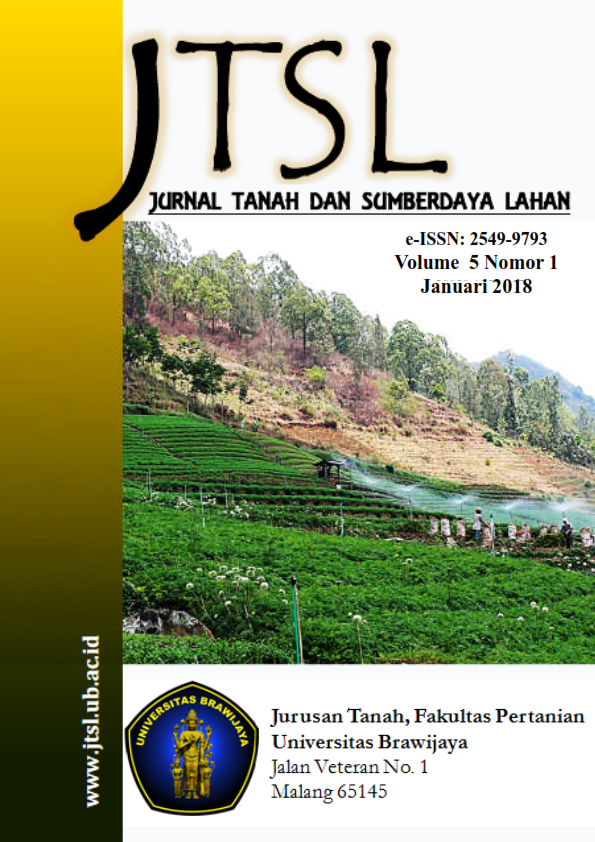 Downloads
How to Cite
Aprianti, R., Laili, N., & Handayanto, E. (2018). PENGARUH APLIKASI PLANT GROWTH PROMOTING RHIZOBACTERIA (PGPR) PADA PERTUMBUHAN TANAMAN KACANG HIJAU DENGAN MEDIA TANAM YANG BERBEDA. Jurnal Tanah Dan Sumberdaya Lahan, 5(1), 819–829. Retrieved from https://jtsl.ub.ac.id/index.php/jtsl/article/view/202
License
The copyright of the received article shall be assigned to the journal as the publisher of the journal. The intended copyright includes the right to publish the article in various forms (including reprints). The journal maintains the publishing rights to the published articles.

This work is licensed under a Creative Commons Attribution-NonCommercial 4.0 International License.