PEMETAAN PREDIKSI SEBARAN KERENTANAN LONGSOR DI KECAMATAN TAWANGMANGU, KABUPATEN KARANGANYAR MENGGUNAKAN PENDEKATAN FUZZY LOGIC
Keywords:
fuzzy logic, land map units, landslide
Abstract
Tawangmangu District is one of the problemas areas in Karanganyar Regency related to landslides. Land use that is not in accordance with the slope and triggered by high rainfall makes the District of Tawangmangu an area with criteria of landslides of medium to high criteria. Mitigation efforts need to be carried out to minimize the danger of landslides. Data limitations are the basis for these mitigation efforts. This can be solved using fuzzy logic. This method can be used by looking at a limited area and data. This research was conducted in Tawangmangu District by dividing the research location into 16 land map units (LMU). The results showed that Tawangmangu District was divided into four classes, involve: not vulnerable, low, medium and high. Criteria are not vulnerable to spread in 9; 7; 11; 10 and 12 LMU, low spread in 3; 4; 5; 16; 8 and 13 LMU, medium spread in 2; 15 and 1 LMU and high vulnerability only in 14 LMU. Factors that can take effect the occurrence of landslides in Tawangmangu District are slope, land use and bulk rainfall. This method can be applied at research sites because it has the accuracy of very accurate results.
References
Akshar, A. 2014. Penentuan Tingkat Kerentanan Longsor Menggunakan Metode Fuzzy Logic. Techsi. Teknik Informatika. Fakultas Ilmu Komputer. Universitas Sumatera Utara.
Aksoy, B. and Ercanoglu, M. 2012. Landslide identification and classification by object-based image analysis and fuzzy logic: an example from the azdavay region (Kastamonu, Turkey). Computers and Geoscience. 87-98.
BAPPEDA Karanganyar. 2013. Perda Tentang Rencana Tata Ruang Wilayah Kabupaten Karanganyar Tahun 2013 – 2032. Karanganyar: Bappeda Karanganyar.
BBSDLP. 2016. Petunjuk Teknis Pedoman Survei dan Pemetaan Tanah Tingkat Semi Detail Skala 1:50.000. Badan Penelitian dan Pengembangan Pertanian: Bogor.
Chen, W., Hong, H., Ilia, I., Tsangaratos, P. and Xu, C. 2017. A hybrid fuzzy weight of evidence method in landslide susceptibility analysis on the Wuyuan Area, China. Geomorphology S0169-555X(17)30134-4.
Effendi, A.Y. dan Haryanto, T. 2016. Pembuatan peta daerah rentan bencana longsor dengan menggunakan metode Fuzzy Logic. Jurnal Teknik ITS 5(2): A714.
Karnawati, D. 2001. Bencana Alam Gerakan Tanah Indonesia Tahun 2000 (Evaluasi dan Rekomendasi). Jurusan Teknik Geologi. Fakultas Teknik Universitas Gadjah Mada. Yogtakarta.
National Park Service Vegetation Inventory (NPSVI). 2010. Thematic Accuracy Assessment Procedures. U.S. Departement of the Interior National Park Service. Colorado, USA.
Nithya, S.E., Prasanna, P.R. dan Eswaramoorthi, S. 2012. Landslide suceptibility zonation using fuzzy logic for Kundahpallam Watershed, Nilgris, European Journal of Scientific Research 78(1): 48 – 56.
Soemarno, Wulansari, D.N. dan Priyono, S. 2009. Tanah Longsor: Faktor Penyebab dan Problematikanya. Penerbit PPSUB, Malang
Zhu, A-X., Wang, R., Qiao, J., Qin, C., Chen, Liu J., Du, F., Lin, Y. and Zhu, T. 2014. An Expert Knowledge-based Approach to Landslide Susceptibility Mapping Using GIS and Fuzzy Logic. Geomorphology. GEOMOR-04647 (11).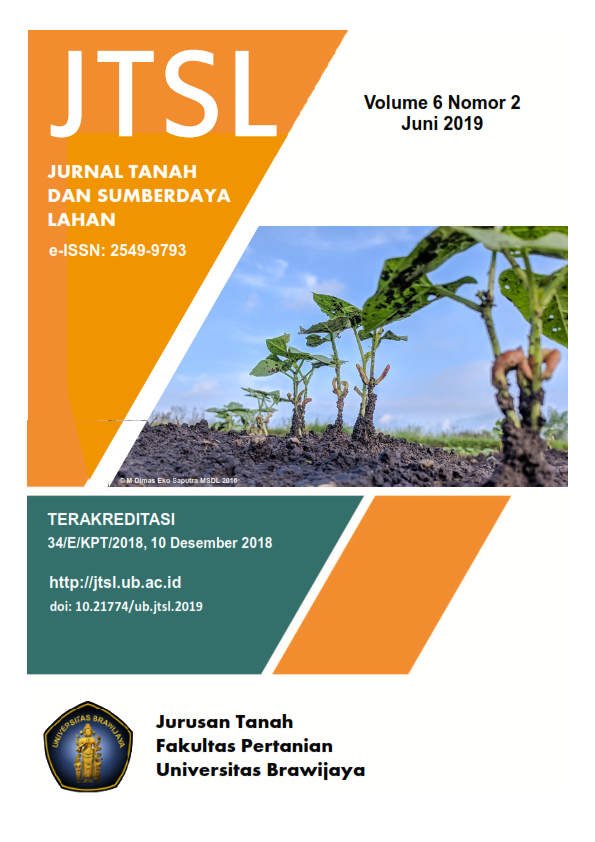 Downloads
How to Cite
Saputra, M. A., Rayes, M. L., & Nita, I. (2019). PEMETAAN PREDIKSI SEBARAN KERENTANAN LONGSOR DI KECAMATAN TAWANGMANGU, KABUPATEN KARANGANYAR MENGGUNAKAN PENDEKATAN FUZZY LOGIC. Jurnal Tanah Dan Sumberdaya Lahan, 6(2), 1353–1359. https://doi.org/10.21776/ub.jtsl.2019.006.2.16
License
The copyright of the received article shall be assigned to the journal as the publisher of the journal. The intended copyright includes the right to publish the article in various forms (including reprints). The journal maintains the publishing rights to the published articles.

This work is licensed under a Creative Commons Attribution-NonCommercial 4.0 International License.