PENGARUH PEMBERIAN PUPUK ORGANIK DAN PUPUK ANORGANIK TERHADAP SERAPAN N, P, K OLEH TANAMAN JAGUNG PADA ULTISOL TAMBUNAN LANGKAT
Keywords:
inorganic fertilizer, maize, nutrient uptake, organic fertilizer, Ultisol
Abstract
Maize is a cereal commodity that has an important role in supporting food security and food diversification programs. The application of organic and inorganic fertilizers is one of the efforts to increase national maize productivity. This study was aimed to explore the effect of the application of organic and inorganic fertilizers on N, P and K uptake by maize in an Ultisol. Treatments tested were combinations of five levels of organic fertilizer application (0%, 100%, 75%, 50%, and 25% of recommended organic fertilizer dose), and five levels of inorganic fertilizer (0%, 100%, 75%, 50%, and 25% of recommended inorganic fertilizer dose). The twenty-five treatments were arranged in a factorial randomized block design with two replications. Results of the study showed that there was a relationship between N, P and K uptake by maize with maize shoot dry weight, root weight, and shell weight. The highest plant height, shoot dry weight, and root dry weight of the maize were obtained by the treatment of 100% of organic fertilizer. The highest maize shell dry weight and uptake of N, P was obtained by the in the treatment of 75% organic fertilizer.
References
Agustina, K., Sopandie, D., Trikoesoemaningtyas, dan Wirnas, D. 2010. Tanggap fisiologi akar sorgum (Sorghum bicolor L. Moench) terhadap cekaman alumunium dan defisiensi fosfor di dalam rhizotron. Jurnal Agronomi Indonesia 38(2): 88-94.
Akbar, A.N., Azizah, N. dan Suminarti, N.E. 2019. Pengaruh sumber dan dosis bahan organik pada pertumbuhan dan hasil tanaman jagung (Zea mays) di lahan sawah. Jurnal Produksi Tanaman 7(2): 225-233.
Gomez, K.A. and Gomez, A.A. 1995. Statistical procedures for agricultural research (Prosedur statistik untuk penelitian pertanian, alih bahasa E. Syamsuddin, JS Baharsyah, dan AH Nasution).
Junita, F., Muhartini, S. dan Kastono, D. 2002. Pengaruh frekuensi penyiraman dan takaran pupuk kandang terhadap pertumbuhan dan hasil pakchoi. Jurnal Ilmu Pertanian 9(1):37-45.
Marschner, H., Römheld, V. and Kissel, M. 1986. Different strategies in higher plants in mobilization and uptake of iron. Journal of Plant Nutrition 9(3-7): 695-713.
Mengel, K., Kirkby, E.A., Kosegarten, H. and Appel, T. 2001. Principles of Plant Nutrition. 5th Ed., Kluwer Academic Publ., London.
Munawar, A. 2011. Kesuburan Tanah dan Nutrisi Tanaman. Bogor (ID): IPB Press.
Parsons, R. and Sunley, R.J. 2001. Nitrogen nutrition and the role of root-shoot nitrogen signalling particularly in symbiotic System. Journal of Experimental Botany 52(1): 435-443.
Patti, P.S., Kaya, E. Dan Silahooy, C. 2018. Analisis status nitrogen tanah dalam kaitannya dengan serapan N oleh tanaman padi sawah di Desa Waimital, Kecamatan Kairatu, Kabupaten Seram Bagian Barat. Agrologia: Jurnal Ilmu Budidaya Tanaman 2(1): 51-58.
Simatupang, P. 2005. Pengaruh pupuk kandang dan penutup tanah terhadap erosi pada tanah Ultisol Kebun Tambunan DAS Wampu, Langkat. Jurnal Ilmiah Pertanian Kultura 40(3): 89-92.
Syukur, A. dan Indah, M.N. 2006. Kajian pengaruh pemberian macam pupuk organik terhadap pertumbuhan dan hasil tanaman jahe di Inceptisol, Karanganyar. Jurnal Ilmu Tanah Lingkungan 6(2) : 124 – 131.
Tan, K.H. 2011. Principles of soil chemistry. CRC Press.
Wijaya, K.A. dan Soeparjono, S. 2014. Efek suplai nitrogen terhadap kadar gula nira tebu varietas Bululawang. Jurnal Agritrop 12(2): 109-112.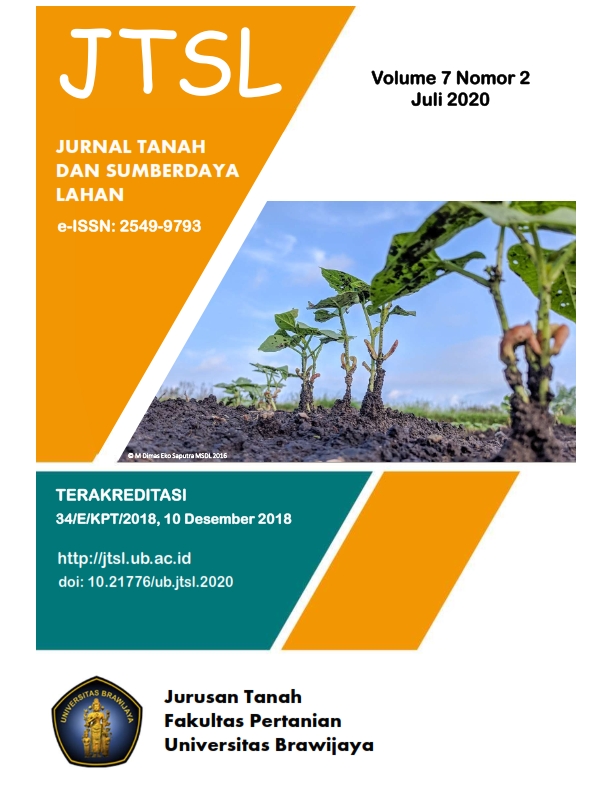 Downloads
How to Cite
Oesman, R., Harahap, F. S., Rauf, A., & Rahmaniah, R. (2020). PENGARUH PEMBERIAN PUPUK ORGANIK DAN PUPUK ANORGANIK TERHADAP SERAPAN N, P, K OLEH TANAMAN JAGUNG PADA ULTISOL TAMBUNAN LANGKAT. Jurnal Tanah Dan Sumberdaya Lahan, 7(2), 393–397. https://doi.org/10.21776/ub.jtsl.2020.007.2.25
License
The copyright of the received article shall be assigned to the journal as the publisher of the journal. The intended copyright includes the right to publish the article in various forms (including reprints). The journal maintains the publishing rights to the published articles.

This work is licensed under a Creative Commons Attribution-NonCommercial 4.0 International License.