PEMANFAATAN BLOTONG DAN PUPUK SINTETIK DALAM MEMPERBAIKI SIFAT KIMIA ULTISOL DAN PERTUMBUHAN BIBIT KELAPA SAWIT
Keywords:
blotong, compost, fertilizer, oil palm, synthetic
Abstract
Most of the oil palm cultivation in Ultisols who have low fertility, nutrient deficiency and toxicity of micronutrient. The objectives of this research were to explore the interaction between sugarcane filter-cake (blotong) compost with synthetic fertilizer to improving chemical properties of Ultisols, growth of oil palm seedling, and the benefit of compost to save on the use of synthetic fertilizer. This research used a completely randomized factorial design, with two factors and three replication. The first factor was level of compost (0, 0.5, 0.75 kg polybag-1). The second factor was level of synthetic fertilizer (0, 0.25, 0.5, 0.75, 1 recommendation). The result showed that addition of compost till 0.75 kg/polybag in Ultisols could improve chemical properties of Ultisols like pH 6.11 units, organic C by 4.27%, total N by 0.47%, exchangeable-Ca by 7.78 cmolckg-1, exchangeable-Mg by 1.01 cmolckg-1, exchangeable-K by 0.36 cmolckg-1, CEC by 31.94 cmolc.kg-1 and decreased exchangeable-Al till not measurable. Combination of compost and synthetic fertilizer gave the interaction to increasing growth of oil palm seedling and nutrient uptake like tall of stem by 65.17 cm, biomass by 46.38 g, nutrient uptake of N by 62.47g crop-1. From this research recommended addition 0.5 kg polybag-1 compost and 0.5 R synthetic fertilizer to decrease the used of synthetic fertilizer till 50%, so that support soil health and environment.
References
Bento, L.R., Castro, A.J.R., Moreira, A.B., Feneira, O.P., Bisinoti, M.C. and Melo, C.A. 2019. Release of nutrients and organic carbon in different soil types from hydrochar obtained using sugarcane bagasse and vinasse. Geoderma 334:24-32.
Direktorat Jenderal Perkebunan Tahun. 2017. The Crop Palm Oil Estate Statictics of Indonesia in 2015 to 2017. Kementrian Pertanian. Jakarta.
Halifah, R.S. dan Mudji, S. 2014. Pengaruh pemberian pupuk organik blotong dan pupuk anorganik ZA terhadap tanaman bawang merah (Allium ascalonicum L.). Jurnal Produksi Tanaman 2: 665-672.
Leonard, S.J., Harry, A.S. dan Maulida, S. 2012. Pengaruh penggunaan larutan alkali dalam uji fourier transform infrared pada komposit termoplastik berpengisi serabut kelapa. Jurnal Teknik Kimia 2: 1-9.
Nurlina, N., Syahbanu, I., Tamnasi, M.T., Nabela, C. dan Furnata, M.D. 2018. Ekstraksi dan penentuan gugus fungsi asam humat dari pupuk kotoran sapi. Indonesian Journal of Pure and Applied Chemistry 1: 20-38.
Onunka, N.A., Chukwu, L.I., Mbanasor, E. and Ebeniro, C.N. 2012. Effect of organic and inorganic manures and time of application on soil properties and yield of sweetpotato in a tropical Ultisol. Journal of Agriculture and Social Research 12 : 183-194.
Prawito, P. 2009. Dampak penyusutan gambut terhadap toxik tanah di perkebunan kelapa sawit di Bengkulu. Jurnal Akta Agrosia 12: 28-34.
PTPN III. 2016. Persentase Limbah Padat, Cair, dan Gas pada Pabrik Gula Kwala Madu. Kwala Madu.www.medantribunnews.com. Diakses pada 20 Maret 2018.
Ramos, L.A., Lana, M.R.Q., Henrique, G. and Silva, A.A. 2017. Effect of organo mineral and poultry litter waste on sugarcane yield and some plant and soil chemical properties. African Journal of Agricultural Research 12 : 20-27.
Rodhi, R., Sri, K.N. dan Ika, A.D. 2013. Pemanfaatan Blotong Tebu Dan Kotoran Kelinci Sebagai Pupuk Organik (Kajian Konsentrasi Penambahan Microbacter Alfalfa-11 Dan Lama Waktu Pengomposan). Universitas Brawijaya. Malang. 2 – 10.
Santiago, A.D, Rossetto, R. 2009. Adubação: resíduos alternativos. Disponível em:http://www.agencia.cnptia.embrapa.br/gestor/canadeacucar/arvore/CONTAG01_39_711200516717.html. Diakses 24 Agustus 2018.
Septyani, I.A.P. 2018. Pengaruh Kompos Blotong Plus Pupuk Kandang Sapi dalam Memperbaiki Sifat Kimia Ultisol dan Prtumbuhan Pembibitan Utama Kelapa Sawit (Elaeis guineensis Jacq.). Skripsi. Fakultas Pertanian Universitas Andalas. Padang. hal. 82.
Setyorini, D. 2012. Kompos. Departemen Pertanian. Balittanah.go.id
Tiecher, T.L., Soriani, H.H., Tiecher, T., Ceretta, C.A., Nicoloso, F.T., Tarouco, C.P., Clase, B.E., Conti, L. and Tassinari, A. 2018. The interaction of high copper and zinc in acid soil changesthe physiological state and development of the root system in young grapevins. Ecotoxicology and Environmental Savety 148: 985-994.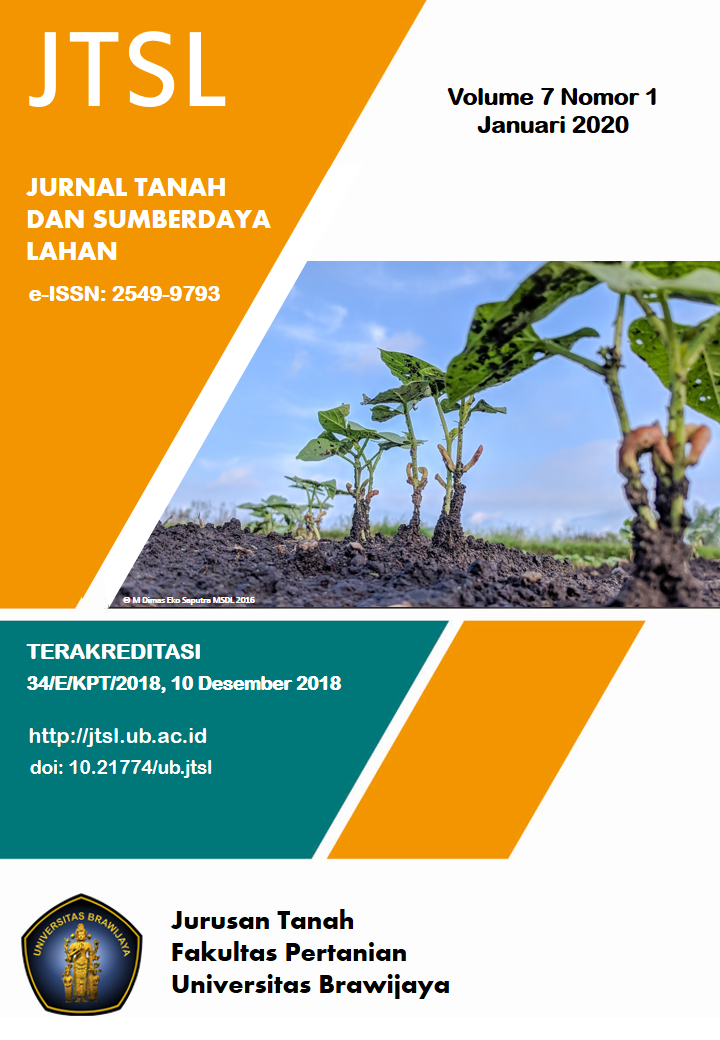 Downloads
How to Cite
Septyani, I. A. P., Yasin, S., & Gusmini, G. (2020). PEMANFAATAN BLOTONG DAN PUPUK SINTETIK DALAM MEMPERBAIKI SIFAT KIMIA ULTISOL DAN PERTUMBUHAN BIBIT KELAPA SAWIT. Jurnal Tanah Dan Sumberdaya Lahan, 7(1), 21–30. https://doi.org/10.21776/ub.jtsl.2020.007.1.4
License
The copyright of the received article shall be assigned to the journal as the publisher of the journal. The intended copyright includes the right to publish the article in various forms (including reprints). The journal maintains the publishing rights to the published articles.

This work is licensed under a Creative Commons Attribution-NonCommercial 4.0 International License.