PENGARUH KOMPOS DAN BIOCHAR TERHADAP FITOREMEDIASI TANAH TERCEMAR KADMIUM DARI LUMPUR LAPINDO MENGGUNAKAN KANGKUNG DARAT
Keywords:
cadmium, phytoremediation, uptake
Abstract
Lapindo Mudflow in Sidoarjo in 2006 brought heavy metals cadmium (Cd) that polluted the soil and environment around the affected area. Phytoremediation using water spinach (Ipomea reptans) is one of the alternatives to decrease the heavy metal pollution on Lapindo mud. The organic materials (compost and biochar) can also be used to reduce the contamination of heavy metals in soils. The aim of this study was to obtain the best composition of organic matter and biochar to support phytoremediation using water spinach plant in the cadmium-polluted soil. The study was conducted in a greenhouse with eight treatments consisted of four levels of organic matter application. The parameters measured were plant height, number of leaves, pH, CD content, and uptake of Cd. The results showed that there was a significant effect on the addition of compost and biochar on plant growth, Cd content, and Cd uptake. Results of the study showed that the addition of compost gave better results than that of biochar. The best treatment was on K7 (contaminated soil : compost : biochar; 1:1:1) for all parameters observed. Compared to the K0 (control) treatment, height of the plant increased up to 24%, the number of leaves increased up to 100%, the Cd content in the roots and shoots increased up to 44% and 95%, the content of the Cd in the planting media after the planting period decreased by 61%.
References
Atkinson, C.J., Fitzgerald, J.D. and Hipps, N.A., 2010. Potential mechanisms for achieving agricultural benefits from biochar application to temperate soils: a review. Plant and Soil 337: 1-18.
Barchia, M.F. 2009. Agroekosistem Tanah Mineral Masam. Yogyakarta: UGM Press.
Chirakkara, R.A. dan Reddy, K.R. 2015. Biomass and chemical amendments for enhanced phytoremediation of mixed contaminated soils. Ecological Engineering 85: 265-274.
Elika, E.P., Resnawatty, R. dan Gutama, A.S. 2017. Bencana Sosial Kasus Lumpur PT. Lapindo Brantas Sidoarjo, Jawa Timur. Prosiding Penelitian & Pengabdian Kepada Masyarakat 4(2): 205-216.
Fitra, A., Rahayu, Y.S. dan Winarsih. 2013. Kemampuan fitoremediasi Typha latifolia dalam menurunkan kadar logam kadmium (Cd) tanah yang tercemar lumpur Lapindo di Porong Sidoarjo. LenteraBio 2(3): 185–189.
Hamzah, A., Kusuma, Z., Utomo, W.H. dan Guritno, B., 2012. Penggunaan tanaman Vetiveria zizanoides L. dan biochar untuk remediasi lahan pertanian tercemar limbah tambang emas. Buana Sains 12(1): 53-60.
Handayanto, E., Nuraini, Y., Syam, N., Muddarisna, N. dan Fiqri, A. 2017. Fitoremediasi dan Phytomining Logam Berat Pencemar Tanah. Malang: Universitas Brawijaya Press.
Khan, M.A., Dind, X., Khan, S., Brusseau, M.L., Khan, A. and Nawab, J. 2018. The influence of various organic amendments on the bioavailability and plant uptake of cadmium present in mine-degraded soil. Science of the Total Environment 636: 810–817.
Khan, S. and Khan, N.N. 1983. Influence of lead and cadmium on growth and nutrient concentration of tomato and eggs plant. Plant And Soil 74: 58-60.
Liong, S., Noor, A., Taba, P. dan Zubair, H., 2009. Dinamika akumulasi kadmium pada tanaman kangkung darat (Ipomoae reptans Poir). Indonesia Chimica Acta 2(1).
Muliadi, D., Liestianty, Y. dan Sumarna, S. 2013. Fitoremediasi: Akumulasi dan Distribusi Logam Berat Nikel, Cadmium dan Chromium Dalam Tanaman Ipomea reptana.. Sumatera Barat: HKI.
Nur, F. 2013. Fitoremediasi logam berat kadmium (Cd). Biogenesis 1(1): 74-83.
Ogundiran, B.M., Mekwunyei, N.S. and Adejumo, S.A., 2018. Compost and biochar assisted phytoremediation potentials of Moringa oleifera for remediation of lead contaminated soil. Journal of Environmental Chemical Engineering 6(2): 2206-2213.
Putra, M.K., Syekhfani dan Kusumarini, N., 2018. Ekstraksi merkuri dari limbah pengolahan bijih emas menggunakan tanaman akar wangi (Vetiveria zizanioides L.) dengan penambahan EDTA dan kompos. Jurnal Tanah dan Sumberdaya Lahan 5(2): 847-856.
Putri, K. 2014. Remediasi Tanah Tercemar Merkuri (Hg) Menggunakan Tanaman Digitaria Ciliaris (Retz.) Koeler dan Fimbristylis Aphylla (Lamk) Vahl. Padang: Universitas Andalas Press.
Santi, L. dan Goenadi, D.H. 2010. Pemanfaatan Biochar Sebagai Pembawa Mikroba untuk Pemantap Agregat Tanah Ultisol dari Taman Bogo-Lampung. Bogor: Balai Penelitian Bioteknologi Perkebunan.
Suhaeni dan Wardi, R.Y. 2016. Analisis kadar logam berat kadmium (Cd) pada tanaman kangkung darat (Ipomoea Reptans Poir). Jurnal Dinamika 7(2): 1-8.
Tambunan, S., Siswanto, B. dan Handayanto, E. 2014. Pengaruh aplikasi bahan organik segar dan biochar terhadap ketersediaan P dalam tanah di lahan kering Malang Selatan. Jurnal Tanah dan Sumberdaya Lahan, 1(1): 85-92.
Trevisan, S., Francioso, O., Quaggiotti, S. and Nardi, S. 2010. Humic Substances Biological Activity at The Plant Soil Interfac: from Environmental Aspects to Molecular Factors. Plant Signal Behav.
Walter, R., Catherine, K. and Katia, B., 2003. Phytoextraction capacity of trees growing on a metal contaminated soil. Plant and Soil 256: 265-270.
Wang, Z., Liu, X. and Qin, H. 2019. Bioconcentration and translocation of heavy metals in the soil plants system in machangqing copper mine, Yunnan Province, China. Journal of Geochemical Exploration, doi: 10.1016/j.gexplo.2019.02.005.
Wibowo, H.Y. dan Sitawati. 2017. Respon tanaman kankgung darat (Ipomea reptans Poir) dengan interval penyiraman pada pipa vertikal. Plantropica 2(2): 148-154.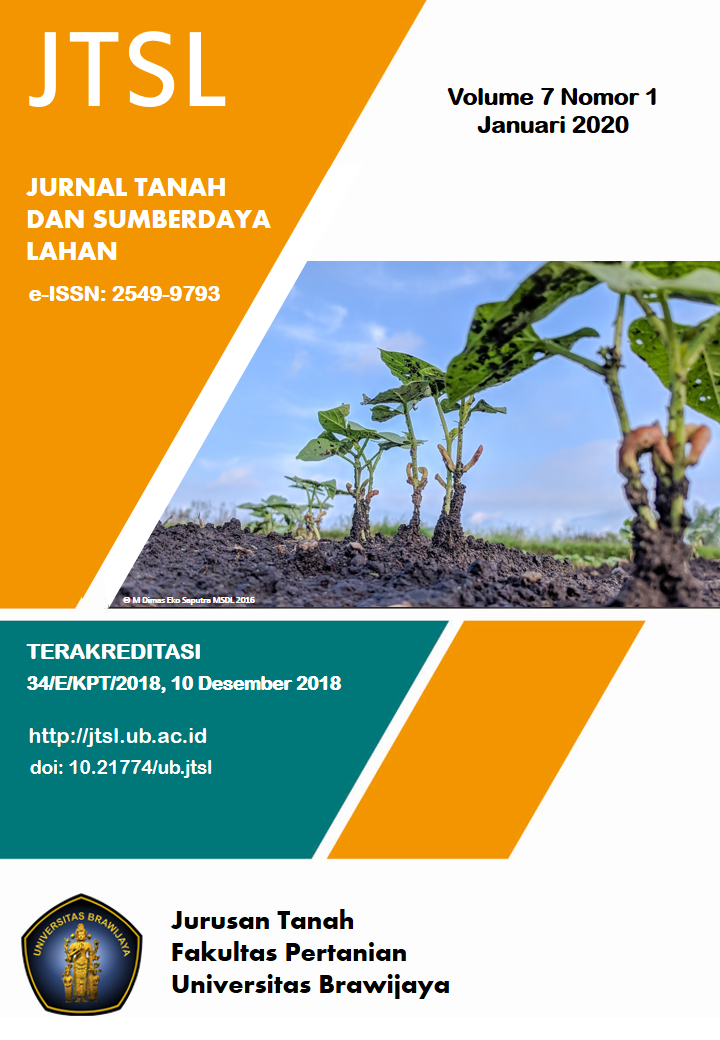 Downloads
How to Cite
Lestari, N. D., & Aji, A. N. (2020). PENGARUH KOMPOS DAN BIOCHAR TERHADAP FITOREMEDIASI TANAH TERCEMAR KADMIUM DARI LUMPUR LAPINDO MENGGUNAKAN KANGKUNG DARAT. Jurnal Tanah Dan Sumberdaya Lahan, 7(1), 167–176. https://doi.org/10.21776/ub.jtsl.2020.007.1.21
License
The copyright of the received article shall be assigned to the journal as the publisher of the journal. The intended copyright includes the right to publish the article in various forms (including reprints). The journal maintains the publishing rights to the published articles.

This work is licensed under a Creative Commons Attribution-NonCommercial 4.0 International License.