PENGGUNAAN Caladium bicolor, Paspalum conjugatum, dan Comelina nudiflora UNTUK REMEDIASI TANAH TERCEMAR MERKURI (Hg) LIMBAH TAILING TAMBANG EMAS SERTA PENGARUHNYA TERHADAP PERTUMBUHAN DAN PRODUKSI TANAMAN JAGUNG (Zea mayz L.)
Abstract
Tailings, waste material from gold processing, contain heavy metals that are toxic such as mercury (Hg). One of the negative impacts is causing contamination of soil, developed through the accumulation of heavy metals. Phytoremediation is an alternative technology, using plant to clean heavy metal contaminated soil. A research, using Caladium bicolor, Paspalum conjugatum and Commelina nudiflora was then conducted as phytoremediation for contaminated soil. The research was conducted in the greenhouse using a randomized block design (RBD) with 3 factors and 3 replications. The first factor was percentage of tailings in the soil (10% and 20%). The second factor was the type of phytoectractor plants (C. bicolor, P. conjugatum and C. nudiflora). The third factor was the use of organic matter (with and without organic matter). The study was conducted in two steps, namely 1) phytoremediation, using C. bicolor, P. conjugatum, and C. nudiflora; 2) evalution of corn growth after phytoremediation. The results showed that Hg content in the soil containing 10% tailings (T1) was twice less than in the soil containing 20% tailings (T2). The addition of organic matter increased the potential for Hg absorption and consequently reduced content of Hg in the soil. C. bicolor, P. conjugatum and C. nudiflora decreased Hg content in the soil, and hence potentially used for phytoremediation. Of the three plants, C. nudiflora showed the highest Hg absorption. Decreasing content of Hg in the soil improved corn growth, as indicated by increasing height, number of leavs and dry weight.
Keyword: Mercury (Hg), Hyperacumulator, Phytoremediation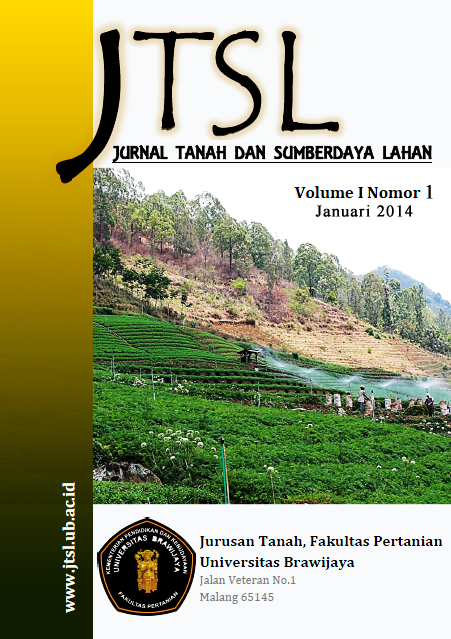 Downloads
How to Cite
Triadriani, L. N., Handayanto, E., & Utami, S. R. (2017). PENGGUNAAN Caladium bicolor, Paspalum conjugatum, dan Comelina nudiflora UNTUK REMEDIASI TANAH TERCEMAR MERKURI (Hg) LIMBAH TAILING TAMBANG EMAS SERTA PENGARUHNYA TERHADAP PERTUMBUHAN DAN PRODUKSI TANAMAN JAGUNG (Zea mayz L.). Jurnal Tanah Dan Sumberdaya Lahan, 1(1), 69–78. Retrieved from https://jtsl.ub.ac.id/index.php/jtsl/article/view/101
License
The copyright of the received article shall be assigned to the journal as the publisher of the journal. The intended copyright includes the right to publish the article in various forms (including reprints). The journal maintains the publishing rights to the published articles.

This work is licensed under a Creative Commons Attribution-NonCommercial 4.0 International License.