IMPLEMENTASI PEMELIHARAAN LAHAN PADA TANAMAN UBIKAYU: PENGARUH PENGELOLAAN LAHAN TERHADAP HASIL TANAMAN DAN EROSI
Abstract
Land degradation in the Cassava causing damage to land, especially land due to the loss of part of the place. The loss of this part of the land causes a decrease in soil productivity, loss of the elements required burly plants, infiltration rate and water holding ability of soil is reduced, and the land use of opium. This condition will result in halted plant growth and decrease harvest. Various kinds of soil conservation activities has long been introduction by the government. However, results are still unsatisfactory. Not many farmers who adopt conservation technology, the government introduced the land, and land degradation continues.This research is to learn how different the various technical maintenance of the nature of the soil, the plants, and erosion and find out the pattern of land the right to increase the plant Cassava. Reduction in erosion rate occurred as a result of improvements to the land and the nature of plant growth.Research conducted in the Garden Experiments Brawijaya University in Malang. Ordo Alfisols including land, land and cycle 6 - 8%. Maintenance of land is done with the form of organic manure, and soil processing. Results of research shows that, technical maintenance of good soil is able to increase plant growth. As a result of improvements to decrease the growth of plants and limpasan level erosion surface. In the election technology, farmers choose tumpangsari treatment combination of manure and gulud as possible options.
Keyword: land husbandry, cassava, land management, crops, erosion.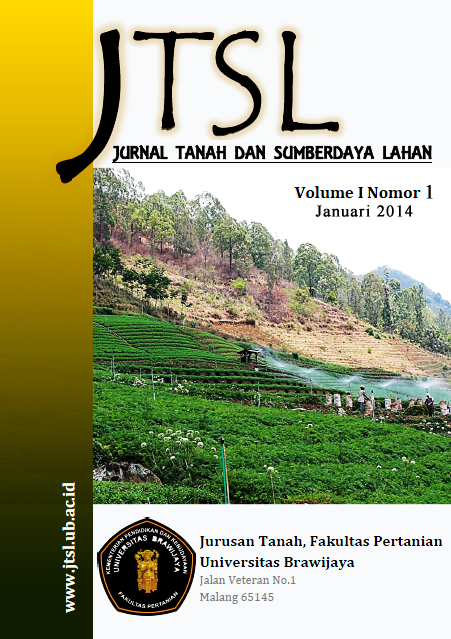 Downloads
How to Cite
Harrys, M., Utomo, W. H., & Prijono, S. (2017). IMPLEMENTASI PEMELIHARAAN LAHAN PADA TANAMAN UBIKAYU: PENGARUH PENGELOLAAN LAHAN TERHADAP HASIL TANAMAN DAN EROSI. Jurnal Tanah Dan Sumberdaya Lahan, 1(1), 79–84. Retrieved from https://jtsl.ub.ac.id/index.php/jtsl/article/view/102
License
The copyright of the received article shall be assigned to the journal as the publisher of the journal. The intended copyright includes the right to publish the article in various forms (including reprints). The journal maintains the publishing rights to the published articles.

This work is licensed under a Creative Commons Attribution-NonCommercial 4.0 International License.