PENGARUH APLIKASI BAHAN ORGANIK SEGAR DAN BIOCHAR TERHADAP KETERSEDIAAN P DALAM TANAH DI LAHAN KERING MALANG SELATAN
Abstract
Some alternatives that can be employed to improve the soil fertility levels in South Malang are the use of fresh organic matter and biochar. The purpose of this study was to determine the effect of fresh organic matter and biochar application on availability of P and maize growth on a calcareous soil of South Malang. The experiment was conducted in a greenhouse and Soil Chemistry Laboratory, Faculty of Agriculture, University of Brawijaya, from March to May 2013. Materials used in this field study were a composite sample of upland calcareous soil at a depth of 0-20 cm, sugarcane litter biochar, maize litter biochar, fresh sugarcane litter, fresh maize litter, and maize seeds. Nine treatments (combinations of two types of biochars each at rates of 0 and 20 t/ha, and two types of fresh litter each at rates of 0 and 40 t/ha) biochar) were arranged in a completely radnomized design wirh three replicates. Maize seeds were grown on each treatment for 49 days. Results of this study showed that:(1) application of 20 t maize litter biochar / ha and 40 t maize litter/ha considerably increased soil available P by increase the 243%; (2) application of 20 maize litter biochar/ha with no application of maize litter reduced pH and exchangeable Ca by 14.47% and 27.19%, respectively; and (3) applicationof 20 t maize litter biochar /ha and 40 t maize litter / ha increased CEC by 10.40%.
Key words: biochar, calcareous, available of P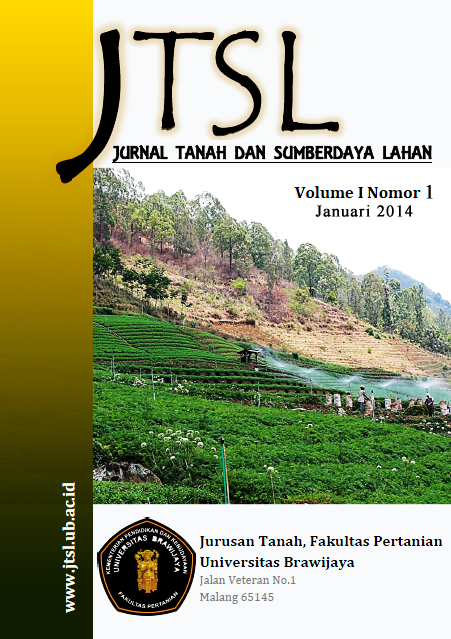 Downloads
How to Cite
Tambunan, S., Handayanto, E., & Siswanto, B. (2017). PENGARUH APLIKASI BAHAN ORGANIK SEGAR DAN BIOCHAR TERHADAP KETERSEDIAAN P DALAM TANAH DI LAHAN KERING MALANG SELATAN. Jurnal Tanah Dan Sumberdaya Lahan, 1(1), 85–92. Retrieved from https://jtsl.ub.ac.id/index.php/jtsl/article/view/103
License
The copyright of the received article shall be assigned to the journal as the publisher of the journal. The intended copyright includes the right to publish the article in various forms (including reprints). The journal maintains the publishing rights to the published articles.

This work is licensed under a Creative Commons Attribution-NonCommercial 4.0 International License.