PENGARUH PEMBERIAN KOMPOS BUNKER DIPERKAYA DENGAN LIMBAH CAIR PABRIK KELAPA SAWIT PADA PERTUMBUHAN BIBIT KELAPA SAWIT DI BIBITAN UTAMA
Keywords:
compost bunkers, liquid waste, palm oil seeds
Abstract
Provision of Compost Bunkers enriched with palm oil mill effluent Aims to determine the treatment of types of compost and the treatment of NPK fertilizer doses on the provision of compost Bunkers are enriched with palm oil mill effluent on the growth of oil palm seedlings The use of compost in the main nursery is one of the most important ingredients applied in growing media. This study was carried out in the Bangun Bandar garden of PT. Socfindo, Serdang Bedagai district, Dolok Masihul sub-district with a altitude of ± 25 m above sea level. This study used a factorial randomized block design with two treatment factors and five replications. Factor I: Compost Type that cosisted of 5 treatment levels, K0: Control, K1: Compost A (25% POME), K2: Compost B (50% POME), K3: Compost C (75% POME), K4: Compost D (100% POME). Factor II: 15-15-6-4 NPK fertilizer dosage level with 5 treatment levels: F0: F1 Control: 25% Standard Fertilization F2: 50% Standard Fertilization F3: 75% Standard Fertilization F4: 100% Fertilization Standard. The resuls showed that treatment of compost types had a very significant effect on plant height, plant hump diameter, shoot wet weight, shoot dry weight and root-shoot ratio of 25% POME. The treatment of NPK fertilizer dosage had a very significant effect on plant tuber diameter, shoot wet weight and shoot dry weight of 25-50% NPK fertilizer dosage.
References
Alaerts, G. 1987. Metode Penelitian Air. Usaha Nasional, Surabaya.
Andoko, A. 2005. Budidaya Tanaman Dengan Pupuk Hayati. Penebar Swadaya. Jakarta.
Darmosarkoro, W., Edy, S.S. dan Winarna. 2010. Lahan dan Pemupukan Kelapa Sawit, Edisi 1. Pusat Penelitian Kelapa Sawit.
Darnoko dan Ady, S.S. Pabrik Kompos di Pabrik Sawit. Tabloid Sinar Tani, 9 Agustus 2006.
Djazuli, M. danPitono, J. 2009. Pengaruh jenis dan taraf pupuk organik terhadap produksi dan mutu purwoceng. Jurnal Littri 15:40-45.
Eugene, E.E., Jacques, E., Desire, V.T. and Paul, B. 2010. Effects of some physical and chemical characteristic of soil on productivity and yield of cowpea (Vigna unguiculata L. Walp.) in coastal region (Cameroon). African Journal of Environmental Science and Technology 4:108-114.
Fauzi, Y. dkk. 2002. Kelapa Sawit Budidaya Pemanfaatan Hasil dan Limbah. Analisis Usaha dan Pemasaran. Penebar Swadaya. Jakarta.
Hanafiah, A S., Sabrina, T. dan Guchi, H. 2009. Biologi dan Ekologi Tanah.
Hanafiah, K.A, 2005. Dasar-Dasar Ilmu Tanah. Jakarta : PT. Raja Grafindo Persada.
Lubis, A.U. 1992. Kelapa Sawit di Indonesia. Pusat Penelitian Marihat. Bandar Kuala.
Noor, J., Fatah, A. dan Marhannudin. 2012. Pengaruh macam dan dosis pupuk NPK majemuk terhadap pertumbuhan bibit kelapa sawit (Elaeis guineensis Jacq). Media Sains 4:48-53.
Paramananthan, S. 2013. Managing marginal soils for sustainabile growth of oil palms in the tropics. Journal of Oil Palm Environment 4:1-16.
Poh, P.E. and Chong, M.F. 2009, Development of anaerobik digestion methods for palm oil mill effluent (POME) treatment. Jurnal Teknologi Keluaran Khas. 100 (2009) 1–9 The University of Nottingham Malaysia.
Rahman, G.A. 2009. Impact of compost on soil properties and crop productivity in the Sahel North Burkina Faso. American-Eurasian Journal of Agricultural & Environmental Sciences 6 (2): 220-226.
Ramadhaini, R.F., Sudradjat, dan Wachjar, A. 2014. Optimasi dosis pupuk majemuk NPK dan kalsium pada bibit kelapa sawit (Elaeis guineensis Jacq.) di pembibitan utama. Jurnal Agronomi Indonesia 42 (1) : 52 – 58.
SIlalahi. A.J., John. L.B. and Foster, H.L. 2010. Economic Benefits of Using Aerated Bunkers to Produce Consistent High Quality Compost From Oil Mill By Products. International Oil Palm Conference 1-3 June 2010. Yogyakarta, Indonesia.
Silalahi, B.M. dan Supijatno. 2017. Pengelolaan limbah kelapa sawit (Elaeis guineensis Jacq.) di Angsana Estate, Kalimantan Selatan. Buletin Agrohorti 5(3) : 373 – 383.
Susanto, R. 2005. Dasar-Dasar Ilmu Tanah. Kanisius, Yogyakarta.
Sutedjo, M.M. 2008. Pupuk dan Cara Pemupukan.Rineka Cipta, Jakarta.
Wu, L., Liu, M. and Liang, R. 2008. Preparation and properties of a double-coated slow-release NPK compound fertilizer with superabsorbent and water-retention. Bioresource Technology 99:547-554.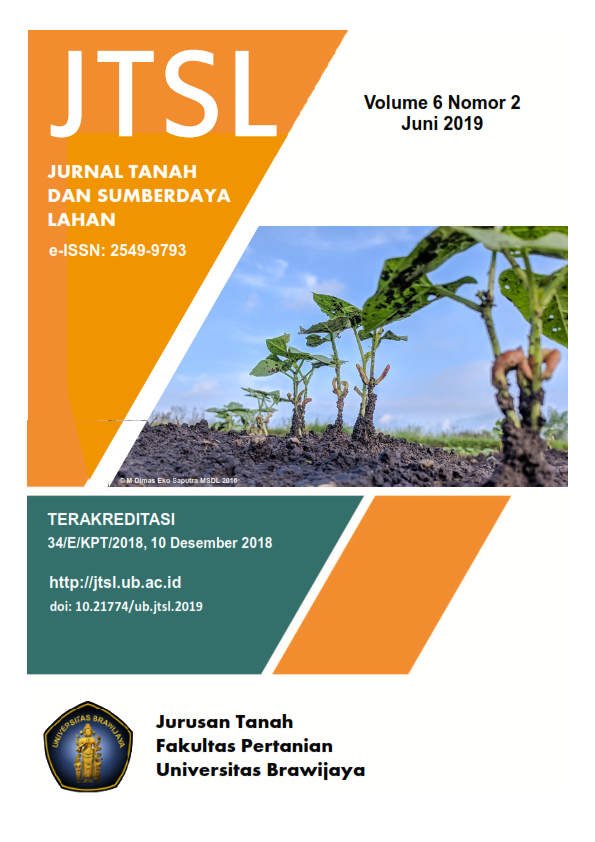 Downloads
How to Cite
Surya, E., Hanum, H., Hanum, C., & Harahap, F. S. (2019). PENGARUH PEMBERIAN KOMPOS BUNKER DIPERKAYA DENGAN LIMBAH CAIR PABRIK KELAPA SAWIT PADA PERTUMBUHAN BIBIT KELAPA SAWIT DI BIBITAN UTAMA. Jurnal Tanah Dan Sumberdaya Lahan, 6(2), 1281–1289. https://doi.org/10.21776/ub.jtsl.2019.006.2.9
License
The copyright of the received article shall be assigned to the journal as the publisher of the journal. The intended copyright includes the right to publish the article in various forms (including reprints). The journal maintains the publishing rights to the published articles.

This work is licensed under a Creative Commons Attribution-NonCommercial 4.0 International License.