ANALISIS KONDISI TATA AIR UNTUK PEMANTAUAN KEKRITISAN DAERAH ALIRAN SUNGAI JANGKOK
Keywords:
annual flow coefficient, flow regime coefficient, Jangkok River, water system, water use index
Abstract
An assessment of Jangkok River's water system conditions is needed to its monitoring watershed criticality to prevent various problems and for conservation purposes. The aim of this research was to assess the condition of Jangkok River's water system over the past 17 years using the Republic of Indonesia Minister of Forestry Regulation No. 61/Menhut-II/2014 concerning Monitoring and Evaluation of Watershed Management. The assessment results showed that Jangkok is in a good conditions but it tends to deteriorate that was indicated by the tends of increasing Flow Regime Coefficient and Annual Flow Coefficient. The mean of Flow Regime Coefficient's value of upstream is 65.66 (medium) and downstream is 333.63 (very high), while the increasing rate of 7.72 and 59.13 a year respectively. The mean Annual Flow Coefficient is 0.14 for upstream and downstream 0.22, which increases 0.99% and 0.93% a year respectively. The tendency of the value of the Water Use Index decreased with an annual average of 0.31 and a rate of decline of 0.005 a year. The assessment result shows that Jangkok is GOOD in water system condition but it requires more attention to maintain its function and ensure water sustainability.
References
Akhyar, W., Putra., Giri, I.B. dan Sa'adi, Y. 2016. Karakteristik Sedimen Lahan dan Sungai pada Sungai Aik Nyet. Eprints.unram.ac.id. Universitas Mataram. Mataram.
Amin, M., Ridwan. dan Zulkarnaen, I. 2018. Pengelolaan Daerah Aliran Sungai. Universitas Lampung. p67. Bandar Lampung.
Budianto, M.B., Setiawan, A. dan Suroso, A. 2013 Optimasi Pemanfaatan Sumberdaya Air Pada Daerah Aliran Sungai Jangkok. Prosiding Konferensi Nasional Teknik Sipil 7 (KoNTekS 7) Universitas Sebelas Maret (UNS) - Surakarta, 24-26 Oktober 2013. pp.145-153. Surakarta.
Indriatmoko, R.H. dan Wibowo, V.E. 2007. Aplikasi sistem informasi geografi untuk penghitungan koefisien aliran Daerah Aliran Sungai (DAS) Ciliwung. Jurnal Air Indonesia 3(2). pp 182-190.
Kometa, S.S. and Ebot, M.A.T. 2012. Watershed degradation in the Bamandjin Area of the North West Region of Cameroon and its implication for development. Journal of Sustainable Development. 5(9). pp.75-84. doi:10.5539/jsd.v5n9p75.
Murti, S.H.B.S., Wijdani, A.F., Aisya, J.D., Andika, P.F., Assyria, F.U., Dian, P., Dzimar, A.R.P. dan Nila, R. 2015. Estimasi Debit Puncak Untuk Identifikasi Potensi Banjir Pada DAS Jangkok Menggunakan Penginderaan Jauh Dan SIG. Prosiding Simposium Nasional Sains Geoinformasi IV 2015: Penguatan Peran Sains Informasi Geografi dalam Mendukung Penanganan Isyu-Isyu Strategis Nasional. UGM. 25-26 November 2015. pp.176-186.
Peraturan Menteri Kehutanan Republik Indonesia. 2014. Permenhut RI Nomor : P.61/Menhut-II/2014 tentang Monitoring dan Evaluasi Pengelolaan daerah Aliran Sungai. Diunduh dari http://ditjenpp.kemenkumham.go.id/arsip/bn/2014/bn1267-2014.pdf.
Suhartanto, E., Priyantoro, D. dan Itratip. 2012. Studi penilaian kondisi DAS dan implikasinya terhadap fluktuasi debit sungai (studi kasus pada Sub DAS Jangkok Pulau Lombok). Jurnal Teknik Pengairan 3(1): 1-5.
Takwim, A. dan Turita, A. 2012. Profil Hutan Kemasyarakatan Sesaot dan Santong. Konsepsi Project Report. NTB.
Triatmodjo, B. 1998. Hidrologi Terapan. Beta Offset, Yogyakarta.
WWF. 2008. Studi Analisis Hidrologis dan Perubahan Tutupan Lahan (land use land cover change) Kawasan Gunung Rinjani, Lombok. WWF bekerjasama dengan Pemda NTB, BPK Mataram, BPDAS Dodokan Moyosari.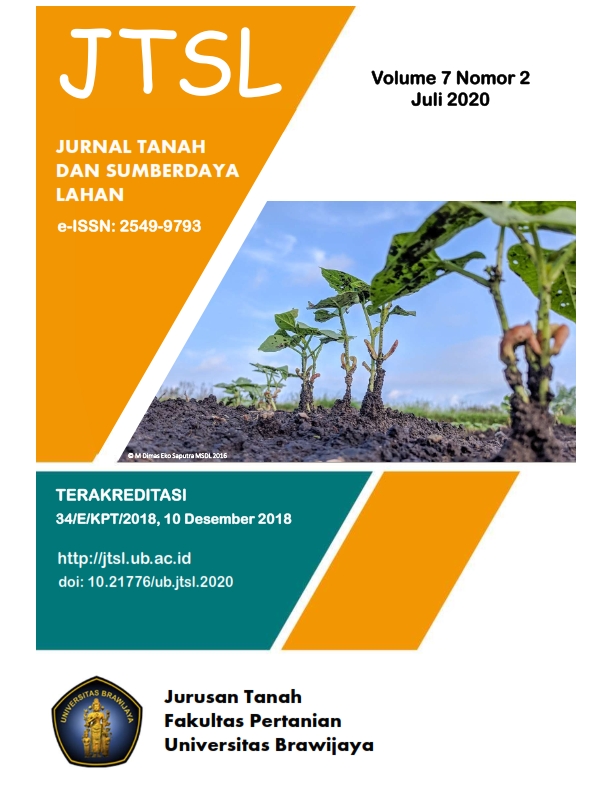 Downloads
How to Cite
Saidah, H., & Hanifah, L. (2020). ANALISIS KONDISI TATA AIR UNTUK PEMANTAUAN KEKRITISAN DAERAH ALIRAN SUNGAI JANGKOK. Jurnal Tanah Dan Sumberdaya Lahan, 7(2), 237–248. https://doi.org/10.21776/ub.jtsl.2020.007.2.7
License
The copyright of the received article shall be assigned to the journal as the publisher of the journal. The intended copyright includes the right to publish the article in various forms (including reprints). The journal maintains the publishing rights to the published articles.

This work is licensed under a Creative Commons Attribution-NonCommercial 4.0 International License.