PENGARUH PEMBERIAN BIOCHAR TERHADAP BEBERAPA SIFAT BIOKIMIA TANAH DAN PERTUMBUHAN TANAMAN BAWANG MERAH PADA LAHAN TERCEMAR RESIDU PESTISIDA
Keywords:
biochar, mikroba consorsia, nano biochar, propenophos, shallots
Abstract
The production of shallots in Brebes has not been significantly free from the use of chemical pesticides. Preventive land contaminated with pesticides needs to be done, one of which is through the improvement of polluted land using biochar. The study was aimed to determine the effectiveness of the effect of urea plus nano biochar and urea plus biochar enriched by microbial consortia on the status of C-organic, pH, and soil microbial populations and their effects on profenofos residues. The experiment was designed with a Randomized Block Design with 5 treatments including: P (without biochar and microbes), B (Urea plus biochar), BM (Urea plus biochar and microbial), NB (Urea plus nano biochar), NBM (Non-biochar and microbial) Urea added with nano biochar and microbes), and repeated 4 times, so that the number of research units was 20 units. The microbes used in enriching urea plus biochar are microbial consortia, Stenotrophomonas maltophilla, Achromobacter denitrificans, Bacillus cereus, Bacillus subtilis, Bacillus thuringiengsis and Bacillus aryabathai. The results of the study include, the administration of urea plus biochar and nano biochar with microbial consortia did not have a significant effect on pH, C-organics, soil microbial populations and profenofos residues. At 35 and 63 DAP the highest pH of treatment B was 5.84, and 6.53. Organic C-35 and 63 DAP at low criteria are 1.12 - 1.30%. The highest microbial population of 35 and 63 DAP in treatment B was 485 x 106. The highest growth rate of plant length in the BM treatment with a value of 6.06 cm week-1, while the growth rate of the number of leaves in the BM treatment had a higher yield compared to other treatments , with a value of 2.88 strands week-1.
References
Afriyanto. 2008. Kajian Keracunan Pestisida Pada Petani Penyemprot Cabe di Desa Candi Kecamatan Bandungan Kabupaten Semarang. Tesis. Program Pasca Sarjana. Universitas Diponegoro. Semarang.
Balai Penelitian tanah. 2009. Petunjuk Teknis Analisis Kimia Tanah, Tanaman, Air, dan Pupuk. Balai Penelitian Tanah. Bogor.
Bardgett, R.D. 2005. The Biology of Soil: A Community and Ecosystem Approach. Oxford University Press. New York.
Chan, K.Y., Van Zwieten, L., Meszaros, I., Downie, A. and Joseph, S. 2007. agronomic values of green waste biochar as a soil amendment. Australian Journal of Soil Research 45: 629-634.
Dahal, N. and Bajracharya, R.M. 2010. Prospects of soil organic carbon sequestration: implications for Nepal's mountain agriculture. Journal of Forest and Livelihood 9 (1): 125-136.
Agustin, S.E. dan Suntari, R. 2018. Pengaruh aplikasi urea dan kompos terhadap sifat kimia tanah serta pertumbuhan jagung (Zea mays L.) pada tanah terdampak erupsi Gunung Kelud. Jurnal Tanah dan Sumberdaya Lahan 5(1) : 775-783.
Gani, A. 2009. Potensi arang hayati biochar sebagai komponen teknologi perbaikan produktivitas lahan pertanian. IPTEK Tanaman Pangan 4(1) : 34 – 48.
Lakitan, B. 2008. Dasar-dasar Fisiologi Tumbuhan. Raja Grafindo Persada. Jakarta.
Lehmann, J. and Joseph, S. 2009. Biochar for Environmental Management : Science and Technology. Earthscan, UK. pp 71-78.
Rahayu dan Berlian. 2010. Budidaya Bawang Merah. Penebar Swadaya. Jakarta.
Ramadhani dan Widyaiswara. 2014. Memperpanjang Umur Simpan Benih Jagung. Balai Besar Penelitian Pertanian Binuang. 261-272 hal.
Sohi, S., Capel, E.L., Kruul, E. and Bol, R. 2009. Biochar, Climate Change and Soil: A Review to Guide Future Research. CSIRO Land and Water Science Report.
Sukartono, Utomo, W.H., Nugroho, W.H. and Kusuma, Z. 2011. Simple biochar production generated from cattel dung and coconut shell. Jurnal of Basic and Applied Scientific Research 1(10) : 1680-1685.
Tang, J., Zhu, W., Kookana, R. and Katayama, A. 2013. Characteristics of biochar and its application in remediation of contaminated soil. Journal of Bioscience and Bioengineering 116(6): 653-659.
Wahyuni, Indratin, dan Ardiwinata, A.N. 2012. Teknologi Arang Aktif untuk Penanggulangan Pencemaran Residu Pestisida Klorfirifos di Lahan Sayuran Kubis. Prosiding Seminar Nasional Teknologi Pemupukan dan Pemulihan Lahan Terdegradasi. BBSDLP. Bogor. 449-456.
Wibowo, S. 2007. Budidaya Bawang Merah. Penebar Swadaya. Jakarta. 212 hal.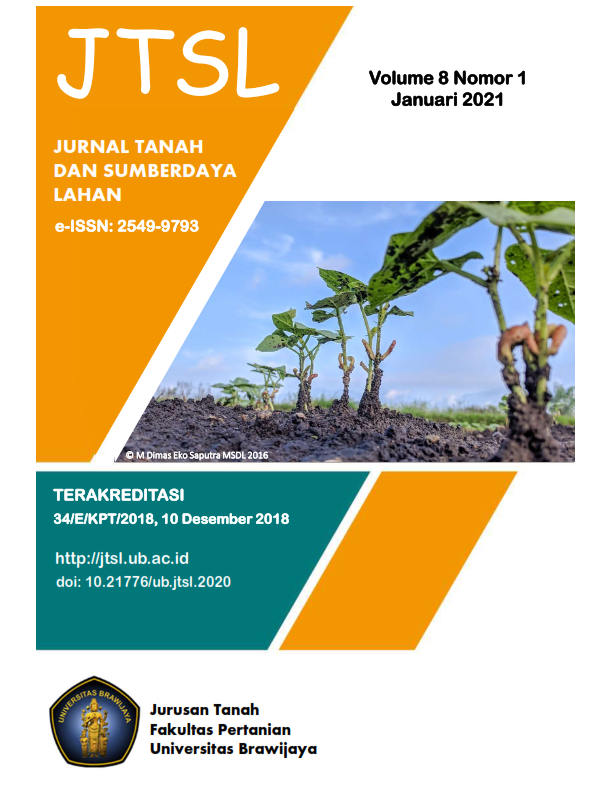 Downloads
How to Cite
Airlangga, S. S. D., Munir, M., & Poniman, P. (2020). PENGARUH PEMBERIAN BIOCHAR TERHADAP BEBERAPA SIFAT BIOKIMIA TANAH DAN PERTUMBUHAN TANAMAN BAWANG MERAH PADA LAHAN TERCEMAR RESIDU PESTISIDA. Jurnal Tanah Dan Sumberdaya Lahan, 8(1), 27–34. https://doi.org/10.21776/ub.jtsl.2021.008.1.4
License
The copyright of the received article shall be assigned to the journal as the publisher of the journal. The intended copyright includes the right to publish the article in various forms (including reprints). The journal maintains the publishing rights to the published articles.

This work is licensed under a Creative Commons Attribution-NonCommercial 4.0 International License.