ANALISIS INDEKS KEKERINGAN METODE STANDARDIZED PRECIPITATION INDEX (SPI) DAN PENGARUHNYA TERHADAP PRODUKTIVITAS PADI DAN JAGUNG
Keywords:
SPI, rice, corn, productivity, drought
Abstract
Drought is one of the most significant impacts of the climate on agriculture, especially food crops. Standardized Precipitation Index (SPI) is an Index for droughts. The research objective was to study the relationship of SPI values to the productivity of rice and corn crops in the Situbondo district. The result showed that the value of the SPI time scale at three months is the most appropriate for the observed productivity of rice and corn. The SPI value significantly correlated with the productivity of rice plants in the Jatibanteng and Arjasa districts but did not significantly affect the productivity of corn in the Mlandingan and Situbondo districts. Furthermore, the El-Nino phenomenon reduced the rice productivity up to 3.9% and the corn productivity up to 48.1%. The La-Nina phenomenon reduced rice productivity up to 26.0% but increased the productivity of corn up to 81.7%.
References
Abbas, S. and Kousar, S. 2021. Spatial analysis of drought severity and magnitude using the standardized precipitation index and streamflow drought index over the Upper Indus Basin, Pakistan. Environment, Development and Sustainability 23(10):15314–15340, doi:10.1007/s10668-021-01299-y.
Abbas, S. and Mayo, Z.A. 2021. Impact of temperature and rainfall on rice production. Environment, Development and Sustainability 23(2):1706-1728, doi:10.1007/s10668-020-00647-8.
Arifin, Z. dan Tafakresnanto, C. 2019. Pengelolaan pola tanam berbasis kedelai dan jagung di lahan kering. Buletin Palawuja 17(2):83-93.
Bhatla, R., Varma, P., Verma, S. and Ghosh, S. 2020. El Nino/La Nina impact on crop production over different agro-climatic zones of Indo-Gangetic Plain of India. Theoretical and Applied Climatologyical 142:151-163.
Boedi, T., Baba, B. dan Widiana, D.N. 2017. Hubungan indeks osilasi selatan dan indeks curah hujan terhadap kejadian kekeringan di Kabupaten Indramayu, Jawa Barat. Journal of Regional and Rural Development Planning 1(1):64-73.
Bong, C.H.J. and Richard, J. 2020. Drought and climate change assessment using Standardized Precipitation Index (SPI) for Sarawak River Basin. Journal of Water and Climate Change 11(4):956-965, doi:10.2166/wcc.2019.036.
de Bodas Terassi, P.M., de Oliveira Júnior, J.F., de Gois, G., Galvani, E., Sobral, B.S. and Biff, V.H.R. 2019. Standardized Precipitation Index Aplicado à Identificação do Padrão das Chuvas na Vertente Paranaense da Bacia Hidrográfica do Rio Itararé. Revista Brasileira de Meteorologia 34(4):557-571.
Du, J., Fang, J., Xu, W. and Shi, P. 2013. Analysis of dry/wet conditions using the standardized precipitation index and its potential usefulness for drought/flood monitoring in Hunan Province, China. Stochastic Environmental Research and Risk Assessment 27(2):377-387, doi:10.1007/s00477-012-0589-6.
Enovejas, A.M., Maldia, S., Komarudin, N.A., Vergara, D.G.K. Hilmi, Y.S. and Sevilla-Nastor, J.B. 2021. Effect of climate variables in rice yield in Nueva Ecija, Philippines. Asia Pacific Journal of Sustainable Agriculture, Food and Energy 9(1):29-44, doi:10.36782/apjsafe.v9i1.77.
Estiningtyas, W., Syahbuddin, H., Harmanto, Pramudia, A. and Dermoredjo, S. 2021. Analysis of key locations as indicators for extreme climate impacts in supporting climate change adaptation in Indonesia. IOP Conference Series Earth and Environmental Science 724(1):012042, doi:10.1088/1755-1315/724/1/012042.
Garuda, S.R. dan Baliadi, Y. 2018. Aplikasi metode tren waktu satu ragam dalam peramalan toleransi komoditas pangan terhadap perubahan iklim di Papua. Informatika Pertanian 27(1):35-46, doi: 10.21082/ip.v27n1.2018.p35-46.
Guha, A., Banik, T., Roy, R., and De, B.K. 2017. The effect of El Nino and La Nina on lightning activity : its relation with meteorological and cloud microphysical parameters. Natural Hazards 85(1):403-424, doi:10.1007/s11069-016-2571-y.
Hariyanti, K.S., June, T., Koesmaryono, Y., Hidayat, R. dan Pramudia, A. 2014. Penentuan waktu tanam dan kebutuhan air tanaman padi, jagung, kedelai dan bawang merah di Provinsi Jawa Barat dan Nusa Tenggara Timur. Jurnal Tanah dan Iklim 43(1):83-92.
Li, Y., Strapasson, A. and Rojas, O. 2020. Assessment of El Niño and La Niña impacts on China : enhancing the early warning system on food and agriculture. Weather and Climate Extremes 27(100208):1-13, doi:10.1016/j.wace.2019.100208.
Mourtzinis, S., Ortiz, B.V. and Damianidis, D. 2016. Climate change and ENSO effects on Southeastern US climate patterns and corn yield. Nature Publishing Group 6(June):1-7, doi:10.1038/srep29777.
Nafisha, A.U. dan Suwarsito. 2018. Kajian pengaruh pola curah hujan terhadap produktivitas padi di Kecamatan Pagerbarang Kabupaten Tegal. SAINTEKS 15(1):31-37.
Nurrohmah, H. dan Nurjani, E. 2017. Kajian kekeringan meteorologis menggunakan Standardized Precipitation Index (SPI) di Provinsi Jawa Tengah. Geomedia 15(1):1-15.
Ruminta, R., Handoko, H. dan Nurmala, T. 2018. Indikasi perubahan iklim dan dampaknya terhadap produksi padi di Indonesia (Studi kasus : Sumatera Selatan dan Malang Raya). Jurnal AGRO 5(1):48-60.
Sadeghi, S.T., Tootle, G., Elliott, E., Lakshmi, V., Therrell, M. and Kalra, A. 2019).Implications of the 2015-2016 El Niño on Coastal Mississippi-Alabama Streamflow and Agriculture. Hydrology 6(96):1-10.
Saidah, H., Budianto, M.B. dan Hanifah, L. 2017. Analisa indeks dan sebaran kekeringan menggunakan metode Standardized Precipitation Index (SPI) dan Geographical Information System (GIS) untuk Pulau Lombok. Jurnal Spektran 5(2):173-179.
Sen, B., Topcu, S., Turkes, M., Sen, B. and Warner, J.F. 2012. Projecting climate change, drought conditions and crop productivity in Turkey. Climate Research 52:175-191, doi:10.3354/cr01074.
Sun, R., Li, J., Feng, J., Hou, Z. and Zhang, Y. 2020. Contrasting impacts of two types of El Niño on the yields of early rice in Southern China. Agronomy Journal 112(February):1084-1100, doi:10.1002/agj2.20014.
Tigkas, D., Vangelis, H. and Tsakiris, G. 2019. Drought characterisation based on an agriculture-oriented standardised precipitation index. Theoretical and Applied Climatology 135:1435-1447.
Tuminem, T., Supardi, S. dan Ferichani, M. 2018. Peranan komoditas tanaman pangan unggulan terhadap kesempatan kerja dan pendapatan di Kabupaten Sukoharjo (Analisis Input-Output). PANGAN 27(3):203-214.
World Meteorological Organization. 2012. Standardized Precipitation Index User Guide. In Geneva Switzerland: Publications Board world Meteorological Organization.
Yang, P., Xia, J., Zhang, Y., Han, J. and Wu, X. 2018. Quantile regression and clustering analysis of standardized precipitation index in the Tarim River Basin, Xinjiang, China. Theoretical and Applied Climatology 134: 901-912.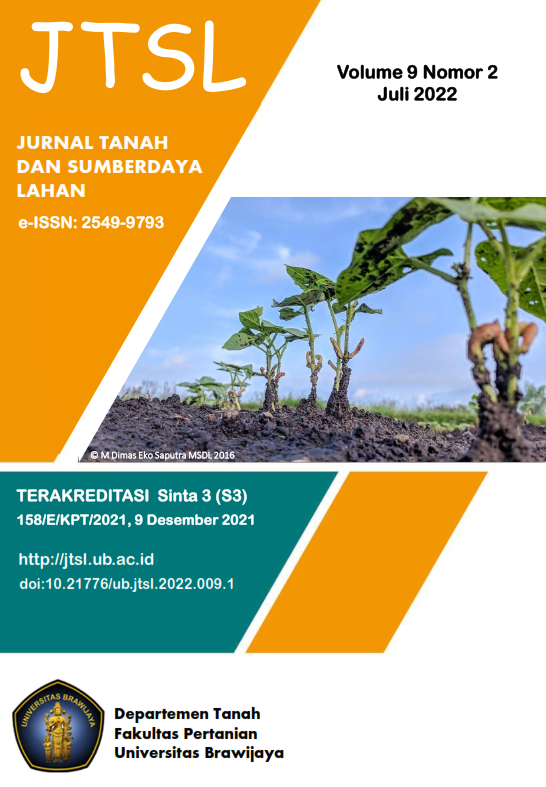 Downloads
How to Cite
Masruroh, D., & Bowo, C. . (2022). ANALISIS INDEKS KEKERINGAN METODE STANDARDIZED PRECIPITATION INDEX (SPI) DAN PENGARUHNYA TERHADAP PRODUKTIVITAS PADI DAN JAGUNG . Jurnal Tanah Dan Sumberdaya Lahan, 9(2), 277–284. https://doi.org/10.21776/ub.jtsl.2022.009.2.8
License
Copyright (c) 2022 Jurnal Tanah dan Sumberdaya Lahan
This work is licensed under a Creative Commons Attribution-NonCommercial 4.0 International License.
The copyright of the received article shall be assigned to the journal as the publisher of the journal. The intended copyright includes the right to publish the article in various forms (including reprints). The journal maintains the publishing rights to the published articles.

This work is licensed under a Creative Commons Attribution-NonCommercial 4.0 International License.