POTENSI Cyperus kyllingia Endl. UNTUK FITOREMEDIASI TANAH TERCEMAR MERKURI LIMBAH TAMBANG EMAS
Abstract
Small-scale gold mining activities in Sekotong District of West Lombok Regency started in 2009. Gold is recovered through a two-stage process of amalgamation and cyanidation. Tailing is discharged to land with no concern for contaminants. Phytoremediation could cost-effectively replace traditional mercury remediation strategies. The objective of this study was to elucidate the potential of Cyperus kyllingia Endl for phytoremediation of soil contaminated with mercury of gold amalgamation and cyanidation tailings in conjunction with ammonium thiosulphate to phytoextract mercury. The study was conducted at the Laboratory of Soil Brawijaya University and in a shade house located in the area of ​​Dermo, Sengkaling. Samples of tailings-uncontaminated soil were mixed with samples of tailings with the proportion of 30%: 70% (w/w). At harvest shoots and roots were analyzed for mercury concentration in treatments, Tailing (tailings cyanidation and amalgamation), ligand ( 0, 4, and 8 g/kg ). The results showed that Cyperus kyllingia was a potential local species for phytoremediation of mercury contaminated soils as this plant was able to take up mercury of 122,53 mg/kg (shoot) and 77,9 mg/kg (shoot). Based on TF (translocation factor) value that was < 1, it is a potential species for phytostabilization. Addition on 8 g ammonium thiosulphate / kg planting media enhanced mercury taken up by plant as much as 71,18%.
Key words: mercury , phytoremediation, ligand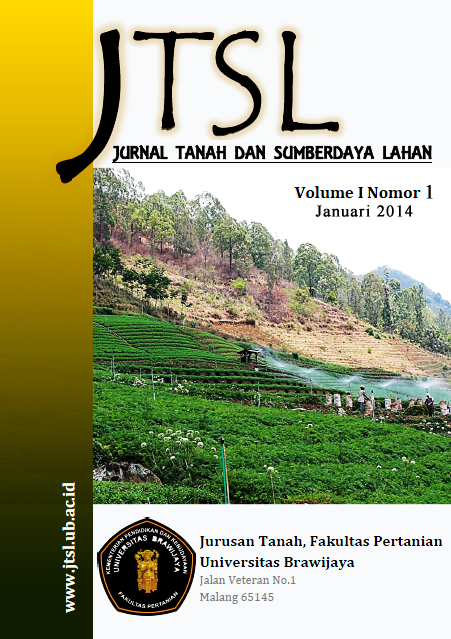 Downloads
How to Cite
Sugiono, C. M., Nuraini, Y., & Handayanto, E. (2017). POTENSI Cyperus kyllingia Endl. UNTUK FITOREMEDIASI TANAH TERCEMAR MERKURI LIMBAH TAMBANG EMAS. Jurnal Tanah Dan Sumberdaya Lahan, 1(1), 1–8. Retrieved from https://jtsl.ub.ac.id/index.php/jtsl/article/view/94
License
The copyright of the received article shall be assigned to the journal as the publisher of the journal. The intended copyright includes the right to publish the article in various forms (including reprints). The journal maintains the publishing rights to the published articles.

This work is licensed under a Creative Commons Attribution-NonCommercial 4.0 International License.